Labour was facing major embarrassment today after it emerged that one of its current Shadow Cabinet ministers had described its former MPs in Scotland as "f*cking useless".
The revelation, which is sure to be pounced on by the SNP, came from an academic who had exclusive access to senior party figures for a new guide to the 2015 general election.
Philip Cowley, professor of politics at Queen Mary University of London said that he'd asked about Labour's disastrous performance north of the border.
Prof Cowley, who was co-author with Dennis Kavanagh of 'The British General Election of 2015', told students at the book's launch this week that he got a surprising reply from the unnamed Labour MP.
"There was an interview with a Shadow Cabinet member. This is a current, serving Shadow Cabinet member, who told us the result in Scotland had an upside.
"This was after the election. And we naively said 'how could it possibly have an upside?'
"And he said - and this is a direct quote - 'well because it's got rid of 40 fucking useless MPs'."
Referring to the recent Labour analysis of why the party lost the last election, Prof Cowley joked: "You won't find that in Margaret Beckett's report."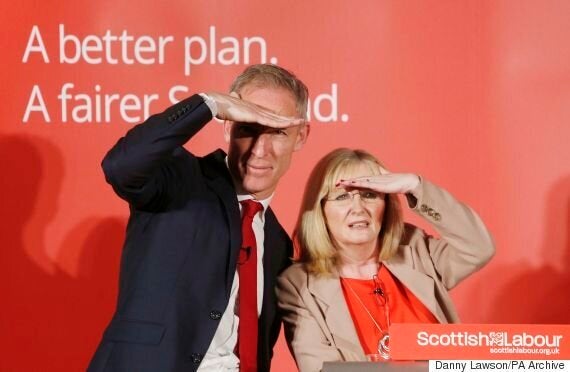 Searching in vain for votes, Jim Murphy and Margaret Curran
Labour lost all but one of its 41 seats in Scotland in May 2015, as the SNP scored one of the most stunning political victories in living memory.
Nicola Sturgeon's Scottish National Party won 56 out of the 59 seats as voters flocked in record numbers to her party's message.
Only Ian Murray, now Shadow Scotland Secretary, was the only Labour MP to survive the SNP 'tsunami'.
Among the casualties were Shadow Foreign Secretary Douglas Alexander, who was defeated by Mhairi Black, and Shadow Scottish Secretary Jim Murphy, who lost his own 10,000 majority to the SNP.
The SNP's Shadow Commons Leader Pete Wishart pounced on the remarks, telling HuffPost UK: ''Labour's election disaster in Scotland was inevitable following their toxic campaign alliance with the Tories in the referendum and their extraordinary support for George Osborne's austerity and cuts - hitting families and communities hard.
"They let the people of Scotland down again and again.Their woes continue – now finding themselves locked in a battle for second place with the Tories for the Holyrood elections.
"With their plans to shift the burden of Tory austerity onto workers by hiking taxes on the low paid being comprehensively rejected, their situation is only going to get worse.''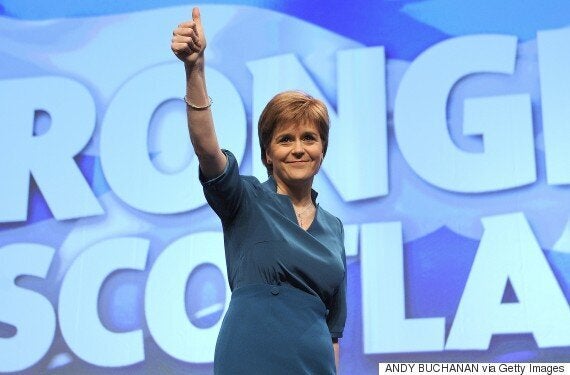 A triumphant Nicola Sturgeon
Other former ministers and shadow ministers who lost seats included Cathy Jamieson, Gregg McClymont, Margaret Curran, Tom Harris and Tom Greatrex.
And among those who lost was also Katy Clark, the left-wing MP who is now Jeremy Corbyn's political secretary.
Buoyed by Mr Corbyn's victory and the election of Scottish leader Kezia Dugdale, the party has been trying to win back support.
But polls suggest it will receive another drubbing in the coming Holyrood elections for the Scottish Parliament in May, losing possibly all of its constituency seats.
In-fighting over Labour's failures at the last election has seen some argue that the party directed valuable resources in Scotland when it should have been defending seats like that of Ed Balls and others in England.
Some Labour MPs are pushing hard for a more distinctive English message for the party, with former Shadow Education Secretary recently calling for a referendum on an English Parliament, amid fears it will take years to recover in Scotland.
At the book launch this week, Prof Cowley also revealed that Ed Miliband's reaction to poor polls presented by pollster Stan Greenberg was "Why do you have to be so negative?"
He said that the Prime Minister had a very different approach to negative polls.
"Compare that with David Cameron's reaction when presented with some really quite difficult polling in 2011 on the NHS. Cameron scribbled on the memo: 'Give me the right language in speeches, and physically attack me - underlined - with the right words before an interview. I will do what I am told'."
Prof Cowley said that some would see that remark as a sign of a shallow cynical politician. "For me it's a sign of a pro," he said.
"It's a sign of someone prepared to listen to expert advice. And maybe it's one of the reasons that he will be Prime Minister, by the time he leaves for something close to 10 years, and Ed Miliband won't be."
He added that in January 2011, Labour led by an average of 5% in opinion polls, but went on to lose the election by 7%. Labour are currently behind by 8% points.
Popular in the Community