A mother whose five-year-old daughter died from an illness that initially appeared to be nothing more than a "simple chest infection", has launched a fundraising campaign in her child's honour.
Natalia Spencer will walk the entire coastline of Britain to raise money for Bristol Children's Hospital where her daughter Elizabeth was treated before she died.
Spencer described her daughter as being a "fit, active and healthy" child but in November 2015, she was taken ill with what the family thought was a chest infection.
Spencer said Elizabeth's condition worsened to the point where she couldn't breathe and an emergency team were called at the hospital.
"She was so ill that her body had shut down the blood supply to everything apart from her heart and brain, cutting off the supply to other organs and her limbs with dreadful consequences."
Elizabeth remained unconscious in hospital for 18 days before she died.
"The nursing staff demonstrated so much care and compassion for Elizabeth that I could not have improved on their efforts myself," Spencer added.
Spencer said she was inspired by how much the doctors and nurses tried to save her daughter, so she decided to set up Elizabeth's Footprint - a fundraising campaign to raise money for Bristol Children's Hospital Charity.
Spencer hopes to raise money for life-saving equipment, family accommodation and arts, music and play therapy for patients and their families at the hospital.
She said she used the symbol of a rainbow for her campaign to reflect the "dazzling personality of her little girl".
"I will start my journey in Durdle Door and walk clockwise around the whole coast of Great Britain," she explained.
"Rather than getting bogged down with having to walk a certain number of miles a day, I have chosen to concentrate on walking from town to town, stopping overnight in larger villages and towns if at all possible."
Spencer added: "I hope to find this journey therapeutic for my own personal grief and I am looking forward to discovering parts of Britain that I have never seen before, and Elizabeth will be with me, in spirit, every step of the way."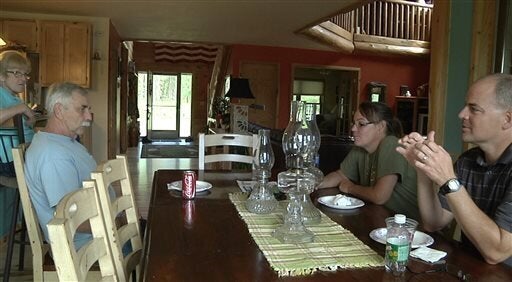 Couple Channel Grief Into Retreat For Veterans