Once upon a time, marriage proposals were modest affairs with one person (usually the man) getting down on one knee to pop the question. If a couple were feeling extravagant, they might go as far as announcing their plans to marry in the local newspaper.
But oh, how times have changed. In today's social media-led society, proposals have increasingly become about creating a spectacle worth sharing.
From organising flash mobs to proposing to your girlfriend every day for a year, prospective proposers are taking over our newsfeeds with their viral proposal videos.
To help men and women pop the question in style, Daisy Amodio founded the UK's first proposal planning service, The Proposers.
"These days, the first thing a couple does when they've got engaged is upload a picture to every social media stream for all to see," she tells HuffPost UK Lifestyle.
"Social media has attributed to a rise in competitive proposals. Friends are now competing for the best proposal story. More and more people are coming to us with a specific idea that they've seen on the internet."
According to Amodio, those planning to propose will often draw inspiration from celebrities in order to create a proposal worth sharing online.
"They've seen celebs flaunting their elaborate proposals to the world and they want something similar. From the likes of Kayne proposing with a whole baseball stadium and an orchestra to Nick Candy's private island with 'Marry Me' in flames - it sets the bar high," she says.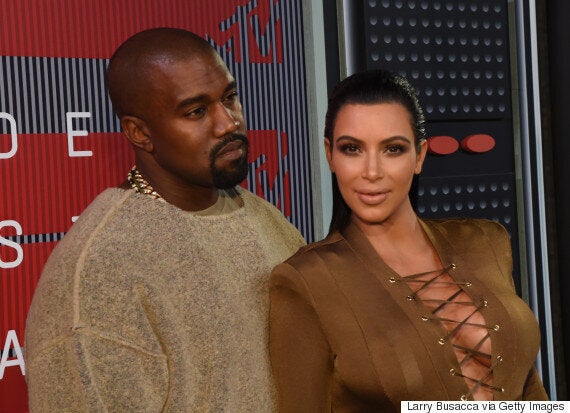 Peter Saddington, a Relate counsellor and therapist, believes viewing proposal videos on social media can put undue pressure on couples who are thinking about getting engaged.
"You may start to think 'if everybody else is doing it, we need to do it'," he says. "It can start leading you to having a view about how relationships work that may not be your own view. Because social media has such an influence nowadays, you feel like it's what you're 'supposed' to do."
Saddington says it is not uncommon for individuals to experience feelings of inadequacy after viewing romantic relationship statuses and videos online because they often set "unrealistic expectations".
Unfortunately, his comments aren't all that surprising. In a study by Anxiety UK looking into how social media affects self-esteem, 51% of participants said logging on had a negative impact on their mood.
"I have caught myself feeling jealous of the women whose beaus gush and ogle over them online for everyone to see. It's a strange female urge, I think, to feel adored, loved, even boasted about," she writes.
"As women, we can tend to be more openly self-conscious than men, feeling that we need the men in our lives to provide us with the self-confidence and self-worth we desire. I can't think of any girl who wouldn't like a boy to post a flattering selfie of her to Instagram for #wcw ("Woman-crush Wednesdays"). It's like an insta-ego boost."
Tolar is far from alone. According to a recent survey from Bookatable.co.uk, 33% of women would be "disappointed" if their partner simply got down on one knee at home and had not planned out anything more thoughtful or elaborate when proposing.
A further fifth of women (20%) admit that they want a proposal they would be happy to brag about to friends and family on social media. In fact, 40% of the 1,000 women polled felt social media had led people to having to 'up the ante' when proposing.
But for every person watching a proposal video with envious eyes, there seems to be another criticising it.
In a blog for Cosmopolitan magazine John Switcher wrote a damning review of proposal videos after US actor Justin Baldoni released a 27-minute film of himself proposing to his girlfriend Emily. The video even ended in film credits.
John Switcher's proposal video
"Proposal videos have ceased to be about the proposal itself, and more about promoting the creativity/videographic skills put forward by the proposer. They are stunts, now designed to max out schmaltzy viral traffic," Switcher wrote.
"Despite what are probably well-meaning intentions on behalf of their beloved, the poor proposed-to person is reduced to a supporting role at best. That's not what a proposal is about."
These mixed messages around proposal videos can be confusing for men like James* who simply want to make their partner feel special when they pop the question.
James proposed to his girlfriend after a helicopter ride in Iceland and accidentally became the star of a proposal video.
"We were standing on a beautiful mountain with thermal springs all around us. I didn't plan for anyone to film it, but without us knowing, the helicopter pilot recorded the whole proposal on his phone," he explains.
At first James thought the video was a nice surprise, but when his girlfriend shared the video online he felt "proud but also embarrassed".
"I sometimes feel embarrassed and uncomfortable when it comes up in conversation - I don't want people to think that I was showing off and making a gesture that would make me look good to anyone beyond my girlfriend," he adds.
"It took lots of planning and I wanted it to be something we'd remember, but I did it for us and her, not anyone else.
"I think a proposal that's obviously for sharing online could cheapen what is obviously a deeply meaningful gesture."
Clearly the rise of viral proposal videos is having an impact on us as viewers, but according to Saddington, this trend also has an impact on the couples involved, especially if they have made content intended to go viral.
"One of the things we recognise is that sharing online breaks down the ability to be intimate in person," he says.
"If you're always using a third medium to express affection then you're not used to doing it with the person that's sitting there next to you."
Saddington says once a couple has begun to share details about their relationship online, they can feel under pressure to create more shareable events.
Increasingly, he is helping couples that have spent so much time focussing on creating viral relationship content that they have forgotten to focus on their actual relationship.
"A good example of it is the amount of time people spend planning their weddings," he says. "They spend a lot of time filming a proposal or filming a dance to share online, then in three months time they've split up.
"If you're spending time thinking about content to post online, the relationship itself doesn't get as much time and attention. Couples are actually living out their relationship through sharing it with others, rather than experiencing it together."
Saddington does note that sharing romantic content online doesn't have to have a negative impact on a couple's relationship.
"Some couples can use technology as an avenue to help them express things that they may not have expressed before," he says.
"Secondly, we do lead incredibly busy lives, so if you've got half an hour when you're at work and you want to say something, but the rest of the time you're worn out and you haven't got time to talk to everyone, at least you're staying connected."
In order to ensure we're sharing information about our relationships in a positive way, Saddington says thinking about our intentions is key.
"Just be aware that sharing intimate information about your own relationship with the rest of the world isn't always going to be the best thing," he says.
"Maybe there are some things that are just for you and your relationship that need to stay private to you - those kind of privileges make your relationship feel special."
For couples feeling intimidated by the rise of viral proposal videos, he adds this advice: "Be curious about why you're spending time looking at other people's relationships rather than focussing on your own.
"Recognise that it's somebody else's relationship, you don't have to live up to it."
*Name changed to protect interviewee's identity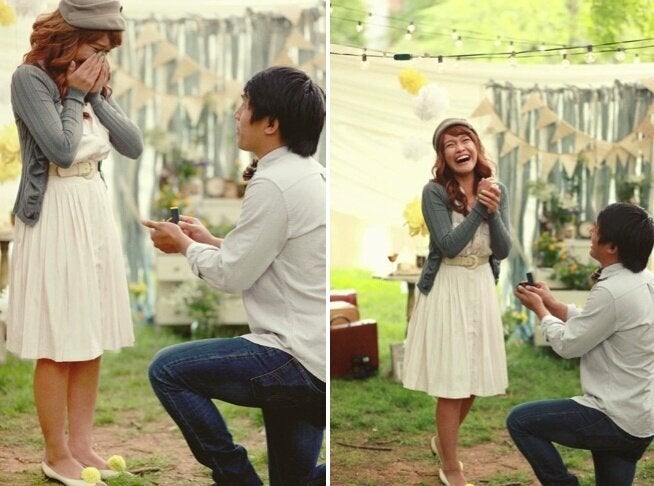 Emotional Proposal Photos
This February The Huffington Post UK is running Making Modern Love, a fortnight-long focus on what love means to Britons in the 21st Century. Built on the three themes of finding love, building love and losing love, HuffPost will feature human stories that explore exactly what it is to be in love in modern times