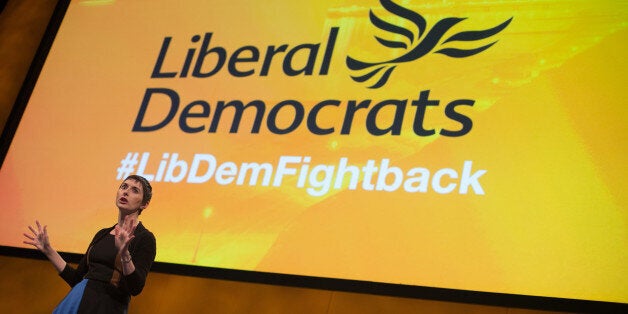 London's working mothers are not getting the childcare support they need because of the "very male dominated" nature of the capital's politics, according to the Lib Dem Mayoral candidate.
Caroline Pidgeon believes London's economy is suffering a "brain drain" of skilled women because the issue of childcare costs is not being addressed by either current mayor Boris Johnson or the two men most likely to succeed him.
Speaking to the Huff Post UK, Pidgeon claimed the "mudslinging" between Labour's Sadiq Khan and the Tory candidate Zac Goldsmith shows the two are less concerned with the issues facing Londoners and more with focusing on "the politics of fear."
If either Goldsmith or Khan is successful, it will mean there has not been a female Mayor of London since the position was created in 2000.
In an interview at the Liberal Democrats party headquarters in Westminster, Pidgeon set out her policies on transport, housing and childcare.
When asked for her views on how the race to City Hall was going, she said: "I think it's a shame that it appears to have got so dirty so early.
"Let's talk about the issues Londoners want to hear about - put your case to the electorate, rather than trying this politics of fear.
She added: "There's mudslinging going on from both sides, trying to undermine the other candidate and make people feel fearful one way or another of the other candidate being elected.
"Why don't they get out and talk about the issues Londoners care about and get out there and talk about transport, housing, childcare.
"None of them are talking about childcare – this massive issue in London that affects women returning to work particularly but also families – with 30 per cent higher the costs than any other region."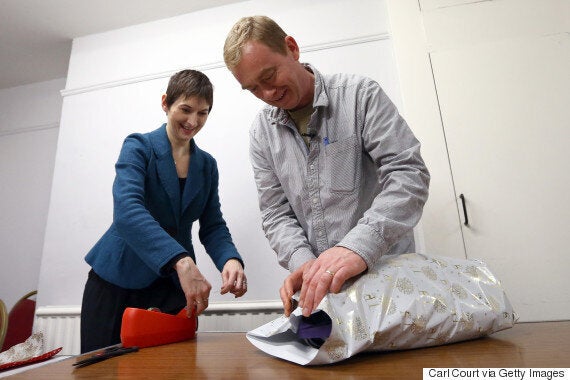 Caroline Pidgeon and Lib Dem leader Tim Farron wrap a christmas present during a visit to the Salvation Army homeless drop-in centre
If elected mayor, Pidgeon would introduce a £2 a night tourist tax for three star and above hotels.
She believes this would raise around £50million to fund the training of more child-minders and support longer opening hours for schools and nurseries.
Pidgeon, who has been on the London Assembly for eight years, said she has repeatedly tried to raise the issue of childcare provision with the Mayor's economic arm but "they're not interested in it, they don't get it as a big issue."
When asked if she felt that Johnson, Goldsmith and Khan were failing to give the issue greater prominence because they are men, she thought for a moment, and replied: "Part of it is they are very male dominated, but it just isn't registering with them.
"They are thinking tech sector, they are thinking this, they are thinking that, but actually this a hugely trained up part of the workforce which you are losing.
"It's a brain drain from London's economy and we need to make sure we try to help with that as well."
Pidgeon's childcare policy aside, as with the majority of the other candidates in the race she believes housing is the biggest problem facing the capital right now.
Her solution is to keep the £20 precept Londoners currently pay as part of the council tax bill towards the Olympics – which runs out next year – to fund a building boom.
Labeling it "our Olympic effort for building the homes Londoners need", Pidgeon estimates £2billion could be borrowed against the money raised from the precept.
Her Tube policy is less ambitious than some of her rivals. While the Greens would abolish the zone system and Labour would freeze fares for four years, Pidgeon will only commit to half-price fares for those travelling before 7.30am.
When asked if her plan could be more ambitious, she said: "Mine is realistic and can be delivered.
"I've been on the London Assembly eight years, I've got that experience, I've been looking at Transport for London's work over that time and I know that you cannot freeze fares for eight years and continue the investment we need in the transport network.
"It just doesn't add up and I don't think the public believe it either.
"What I've come up with is half price fares by half 7 in the morning to really help those low income workers travelling in, the people who do the cleaning, the security and so on, and also to encourage people to travel that bit earlier and help with that crush we all face, the severe over-crowding in the morning."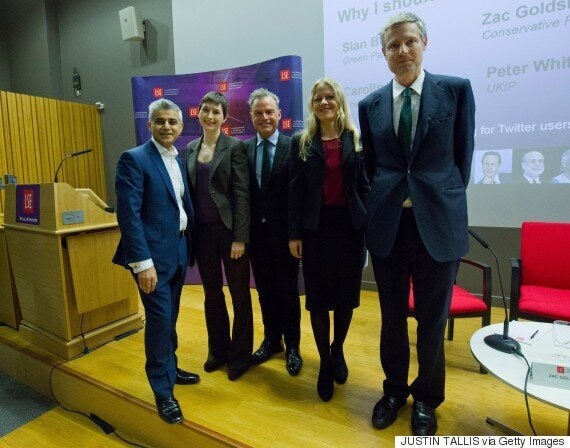 The London Mayoral candidates: Sadiq Khan, Caroline Pidgeon, Peter Whittle, Sian Berry, and Zac Goldsmith
The elections on May 5 will be the first major test for the Lib Dems in the capital since last year's drubbing in the General Election.
The party saw its total number of votes fall by 64 per cent – from 751,561 in 2010 to 272,544 in 2015 – and also lose six of its seven MPs.
Pidgeon acknowledges there is pressure on her to do well in the mayoral race, but believes the party is already bouncing back from last May's disappointment.
She said: "Our membership has grown hugely, lots of new activists, new members who are very enthusiastic, energetic and enthused, also about the Europe debate which is coming up straight after and that's really energising our people on the ground.
Pidgeon added: "I'm the only candidate that's got eight years experience of working day in, day out, at City Hall and I'm not standing because I want to be something great or I want to be the Mayor of London, I'm standing because I want to do something and get on and solve some of the issues and problems we have in London and work with Londoners to solve those issues and that's the challenge we have ahead."
Popular in the Community