The five things you need to know on Monday February 15, 2016…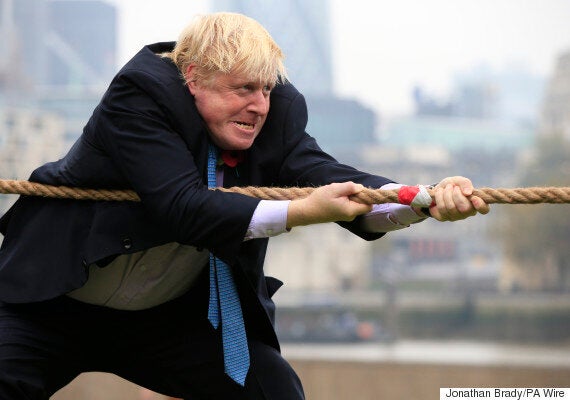 Who says threatening to withdraw from Europe doesn't work? Just look at HSBC, which had made ominous noises about having to relocate its HQ from London to Hong Kong unless the British Government amended its banking levy.
Of course, its chairman Douglas Flint told the Today prog that his bank had not forced the Treasury's hand. Oh no. Not at all. "We had no negotiation with the government," he said. "The government was well aware of our view, and indeed the view of many other people who commented upon it, but there certainly was no pressure put, or negotiation."
But worries that George Osborne has gone 'soft' on bankers, backing off the stronger crackdown suggested by the Independent Commission on Banking, were underlined by its chairman Sir John Vickers. Vickers, who along with Andrew Tyrie has been complaining the banks have got off lightly, told the Today programme that the future safety of Britain's banks is at risk and the Bank of England proposals are not strong enough. John McDonnell has been pushing this 'soft on bankers' line for a few weeks, but will it now get cut-through?
Well, Boris Johnson who famously said that on the topic of cake he is 'pro-having it and pro-eating it', is once again defending the City bankers. In his Telegraph column today he says the movie The Big Short proves 'how badly some of them behaved'. But Boris says that MPs, journalists and the BBC are all like bankers in that "there are now people who feel that they have come under suspicion in a way that is horrible and deeply unfair". In a nod to Bernard Hogan-Howe, he adds that the cops too have suffered "deeply unfair" criticism. "Beware the phenomenon of oversteer," he concludes.
But has Boris 'oversteered' on Brexit? For Eurosceptics and No10 alike, he has been a real tease over the subject. We don't know if he's yet in or out, but he loves shaking it all about. Bojo told Sunday Politics yesterday that when he finally decided which way to jump, he'd deliver it with 'deafening eclat'. The Times picks up on a quote where he - again - said there's "no ­reason to be afraid of" life outside the EU.
Meanwhile, the Telegraph splashes on the Attorney General "considering" joining Brexit. Now - no Googling - can you tell me who the Attorney General actually is these days? Thought so. (It's Jeremy Wright. Yes, point made).
If Michael Gove does back Brexit, the only reason that matters is it would give Boris licence to follow suit. If both opt for Remain in the end, watch that lovely Danny Fink phrase 'Remain-o-sceptics' to resurface. As for all the talk of IDS and co being really upset at being made to wait a couple of days to go public next Monday, No10 are pretty robust. The wait won't do anyone any harm, apparently.
Much of British politics (and Whitehall business) is in stasis pending the EU summit on Thursday. The Guardian's Brussels corr reports the Poles are demanding their price for a Cameron deal: that no other country can repeat Britain's migrant brake. Hmmm. A new Eastern Daily Press poll finds 38% leave, 34% remain, 28% undecided.
As for Jeremy Corbyn, his suggestion that he opposes the emergency brake on benefits is causing a bit of a backlash in his party, the Telegraph says. Lord Wood, EdM's former aide, told Radio 4's Westminster Hour that the party wanted the 'contributory principle' to apply to migrants. Meanwhile the FT reports there's a Big Short going on in the currency markets with many hedging for sterling to plunge if we quit the EU.
A taskforce led by Paul Farmer, the chief executive of the mental health charity Mind, has found a grim picture of mental health services in the NHS, with three quarters of people not getting proper treatment.
The gap between physical and mental health care has never seemed so stark. The Times reports
five year olds being placed on adult mental health wards. The Telegraph has a good angle for its own demographic, reporting that half of those in care homes have depression.
The Farmer review has prompted NHS chief Simon Stevens to act, pledging £1bn for services by 2020. But will the NHS's fragmented structure allow the cash to be spent and spent in time? Only this month, HuffPost showed how mental health cash already pledged had not been used.
David Cameron today welcomed the report, as did Jeremy Hunt. In an interview with the Guardian, Hunt also warned the NHS needed years more above-inflation increases in spending more widely. And he kinda struck a more emollient tone on junior doctors, saying his deal was a huge improvement on his original offer. I wonder what Hunt thought about the Mail's cracking splash on 111 call handlers asleep on the job, and on testimony about staff shortages?
The Duchess of Cambridge is guest-editing HuffPost UK this Wednesday and young people's mental health is a big priority of hers. In a preview piece on our special issue, the Sunday Times reported a Royal aide yesterday saying "the Duke and Duchess's role as parents is influencing all of their thinking at the present" and she will "emphasise the need not to let the stigma stand in the way of children getting the help they need". We, and Kensington Palace, will be using the hashtag #YoungMindsMatter all this week.
BECAUSE YOU'VE READ THIS FAR…
Emily Thornberry has been pointing out that one of the real reasons for the delay in any vote on Trident is the Treasury's concern over spiralling costs of the project. The Shadow Defence Secretary points out the Perm Sec's evidence to the public accounts committee in October, in which he said the Trident procurement was a "monster" that kept him "awake at night". Given the rise in potential costs from £25bn to £41bn, it's no wonder.
Speaking to the Guardian, Thornberry also said of her PLP mauling that "the bad behaviour of my comrades is a bit of a distraction" from the costs issue. Yet the piece floated the idea of Labour abstaining on any early Trident vote. That's surely untenable given many in the Shad Cab would vote to renew?
The FT reports that Michael Fallon, who was at the Munich security conference, claims Nato officials and 'socialist' defence ministers across Europe are "deeply concerned" about Corbyn's "lurch" to unilateralism. As for Corbyn, note he told the Derby Evening Telegraph last week he wanted to keep skilled manufacturing jobs but added: "I have a life-time view that nuclear weapons are not a defence against anything."
Matthew Hancock isn't afraid of acting as a lightning rod for criticism of the Government, as his decision to agree a mauling by Andrew Neil yesterday over unmet Tory manifesto pledges proved yesterday. But as a close ally of the Chancellor, Hancock often relishes taking on political enemies too, as his new Charities Bill proves.
Today, he has infuriated councils, student unions and other public bodies by unveiling plans to stop them from boycotting 'unethical' companies and foreign regimes. Ostensibly this is to defend Israel from goods boycotts (Hancock will use a trip there to unveil the legal ban plan). But the Indy, which splashes on the story, quotes critics saying it's a "gross attack on democratic freedoms". Jeremy Corbyn, says the law would have banned councils from boycotting apartheid South Africa. Note the story yesterday in the Sindy that a Luton schoolboy was quizzed by cops under the 'Prevent' programme for wearing a 'Free Palestine' badge, and for carrying a leaflet.
The Cabinet Office hasn't many levers of power, and a tiny budget, but Hancock is determined to use what clout he has. His latest decision to spend a bit saving vellum-printed laws has won him friends among traditionalists.
If you're reading this on the web, sign-up HERE to get the WaughZone delivered to your inbox.
Got something you want to share? Please send any stories/tips/quotes/pix/plugs/gossip to Paul Waugh (paul.waugh@huffingtonpost.com), Ned Simons (ned.simons@huffingtonpost.com), Graeme Demianyk (graeme.demianyk@huffingtonpost.com) and Owen Bennett (owen.bennett@huffingtonpost.com)