Oscar-winning actress Emma Thompson has been accused of "doing our country down" after describing the UK as "a cake-filled misery-laden grey old island."
Ms Thompson made the claim as she waded into the EU debate, urging Brits to vote Remain in the upcoming referendum.
But her comments were criticised by a leading Eurosceptic, who branded them "incredibly disappointing".
The 'Love, Actually' star was asked at the Berlin International Film Festival how she planned to vote in the referendum, likely to be held on June 23 this year.
After describing the UK as "a tiny little cloud-bolted, rainy corner of sort-of Europe, a cake-filled misery-laden grey old island," she added: "I feel European even though I live in Great Britain, and in Scotland."
"So of course I'm going to vote to stay in Europe.
"Oh my God, it would be madness not to. It would be a crazy idea not to. We should be taking down borders, not putting them up."
Tory MP Steve Baker, chairman of Leave group Conservatives for Britain, told the Huff Post UK: "It's always incredibly disappointing to see a star doing our country down.
"We are much greater than this."
Ukip leader Nigel Farage told the Huff Post UK: "This is utterly defeatist and negative.
"We believe in Britain, and that we can thrive as a self-governing, independent nation."
The star of the Italian Job and The Dark Knight told BBC Radio 4's Today programme: "I sort of feel certain we should come out.
"You've now got in Europe a sort of government by proxy of everybody who has now got carried away and I think unless there's some extremely significant changes we should get out," he said.
"You cannot be dictated to by thousands of faceless civil servants who make these rules and you sort of, 'oh hang on a minute is that right' and they argue about financially but, we buy more than them than we sell to them."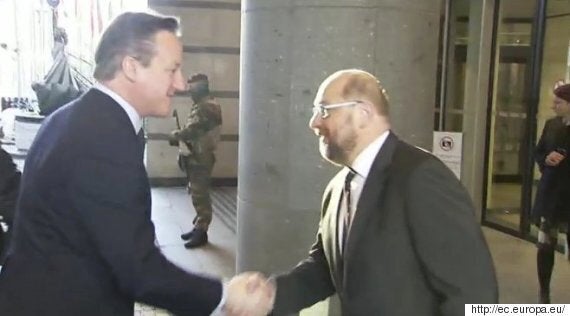 David Cameron meets with Martin Schulz
Ms Thompson's comments come as David Cameron reaches a critical moment in trying secure a new deal for the UK's membership of the EU.
The Prime Minister is in Brussels for a serious of meetings with MEPs and other high-ranking EU figures ahead of a key summit on Thursday and Friday, which could see the deal agreed.
But this morning European Parliament president Martin Schulz failed to assure Mr Cameron that the EU's legislative body would not overturn all, or parts, of the agreement.
Mr Schulz said: "To be quite clear, no government can go to the Parliament and say: 'This is our proposal, can you give a guarantee about the result'.
"This is not possible in a democracy."
Mr Cameron's day of wooing did not get off to the best of starts when he was 25 minutes late for a meeting with President Schulz, leaving him "pacing" in the cold.
It led to frosty encounter in front of the cameras when Mr Cameron eventually did arrive.
Stepping out of a car, Mr Cameron said: "Hello Martin, good to see you. All well?"
The President simply responded: "Technical problems?"
"Yes, sorry, er…" replied the Prime Minister, as the two walked inside for their meeting.
Mr Cameron clearly has some persuading to do that the changes to rules around in-work benefit claimants in the UK will not cause carnage for the EU, as one Brussels diplomat was quoted today as saying" "When MEPs get their hands on Brexit emergency brake legislation after a referendum it could well be case of 'monkeys with guns'."
Popular in the Community