Calls from police for a man who is "begging" to be shunned and reported to the authorities has led to an overwhelming surge of offers to help him instead.
After hundreds commented on the post, police were forced to back track on Wednesday, admitting that they could have chosen their words more carefully.

Greater Manchester Police posted this message to Facebook on Tuesday
The message read: "It has been brought to our attention there is a male begging in a public place near to Tesco, Hindley.
"We request that members of the community do not encourage this behaviour by giving him money.
"Sec 3 Vagrancy Act - Begging in A Public Place any person sighting persons committing this offence please contact the Police on 101."
More than 800 comments have been left on the post so far, with many labelling it as "disgusting". Commenters also offered assistance to the man.
Katrina Lawrie wrote: "Who is up for getting a nice banquet together and going finding this fella who's heinous crime is being homeless and desperate for a few quid to get buy.
"We could take a fold out table and all eat together. I'm not sure GMP could arrest us all."
Bert Scernert added: "I live near tesco in hindley.[sic]
"I'm gonna go down tonight and give the poor fella a couple of quid, cheers for the heads up."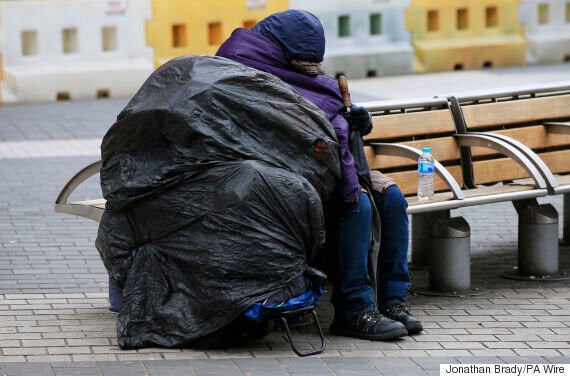 After the police's post there was a surge of offers to help the man [file image]
Shelby Wills said: "What ever happened to human decency and a bit of compassion. These people don't chose to be homeless. Stop wasting valuable police time and catch some real criminals.
"I'm sure you'd rather people volunteer to give them money/food than them have to steal and actually break the god dam [sic] law."
GMP said that the post was well-meaning, but admitted that they could have been more careful with their choice of words.
A GMP spokesperson said: "This post was put online with good intentions, however the choice of words that were used could have been better.
"Although we receive relatively few complaints in connection with aggressive begging and there is a clear distinction between those who beg aggressively and harass members of the public and those who do not, giving money to beggars can fuel this problem.
"What the post should have said is that rather than giving money to people who are sat outside, we would encourage the public to donate that money to a charity that can provide these people with the support that they need."
The man has been seen begging near to Tesco, in Hindley, police said.
The Hindley store has a history of helping those who are homeless.
Last year, Tesco donated food to the Brick charity, which helps homeless people living in Wigan Borough to access housing, advice and support.