Many adults struggle to discuss mental health with their friends, so it's little wonder they find it difficult to talk to their children about it.
More than half (55%) of parents in England have never broached the topic with their children, according to research on behalf of the Time to Change campaign.
But, as one in five children will have a mental health issue by the time they are 11, it's vital parents find ways to approach the conversation.
As Dr Fiona Pienaar, from children's mental health charity Place2Be, explains: "Addressing issues as early as possible and helping children think about how to cope with difficult situations, can help prevent problems from spiraling and becoming more complex later in life."
With this in mind, The Huffington Post UK sought the advice of child psychologists and children's charities to learn how parents can discuss issues such as stress, anxiety and depression in a way that ensures children feel loved, valued and listened to.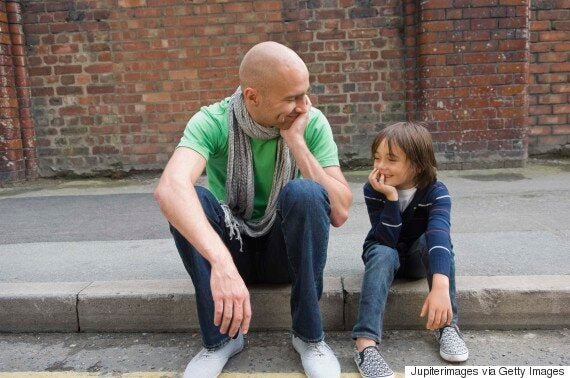 More than half of parents in England have never talked about mental health with their children (picture posed by models)
Don't Underestimate Your Child
Children are never too young to talk about mental health.
We're not suggesting you try to get a four-year-old to add terms such as depression or bipolar to their vocabulary but there are age-appropriate ways you can discuss mental wellbeing.
"Naming feelings – such as sad, worried, excited, angry – can help children think about and understand their own emotions, as well as how they cope when something is difficult," says Dr Pienaar.
"You could say 'I've noticed it looks like you're feeling sad' or ask them open questions such as 'Tell me about something you found difficult today? How did you manage?'"
Helping children develop the language necessary to talk about feelings is crucial.
"Being unable to identify or discuss emotions can be a key factor in problems with mental health both in childhood and adolescence," says Dr Joanna Livingstone, head of psychological services at AXA PPP healthcare.
Feeling comfortable with the term "mental health" is also important, says 22-year-old Tamanna Miah, who became an activist for charity YoungMinds after experiencing depression and anxiety as a child.
"The words 'mental health' almost never came up as a child and when they did, it was like they were describing another type of person – 'a crazy person'," she explains.
"Mental health was seen as a taboo subject, something that shouldn't be talked about openly.
"I wish my parents had spoken to me about the issue of mental health and the underlying issues behind it such as abuse and bullying.
"There was never an opportunity to be open and discuss important issues such as these. If there was, then things would have definitely have turned out to be better."
Katharine Hill, UK director at charity Care for the Family, advises parents to describe mental health in terms children can understand.
"You could start by explaining that mental health is about our range of emotions and how we cope with our lives and that mental health can fluctuate, just like our physical health, from day to day," she says.
"Try to dispel any myths surrounding mental illness such as 'only weak people suffer from it' and explain that it is just like other medical illnesses, in that help is available should they ever need it."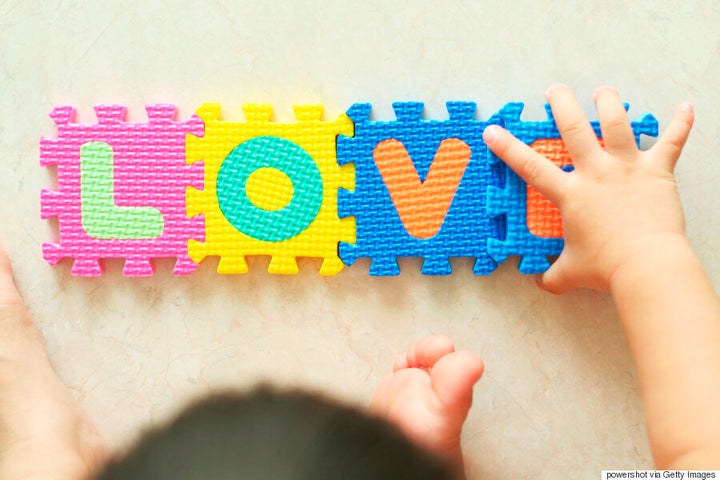 Talking about mental health helps ensure children feel loved (picture posed by model)
Don't Underestimate Yourself
Children aren't the only ones who may struggle to find the right words.
If you're worried that you don't know enough about mental health to talk about it with your children, take the pressure off. You don't have to be an expert.
"Don't avoid these conversations because they make you uncomfortable," says Jeremy Todd, chief executive of charity Family Lives.
"You don't need to have all the answers, you just have to listen. In fact, the feedback children give us is that if a parent is simply seeking to resolve the situation, ultimately the child feels quite dismissed.
"They just want to feel heard and know that if they need further support you will help them find it."
When was the last time you asked your child: 'How are you?'
It's a question you can't ask often enough.
As hard as you may find it to broach the subject of mental health with your child, they're likely to feel even more timid about bringing up their emotions with you.
So, it's important to provide plenty of opportunities for them to talk.
"Whether it's in the car or around the dinner table, creating a regular space for conversation about how your day has been can instill good habits in children, which will make it much easier for them to come to you if they have a problem in future," says Dr Pienaar.
"Don't forget to comment when they talk about healthy ways they have coped with a challenging situation, such as asking for help, or trying a different approach."
How To Start Conversations About Emotions

Graham Doke, founder of meditation and wellness centre Anamaya, advises:

Finding Feelings: If your child is expressing a feeling, encourage them to describe it in detail. Let them try to find where it hurts physically in the body
Guessing Games: Play a game in which you take turns to express emotions without using words. Instead, use facial expressions, gestures, or movements, while the other guesses the emotion
Reading: When reading books, talk about the emotions the characters in the story must have experienced. Ask how and why they know the characters feel in that way
Don't Go In All Guns Blazing
Think back to when you were a child. How did you feel when your mum or dad wouldn't let something go? If your child's not ready to talk, don't push them.
"Slip in open questions initially, know when to stop, don't force it, remember children don't always want to tell parents everything. That's OK, but let them know that you are there if they want to talk."
Emma Saddleton, YoungMinds helpline operations manager, adds: "Reassure your child by making it clear you are not angry, ashamed or embarrassed.
"Try to start a conversation when you are both feeling calm. Explain why you are worried and acknowledge your observations of any changes in behaviour, sleeping or eating. Explain that if the time isn't right today, your door is always open."
Fight Your Urge To Wrap Children In Cotton Wool
"None of us want our kids to be unhappy but all of us as adults accept that life is sometimes an unhappy place, so fighting that instinct to make everything better is best for your child," says Jeremy Todd.
"Let them know it's OK to feel sad, anxious or stressed and that you're there to support them."
Dr Pienaar said that from Place2Be's work in primary schools she's learned young children are affected by a huge range of challenges, such as coping with a bereavement or illness, coming to terms with parents separating, bullying, witnessing domestic violence or substance misuse at home.
Parents may think that by not discussing these issues with their children they're protecting them but the opposite is true.
"I've listened to eight-year-olds tell me in great detail about what they find stressful in life and the issues they describe are often remarkably similar to those faced by adults," said Dr Pienaar.
"So it's important parents are aware that children are impacted by life's challenges, too, even if it's not immediately obvious from their behaviour."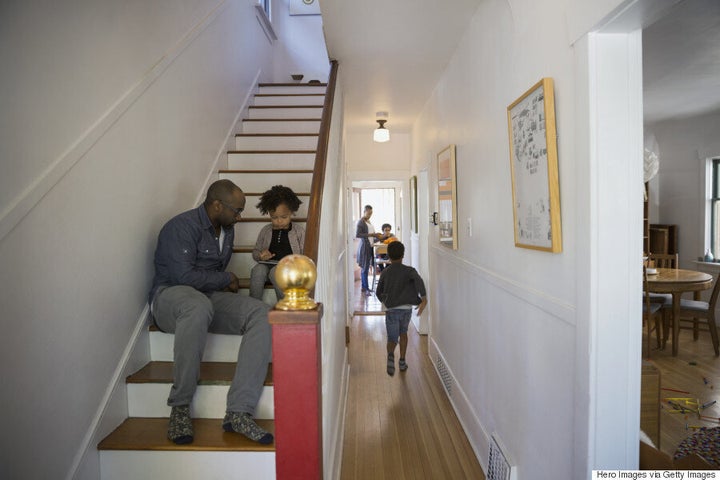 Conversations about mental health don't have to be formal (picture posed by models)
"Parents may feel responsible for their child's unhappiness and this may make them become defensive and unwilling to engage," says Todd.
"Parents need to recognise it's not about them. It's a normal part of the child's growing up and they need to feel safe to express a whole range of emotions."
"Parents may feel they have to hide their own emotions from their children but this can be counter-productive and risks encouraging them to do the same," explains Dr Pienaar.
"If you've had a tough day at work, or you're feeling exhausted or worried about something, it's OK to tell your child without overwhelming them.
"Make sure you explain what you're doing to cope with the situation and manage your emotions – whether it's having a relaxing bath or perhaps chatting to a friend or even just having a big hug.
"Looking after your own mental health and wellbeing is the first step towards supporting that of your child."
You Don't Have To Go It Alone
If you're struggling to talk to your child about mental health, don't give up. There's plenty of support available.
As Peter Fonagy, chief executive of the Anna Freud Centre explains: "We somehow expect people to be able to parent intuitively or instinctively but it is actually a difficult job.
"We know that various group-based parenting interventions are extremely helpful because they offer skills in managing difficult behaviour but also mutual support from other parents."
For more help:

Reach out to your child's school or GP
Check out online resources at www.MindEd.org.uk
Call YoungMinds Parents helpline: 0808 802 5544 (open Mon-Fri 9:30am-4pm)
Call Family Lives free helpline: 0808 800 2222 or chat with other parents in the charity's forum
Young Minds Matter is a new series designed to lead the conversation with children about mental and emotional health, so youngsters feel loved, valued and understood. Launched with Her Royal Highness, The Duchess of Cambridge, as guest editor, we will discuss problems, causes and most importantly solutions to the stigma surrounding the UK's mental health crisis among children. To blog on the site as part of Young Minds Matter email ukblogteam@huffingtonpost.com
Related