An eight-year-old girl who lost her arm in a dog attack moved people to tears during her first swimming race since the incident.
Thalia Standley had nine surgeries in just three months following the attack in August 2015, when a dog bit and trapped her lower arm under a fence.
Standley now has a prosthetic hand, but she participated in the race without it on, managing to swim the majority of the length by herself.
"Not a dry eye at the pool," her parents wrote on the Facebook page dedicated to their daughter. "Thalia's first swimming carnival. Amazing little girl."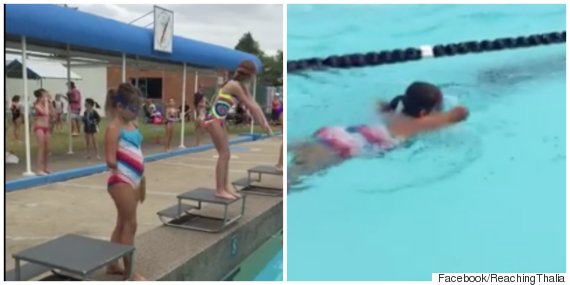 Thalia Standley was cheered on as she swam the race
Standley was greeted with a huge round of applause as she stepped out of the swimming pool after the race.
The emotional video has been viewed more than 700,000 times just one day after being uploaded on Wednesday 17 February.
Viewers have commented on how "inspirational" the eight-year-old is, as well as crediting her bravery.
"Amazing courage all with a smile that melts the world, well done Thalia," wrote one person.
Thalia's parents set up the Reaching Thalia Facebook page and website shortly after she was attacked.
The family regularly document Thalia's progress and hobbies she enjoys, such as playing football and body boarding.
They also fundraise for their daughter's ongoing medical costs, including new prosthetics and hand attachments as she grows older.
To follow Thalia's journey, visit reachingthalia.com.au.
SEE ALSO:

Two-Year-Old Double Amputee Takes His First Steps (Video)

Three-Year-Old Girl Receives Bravery Award After Saving Pregnant Mum's Life With 999 Call

Schoolgirl Amputee Asks Doctors To Remove Other Foot - So She Can Run Faster