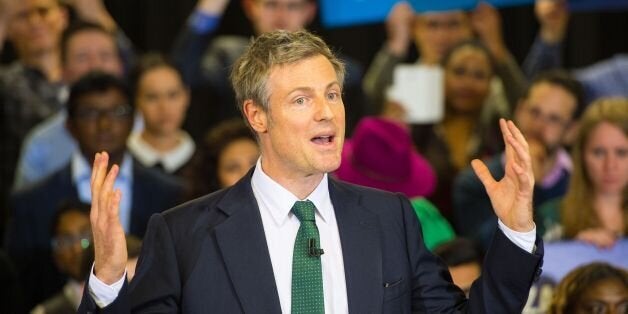 Zac Goldsmith has been accused of "hypocrisy" after it emerged he previously dismissed plans to increase housebuilding as a "magic porridge pot".
The Tory MP has made housing his top priority in his campaign to be the next London Mayor, promising to double home building to 50,000 a year if he gets the keys to City Hall.
But his enthusiasm for increasing housebuilding in London is at odds with comments he made before entering politics.
In 2004, when he was editor of The Ecologist magazine, Mr Goldsmith wrote an editorial heavily criticising the then-Labour Government's policy of constructing more homes.
In the article, he wrote that increasing housebuilding "is a policy with no end. It's the magic porridge pot."
He went on: "For one thing, even he [John Prescott] doesn't imagine his house building splurge will curtail the rise in house prices by more than a fraction of a percent.
"So it's a heavy price to pay for a solution that is both short-term and insignificant. For another, it is widely considered that, just as new roads contribute to congestion, building new houses will have the same effect: increasing demand.
"Finally, since most of the new houses are to be constructed in the south of England, the effect will be a further drain on skills from the already 'ghost-town'-infected north. None of it adds up."
London's housing crisis is one of the key issues in the Mayoral race, with aa report produced by the London School of Economics last year finding that 59,000 homes must be built annually in the capital to meet demand.
Labour's candidate Sadiq Khan has described the May 5 vote as "a referendum on housing", and has pledged to set a target of 50 per cent of all new homes in London to be "genuinely affordable".
Labour MP Neil Coyle, who represents the London constituency of Bermondsey & Old Southwark, claimed The Ecologist editorial revealed Mr Goldsmith's "real view" on housebuilding.
He said: "This is yet another example of Goldsmith's hypocrisy. He changes his values to suit his audience. Now he is a mayoral candidate, he feels he has to talk about housebuilding, but his real views have been exposed.
"As well as being anti-business, we can now add anti-housebuilding to his credentials. No wonder he has no proper plan to tackle the housing crisis and won't commit to affordable homes. He's not fit to be Mayor of London."
"It's clear that only Sadiq Khan has a credible plan to build genuinely affordable homes in London."
A spokesperson for Mr Goldsmith said: 'Zac is standing up for Londoners with his Action Plan for Greater London, which will deliver 50,000 new homes a year by 2020 and give Londoners the first chance to buy new homes built in London.
"Not only will the Khan-Corbyn experiment put our City at risk with a £2 billion budget black hole, it will actually reduce housebuilding. Perhaps that's why Khan has refused to say he wants to increase the number of homes in London.'
A Tory source added: "These comments were from over a decade ago and while London's population has increased by more than a million since then, Sadiq Khan still refuses to say he wants to build more homes."
Until 2010 Mr Goldsmith held a non-dom tax status – meaning he only paid tax on his UK income, not his overseas earnings.
Mr Goldsmith inherited the status from his multi-millionaire father Sir James Goldsmith who died in 1997.
The Richmond Park MP told Newsnight presenter Evan Davis: "I have always been tax resident in the UK.
"I have always paid full tax on my income in the UK since I've been paying tax since I was 18."
Mr Goldsmith agreed to publish his tax return to demonstrate the amount of money he hands over to the Treasury.
Related