Adoption agencies are looking for volunteers to cuddle and care for newborn babies waiting to be adopted.
The agencies in America, who need volunteers as part of the babies' "interim care programme", have said they need all the help they can get to nurture the newborns and ensure they benefit from one-on-one care in the first few weeks of their lives.
"Volunteers are more important probably than they have ever been," Adam Pertman, president of the National Center on Adoption and Permanency, told ABC News. "All agencies over the years have certainly needed volunteers but the need has grown and they have become more and more essential."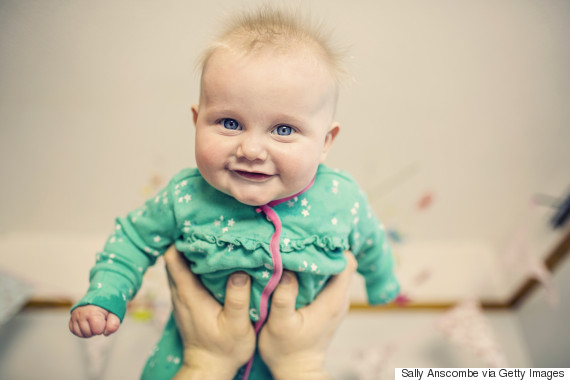 Volunteers become "temporary caregivers" for the babies in the first few weeks of their lives
Interim care is a period when the baby's biological parents, who are considering adoption, have time to explore their options while knowing their baby is being looked after.
The biological parents still have legal rights during this time and are encouraged to visit, according to Spence-Chapin agency.
The period never usually lasts longer than six weeks.
All volunteers wishing to take part will have background checks and home visits. They will become "temporary" caregivers for the babies.
"The commonality between our volunteers is their nurturing spirit to care for a newborn and then help that baby transition into their permanent family," Katie Foley, associate director of outreach for New York-based adoption agency Spence-Chapin, told BuzzFeed News.
"Volunteers find fulfillment and satisfaction in being a loving, if temporary, home for a baby in need."
Agencies also help cover some necessary expenses including nappies, formula milk, clothing, and transportation.
Although there has been no callout for volunteers in the UK, British adoption agencies also have an interim care period.
On the NSPCC website, it states this is the first step that happens in the process of a child being put up for adoption or going into care.
"Applications must be made to the courts for an interim care order. An interim care order is awarded for eight weeks.
"It must be renewed every four weeks. This will allow time for matters to be investigated further and plans to be made."
Hugh Thornbery, chief executive of Adoption UK explained that the period of interim care isn't the same in the UK as America.
"Interim care in America is different to the foster to adopt scheme that we have in England," he told The Huffington Post UK.
"Here, 'foster to adopt' enables babies and very young children to be placed in care with people who are approved as both foster carers and adopters, to stay with them throughout the court process and if it is decided that the child cannot return to their original family they remain permanently through adoption.
"This avoids changes of placement both during the early stages of decision making and beyond, thereby providing the child with one safe and secure family from the outset of being in care.
"In the UK children in care would not placed with volunteers – they would have to be with approved foster carers."
Thornbery added: "There is a need for continuity of nurturing care and the need to understand the importance of maintaining relationships for children."
SEE ALSO:

New Law Will Speed Up Adoption Process And Place 'Stability' And 'Happiness' Of Children First

Baby With No Name 'Should Be Placed For Adoption', Family Court Judge Rules

How Adopted Children Inspired Their Parents To Help Others Become Families