David Cameron is facing demands from other European Union leaders that a "no second chance" agreement be written into his new membership deal for Britain.
Belgium – backed by France – proposed that the summit conclusions should state that any deal agreed this week is final and Europe will not come back with an improved offer if Britain votes to leave the EU. The prime minister has been told it is Britain's "last chance".
Talks in Brussels between Cameron and the other 27 EU leaders are set to begin again this morning following a marathon all-night session that ended at 5.30am.
Cameron arrived at the summit yesterday with the hope of being able to wrap up a deal today in time to this afternoon fire the starting gun on a June 23 referendum.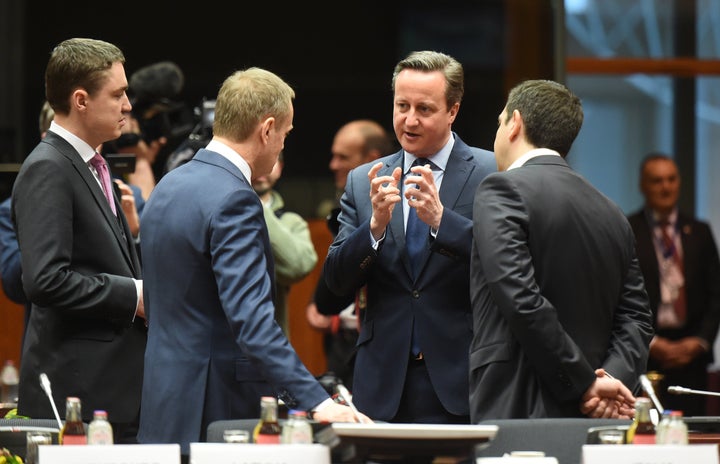 David Cameron speaks with Greek Prime Minister Alexis Tsipras, right, and European Council President Donald Tusk
Following a summit dinner that dragged on until 2.20am, Brussels time, European Council president Donald Tusk said "some progress" had been made "but a lot still remains to be done".
A Downing Street source told the Press Association: "It's hard going. Some signs of progress but nothing yet agreed and still a lot to do.
Energy secretary Amber Rudd told BBC Radio 4's Today programme this morning the deal was "out of reach" at the moment.
The "no second chance" clause is designed to block any notion among British eurosceptics that a 'Leave' vote would give the UK leverage to extract further concessions from the EU before a second poll.
If a deal is done today, Cameron is expected to return to London to hold a cabinet meeting. He would then free up eurosceptic Cabinet colleagues like Iain Duncan Smith and Chris Grayling the freedom to start campaigning for Britain to vote for Brexit.
Senior Tories including Boris Johnson and Justice Secretary Michael Gove, who are seen as on the fence, could be expected to declare which side they will back.
Rudd told Today it was "too early" to conclude there had been a "watering down" of the initial deal Cameron had proposed two weeks ago.
"There are various elements moving around, we will have to wait and see to find out where they finally land." she said.
"What the prime minster has said is that we are making progress, but that the deal is out of reach at the moment. I don't think we can underestimate how difficult it is to get 27 member states to agree. And he has always said this is about getting the best deal not a rushed deal. What I want is a deal that is really in our country's interest."
Ukip leader Nigel Farage told Today this morning he expected Cameron to gain some ground from EU leaders so as to allow him to present his new deal as a victory to voters.
"I simply cannot believe that at some point today Mr Cameron will not get some concessions out of these people. They must know that if Cameron is sent home totally humiliated Brexit has got that little bit closer," he said.
"I just think there will have to be a deal of some kind, but frankly we really are scratching around at the edges here. There is no fundamental renegotiation on offer."