A British exit from the European Union would limit the UK's capacity to deal with international dangers, including the threat from members of the so-called Islamic State group and the rise of Russian nationalism under Vladimir Putin, according to top former military commanders.
In a letter to the Telegraph newspaper on Wednesday, the former top brass highlighted the "grave security" risks facing Europe, which they said the UK would be better able to deal with as part of the EU.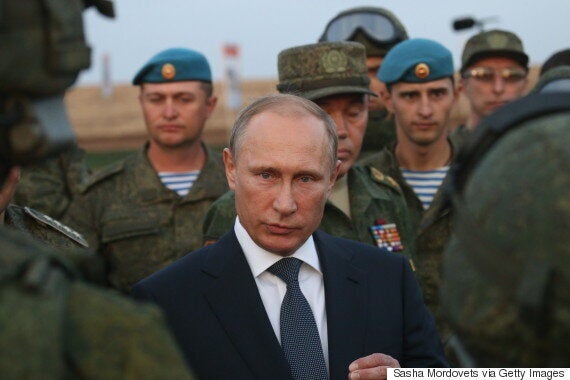 Vladimir Putin talks to officers as he is visiting the Center -2015 Military Drills at Donguzsky Range in Orenburg, Russia, September, 19, 2015
The warning comes from former senior personnel from all three branches of the British armed services. In the missive, the commanders specifically noted concern over the rise of the Islamic State, also known as Daesh.
"We are proud to have served our country and to have played our part in keeping Britain safe," the letter read. "In the forthcoming referendum, therefore, we are particularly concerned with one central question: will Britain be safer inside the EU or outside it? When we look at the world today, there seems to us only one answer."
"Europe today is facing a series of grave security challenges, from instability in the Middle East and the rise of Daesh, to resurgent Russian nationalism and aggression," the letter continued. "Britain will have to confront these challenges whether it is inside or outside the EU. But within the EU, we are stronger."
"Inside it, we can continue to collaborate closely with our European allies, just as we did when we helped to force the Iranians to the negotiating table through EU-wide sanctions, or made sure that Putin would pay a price for his aggression in Ukraine."
According to the Telegraph, the letter was coordinated by Downing Street and includes the signatures of former chiefs of defence staff Field Marshal Lord Bramall and Field Marshal Lord Guthrie, Air Chief Marshal Lord Stirrup, Admiral of the Fleet Lord Boyce and former Special Forces Chief General Sir Michael Rose.
Britain is to hold a referendum on its continued membership of the EU on June 23. After renegotiating Britain's agreement with Brussels, Prime Minister David Cameron is leading the campaign to stay within the 28-member body.
Popular in the Community