Over the years, the Brit Awards have allowed some of the biggest stars from the world of music to put on show-stopping performances that have had us all talking the next day.
While we're not exactly opposed to an outrageous onstage outburst or cringe-worthy awards show fail, the Brit Awards are often when an artist is really able to nail a performance to create a true watercooler moment.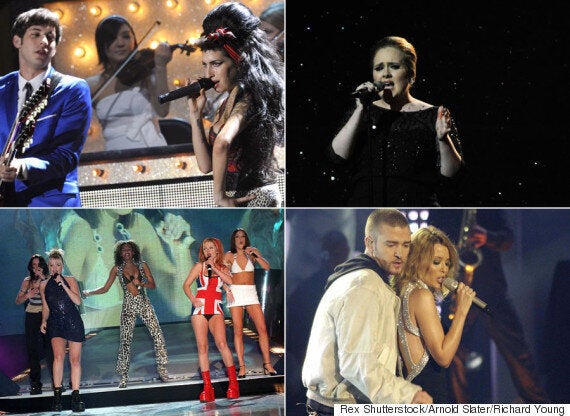 Four of the most memorable Brit Awards performances
In recent years, modern acts like Adele, Kanye West and Lady Gaga have caused a splash with their performances, but there are some great performances in the vaults too, from the likes of Kylie Minogue, Whitney Houston and a little-known British indie group called the Spice Girls (perhaps you've heard of them?).
With countless memorable performances to pick from, we've managed to whittle our favourites down to just 18, which includes unlikely collaborations, raunchy choreography, jaw-dropping antics and, of course, some amazing UK talent...
This year, Justin Bieber, Rihanna and The Weeknd are among the stars confirmed to be taking to the stage, hoping to join the Brit Awards performances hall of fame, while a host of UK stars will also be doing it for us Brits.
Adele and Coldplay, who have performed at the ceremony in previous years, will be singing live, while we can also look forward to James Bay and Jess Glynne - who have both been nominated for four gongs each at this year's ceremony - putting on a show for us.
After another successful year, Little Mix will also be making their Brits debut during the awards bash, ahead of their UK tour later in the year.
The ceremony will also feature a tribute to the late David Bowie, which will reportedly feature a host of British talent honouring the late pop icon.