Lena Dunham has become the latest celebrity to make a public show of support to Kesha, by outlining her thoughts in an essay, titled 'Why Kesha's Case Is About More Than Kesha', published in her weekly Lenny newsletter.
In the piece, Lena addresses the recent court ruling, which decided that Kesha cannot be freed from her contract with Sony Records, and producer Dr Luke, who she previously accused of sexual and emotional abuse.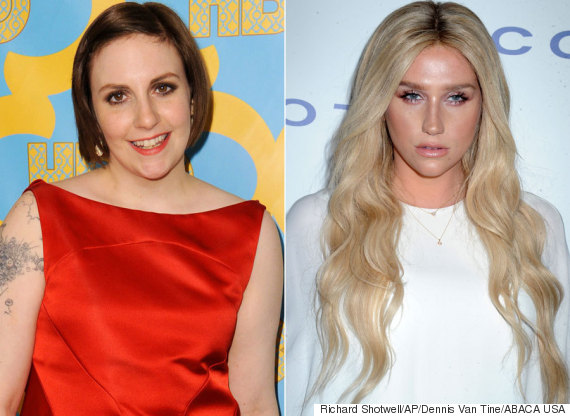 Lena Dunham and Kesha
Dr Luke has vehemently denied the claims however, this hasn't stopped criticism from fans and Kesha's peers, who argue that she deserves to be freed from her contract.
Lena writes: "While the allegations of sexual assault and emotional abuse cannot be proven definitively, I think Kesha's words speak for themselves: 'I know I cannot work with Dr. Luke. I physically cannot. I don't feel safe in any way.'"
She then takes aim at Sony, adding, "Sony could make this go away. But instead the company has chosen to engage in a protracted legal battle to protect Gottwald's stake in Kesha's future", before turning her attention to the swell of supporters who have voiced their views.
She concludes: "The women in the music industry speaking out for Kesha are proof. And their words will reverberate, inspiring the young women watching them for clues about the good life to speak up too. Soon, no one will accept shame and fear as the status quo. And so, while Kesha is indefinitely silenced, her voice has never been louder.
Lena is the latest in a long line of stars who have supported Kesha, and her comments come days after Taylor Swift donated $250,000 to the 'Tik Tok' star, in order to help cover legal costs.
A number of celebrities, including Demi Lovato, Ariana Grande and Miley Cyrus have also taken to Twitter, while Dr Luke tweeted to defend himself and, once again, refute Kesha's claims on Monday evening.
Read Lena's full essay and subscribe to her Lenny Letter newsletter here.