The £33 million Lotto jackpot won a person in Worcester was plunged into drama earlier this year - with one woman claiming to have put the winning ticket through the wash.
But there was no such hysteria on Tuesday when a couple from Cambridgeshire admitted that they waited a whole week to cash their £32.5 million cheque.
Gerry Cannings, 63, and his wife Lisa, 48, from Deeping St James, near Peterborough, said that they didn't head straight to the back because they had decorators working on their home and were worried about having guests visit, the Press Association reported.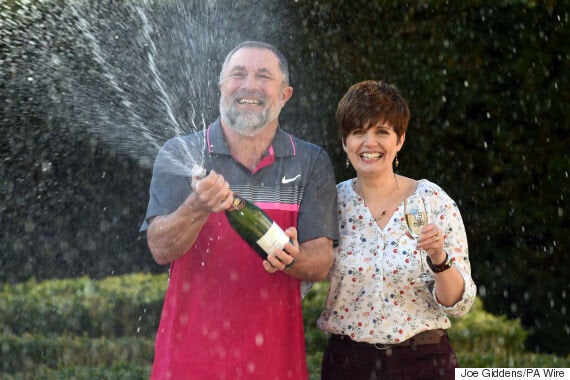 The Cannings celebrate their win
Mrs Cannings said: "We had dust sheets everywhere and literally didn't have anywhere for people to sit."
During the wait, Mr Cannings carried the ticket around in his wallet but said he was not worried about keeping it safe.
"It's just the way we are - we don't really worry about things or make a drama," he added.
"You could say we're a bit boring like that."
The couple had been visiting Mr Cannings' father, retired professional cricket Victor Cannings, 96, in Slough when they decided to buy a ticket.
Mr Cannings had gone to buy a fish and chip supper on the Saturday night when he spotted a poster advertising the lottery jackpot, and chose the numbers 15, 16, 23, 39, 48 and 59.
They struggled to check the winning numbers that night so waited to look online the following morning.
Describing the moment he eventually realized the win, Mr Cannings said: "I said 'Bloody hell - we've got the whole lot'.
"I double-checked it, reading it forwards and backwards. It just didn't seem real but it looked right."
Mr Cannings, a retired history teacher at Deeping School, and Mrs Cannings, who teaches languages at Hampton College, Peterborough, have an 11-year-old son, Sam.
Mr Cannings has two sons, Tom, 34, and Adam, 31, from a previous marriage, along with five grandchildren all aged lee than four.
The keen golfer said he planned to spend £2,999 on a flight in a Spitfire and the couple wants to go on a tour of New Zealand.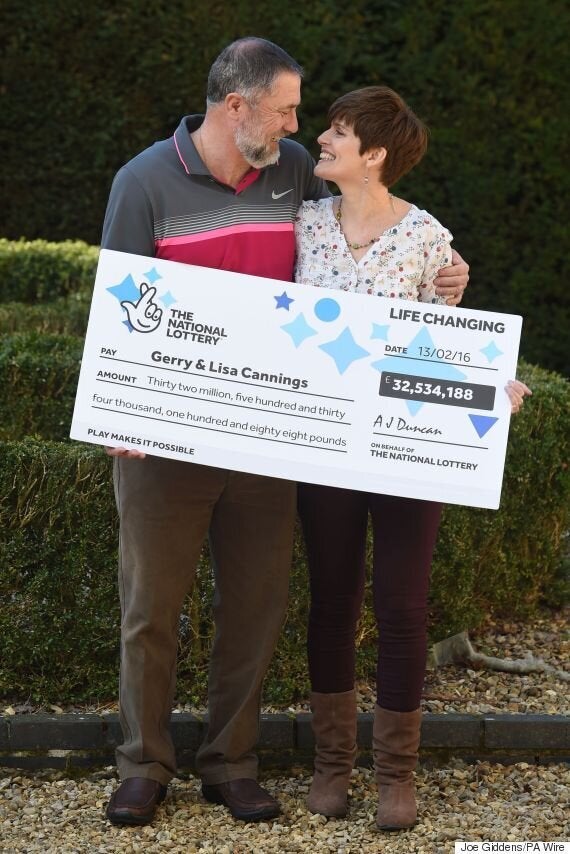 The Cannings may have had the most chilled reaction ever to such a lottery win
They added they were keen not spoil their children - even making Sam wait until his birthday in June to get the Xbox he has always wanted.
Mr Cannings said: "We will help them buy houses and make sure they comfortable but we don't want money to take over their lives.
"We just want to carry on as boringly and normally as we always have."
The cul-de-sac where the couple lives was swamped with press on Tuesday.
Neighbour Brian Battersby, 76, said: "Sod it, no point doing lottery now, lightning won't strike here twice!"
They added they hoped to help charities, including the RNLI, which they have supported over the years.