David Cameron joked he had "ignored my mother's advice" this evening as he appeared tieless and jacketless at the launch of the pro-EU Conservatives IN campaign.
Addressing a room of Conservative Cabinet Ministers, MPs, MEPs and councillors, Mr Cameron gave a passionate defence of why he felt the UK should stay in the EU.
The launch of Conservatives IN came on the same day as a group of Tory MPs gathered in the grounds of Parliament to demonstrate that they were backing the Vote Leave campaign ahead of the referendum.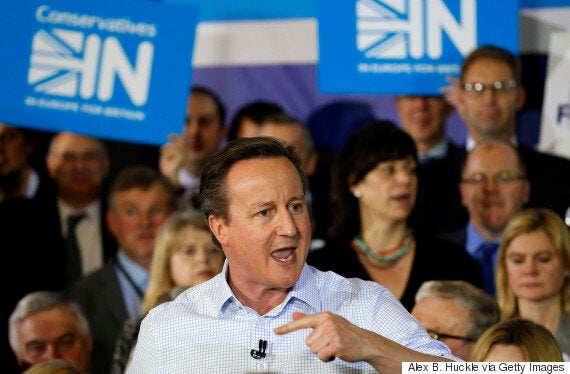 At the Institute of Contemporary Arts in Pall Mall this evening, Mr Cameron began his speech by saying: "I have tonight ignored my mother's advice: I have taken off the tie and I've taken off the jacket.
"This matters so much for our country."
The Prime Minister vowed to go "all across the country" ahead of the June 23 referendum in an attempt to persuade people to vote Remain.
He said there are "three very simple and very straight-forward arguments" for why the UK should stay in the EU: prosperity, security and military and diplomatic strength.
The financial guru, who is a regular on ITV's Good Morning Britain, said the referendum will come down to how "risk averse" individual voters are.
He said: "It's riskier to leave the European Union than to stay in it because change is always riskier.
"However, risk should not be automatically considered a bad thing.
"If you are risk averse you should probably vote to stay in the EU. If, however, you are of the view that you want change you should vote out.
"Honestly, I'm risk averse. At the moment I am probably 55/45 for staying in Europe.
Justice Secretary Michael Gove – who is calling for the UK to leave the EU – rejected the idea that leaving the EU was a risk for the UK.
In an interview with the BBC, Mr Gove said: "No I think this is the safer choice. I think if we leave the European union we take back control. People in this country will have control over our money, over our laws - over politicians."
He added: "Optimists - people who believe in Britain, who believe in democracy - they're the people I believe who will vote for us to leave and take back control."
Related