Brothers Arshid, Basharat and Bannaras Hussain - known as Mad Ash, Bash and Bono - formed a violent, gun-toting, drug-dealing family of six who appeared to operate with impunity in Rotherham in South Yorkshire, Sheffield Crown Court heard.
Women described how they were raped, beaten and passed between abusers and used as prostitutes by a gang led by the three men, who "owned" the town.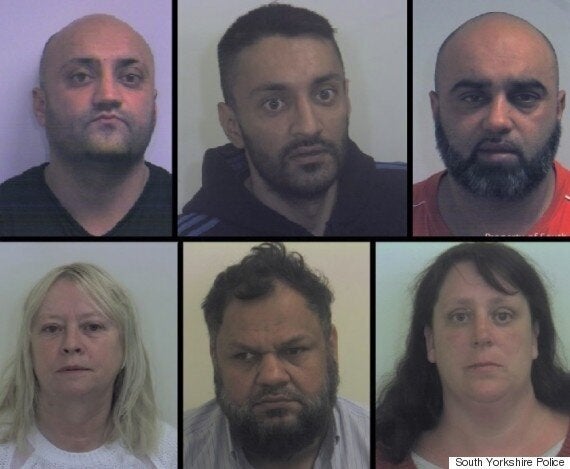 Top left to right - Basharat Hussain, Arshid Hussain, Bannaras Hussain
Bottom left to right - Karen MacGregor, Qurban Ali, Shelley Davies
Some of the 15 women who were abused by the gang watched the verdicts from the public gallery on Wednesday, some holding hands with each other. The abuse took place between 1987 and 2003.
The police watchdog is now investigating more than 194 allegations about the conduct of police, who along with local authorities have been heavily criticised for failing to act.
The Independent Police Complaints Commission (IPCC) has said it is involved in 55 ongoing investigations into "allegations about how South Yorkshire Police dealt with child sexual exploitation in Rotherham".
The commission said these cover a range of allegations, from a failure to act on reported child sexual exploitation to corruption.
The IPCC said it is undertaking "ongoing research and analysis work" into allegations made by 41 complainants. Some 92 allegations relate to police officers who have been identified, but 102 involve as yet unidentified officers.
The watchdog said 54 officers had been named. Twenty six had been advised they are the subject of an investigation that, if proven, would amount to misconduct, and the remaining 28 are subject to ongoing assessment.
Claims of failures by Rotherham Council representatives were also made in the trial.
An NSPCC spokesman said on Wednesday: "The survivors of abuse in this case showed tremendous bravery to come forward and reveal the extreme violence, rapes and sexual assaults they suffered when they were vulnerable young girls.
"Those convicted today left a legacy of misery and trauma after treating their victims with utter contempt, in some cases even spitting at them.
"The Hussain brothers created a web of power, control and coercion that systematically isolated these girls and left them in a living hell."
Peter Mann from the Crown Prosecution Service said: "These defendants in their differing ways targeted these teenage girls because they were vulnerable and then facilitated their systematic sexual abuse.
"The abusers then groomed and sexualised their victims, often subjecting them to acts of a degrading and violent nature.
"Some of the violence was extreme and protracted."
Temporary Detective Chief Inspector Martin Tate, from South Yorkshire Police, said on Wednesday: "The verdict today marks a crucial milestone for those victims and survivors who endured years of violent and horrific sexual abuse at the hands of these vile individuals.
"They have shown incredible bravery, reliving vicious and horrific events for the courts that, for many of these young women, completely shattered their lives and caused life changing damage.
"I can't begin to put into words the trauma that these women experienced at such a young age."
Arshid, 40, and Basharat, 39, were found guilty of multiple rapes and indecent assaults following the trial.
Bannaras, 36, had admitted 10 charges including rape, indecent assault and assault occasioning actual bodily harm at the start of the trial, The Press Association reports.
Their uncle, Qurban Ali, 53, was convicted of conspiracy to rape. Karen MacGregor, 58, and Shelley Davies, 40, were found guilty of conspiracy to procure prostitutes and false imprisonment.
Brothers Majid Bostan, 37 and Sajid Bostan, 38, were cleared of all charges.
Arshid Hussain, who was portrayed as the gang's ringleader and claims to be paraplegic, appeared from his bed at home via video link and looked asleep.
The NSPCC spokesman added: ""Little was done to protect these children at the time. When a child or young person says they have been sexually abused the allegations must be taken seriously and fully investigated immediately.
"It's vital that the victims of sexual abuse receive all the support and therapy they need to recover, for as long as they need it."
Judge Sarah White told the jury of six men and six women that Arshid's wife had called an ambulance during the verdicts and he had been taken to hospital, despite his bail being revoked.
Michelle Colborne QC, prosecuting, said this appeared to be a deliberate attempt to frustrate the judicial process.
Colborne said: "Mr Hussain is en route to Scunthorpe Hospital. I understand he is unwell. He's not speaking to the police with him.
"I have instructed the police to ask him directly whether he's willing to attend court or whether he determined to disobey your honour's order."
The six convicted people will be sentenced on Friday.
The case follows the Jay report on child exploitation in Rotherham, which found that 1,400 girls were sexually abused between there 1997 and 2013.
Popular in the Community