George Osborne is to unleash a fresh wave of spending cuts in next month's budget because the economy is "smaller than we hoped" and "storm clouds are gathering in the world economy".
Official figures revealed sluggish growth in the last three months of 2015 of just 0.5% and the turbulent international backdrop means "further reductions" may be necessary, the Chancellor said.
Osborne, who is in Shanghai for a meeting of G20 finance ministers, told the BBC's Laura Kuenssberg: "The storm clouds are clearly gathering in the world economy and that has a consequence for lots of countries including Britain.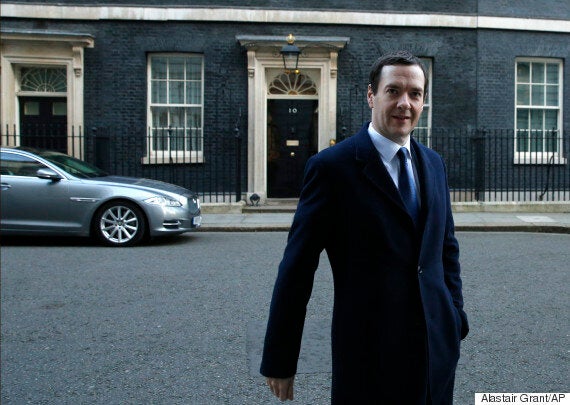 Osborne said 'storm clouds' were gathering in 'the world economy'
"Now, we are weathering it better than most but we've just had confirmation that our own economy is not as big as we had hoped.
"So we may need to undertake further reductions in spending because this country can only afford what it can afford and we will address that in the Budget, because I'm absolutely clear we've got to root our county in the principle that we must live within our means and we have economic security."
Sky News' Political Editor Faisal Islam said the claim the economy was "smaller than we thought" left him "puzzled".
Shadow Chancellor John McDonnell called the news "a total humiliation for floundering George Osborne".
"The truth is that the biggest risk to the British economy is George Osborne," he said. "He has sneaked off to China to admit what Labour have been saying for months, that his recovery is built on sand.
"Far from paying our way, Osborne's short-term economics means Britain is deeper and deeper in hock to the rest of the world."
He added: "If the Bankers' Chancellor had been doing his job properly he would be collecting taxes from Google and other tax-dodgers.
"Instead he is threatening the British people with paying an even higher price for his own failures. Labour and a growing coalition that now includes the OECD and the IMF are calling for an economy based on increased investment."
After the announcement, bookies William Hill starting offering odds on when Osborne, whom many expect to succeed David Cameron as prime minister, would be forced from his job. They are offering 10/1 that he will be out of the job this year, 10/1 in 2017, 10/1 in 2018, 3/1 in 2019, 10/11 2020 and 6/1 2021 or later.
Osborne also told the BBC: "I'm absolutely determined that first and foremost in this uncertain time we have economic security. That's what people rely on.
"We've taken judgments to get that budget surplus and now of course as the global economy gets more difficult, and I think everyone accepts that things have got more difficult since the start of the year as more information comes in, we make sure that ... Britain lives within its means, Britain can only spend what it can afford."
"But people should know this of me, I will do what is required to keep our country safe and secure because in the end that is what people's livelihoods and jobs rely on."
The Government must run a surplus in "normal" times from 2019 under tough rules set by Osborne.
Earlier this month, think tank the Institute for Fiscal Studies (IFS) warned that the target could lead to "big tax rises or spending cuts with very little notice".
The Chancellor said he would task government departments with finding more "efficiencies" first as he looks to finalise the March budget.
"We'll set it out if we need to, how we'll reduce spending, but the first place I look to is further efficiencies in government," he said. "There are always ways to make government better, always ways to make sure that the taxes of people are better spent."
"All I'm talking about is going back to government budgets and saying where we can find that extra saving, that extra efficiency, that extra improvement in the public service that might release some money," he added.