A freelance designer has sent the internet into fits of giggles after staging an optician's letter from the NHS in a gigantic font.
The letter reads: "Dear Mr Andrew Lang. Following your recent eye test we are writing to confirm your next appointment which is at: 12:45pm Tuesday 1 March 2016."
Andy Lang, 49, said the prank was inspired by an original letter which his colleague received inviting her to go for an eye test. The letter was printed with a "larger font than usual".
His version, which has a size 60pt font, implies that he wouldn't otherwise be able to read the letter if the font wasn't so big. It has since been viewed more than five million times on Twitter.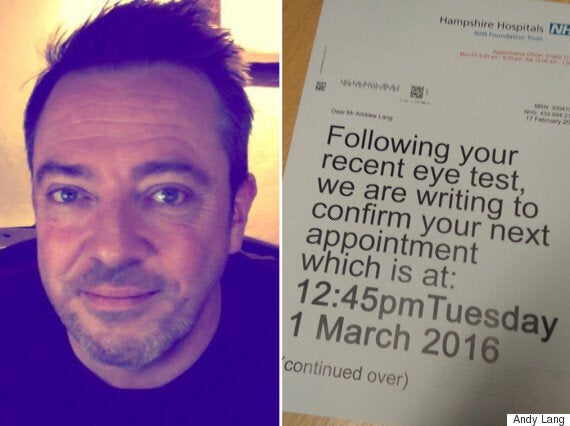 Lang, who is a self-employed graphic artist and web designer from Winchester, tweeted a picture of the fake letter with the caption: "Needless to say, I don't think it's good news."
It has since been retweeted almost 43,000 times.
Lang told The Huffington Post UK: "It is a fake. But very much based on a real letter that a colleague received, which was from the local NHS eye department.
"It was printed with a larger than normal font which made us chuckle."
He added: "I thought - what if you received an appointment to review recent eye test results but the results weren't included in the letter per se.
"By virtue of the massively over-sized text, you can only draw one dreadful conclusion."
While a lot of people got the fact that it was a joke, many people believed the letter to be real, to which Lang said: "Either way it works, so I'm happy."
Preserve Your Eyesight With These 10 Foods