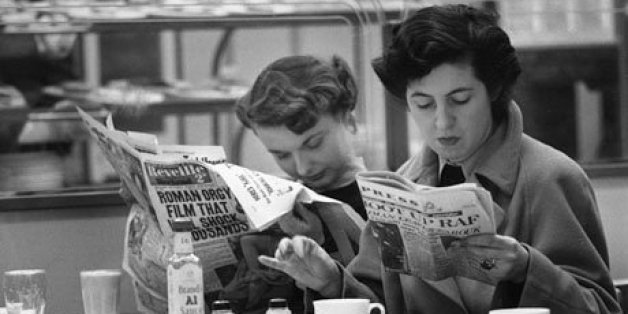 Bert Hardy/Getty Images
Former hosts of the soon-to-be axed 'What The Papers Say' have hailed its closure as "sadly inevitable" in the changing media landscape.
Print journalists, as well as those who dabbled in broadcast and politics, lamented the 60-year-old format being retired, offering tributes to staff that worked on the show and their weekly editorial output.
The Radio 4 half-an-hour production has been running since 2010, having had a nomadic journey that saw it spawned by ITV in 1956, move to Channel 4 some 26 years later, before being picked up BBC2 in 1989.
It was ditched from TV in 2008 but brought back in a fresh incarnation on the radio two years later to coincide with the General Election.
As such, the media show has hosted generations of journalists offering punditry on major events captured by both broadsheet and tabloid newspapers, some of which the programme has itself outlived.
One commentator, the Evening Standard's Anne McElvoy, remarked 'What The Papers Say' was put on at the "mad time" of 10:30pm on a Sunday. "Guaranteed euthanasia," she said.
Sad that "What the Papers Say" is ending on R4. Was put on at mad time on Sunday night after a lengthy political show. Guaranteed euthansia.

— anne mcelvoy (@annemcelvoy) February 26, 2016
Others of her colleagues, many of whom would have worked in London's Fleet Street in the days of no internet and high daily circulations, reflected on the sad news.
They included Iain Dale, formerly of the Telegraph, now an LBC presenter; Hugo Rifkind, a columnist for the Times; Miranda Green, an ex-Financial Times journalist who has since moved to contributing to the Observer and the Sunday Times, among other publications.
As an occasional presenter of the programme, I'm very sorry to see that Radio 4 are axing 'What the Papers Say'. Nothing is sacred anymore

— Iain Dale (@IainDale) February 26, 2016
Really sad about the end of WTPS. Brilliant show with a brilliant team. https://t.co/TvD15PYomO

— Hugo Rifkind (@hugorifkind) February 26, 2016
Sad though not terribly surprising news re the axing of What The Papers Say. Like many broadcasters I got my first TV experience on the show

— Jay Rayner (@jayrayner1) February 26, 2016
No!!!! What the Papers Say to close. Loved that programme. @Palaceview did great job as editor. https://t.co/YS5u9BfC0i

— Iain Martin (@iainmartin1) February 26, 2016
@Palaceview gutted #WTPS is ending. Hope you have new challenges ahead?

— Julia Hartley-Brewer (@JuliaHB1) February 26, 2016
To all my fellow presenters and dedicated fans of What The Papers Say - tune in on Sunday night 10.45pm R4. I love doing this show. *weeps*

— Miranda Green (@greenmiranda) February 26, 2016
But I love WTPS! And how will I know when to go to bed on Sundays? BBC's What the Papers Say to fold after 60 years https://t.co/4J9tsITC6e

— Jill Lawless (@JillLawless) February 26, 2016
Patrick O'Flynn, a former Daily Express political editor who left journalism to become Ukip's economic spokesperson, said it was "a shame" the programme had been cut by BBC bosses, offering "best wishes to its dedicated team".
What a shame that What The Papers Say is to be axed. I enjoyed presenting it in both TV and radio formats. Best wishes to its dedicated team

— Patrick O'Flynn (@oflynnmep) February 26, 2016
But after news The Independent, its sister title The Independent on Sunday would become online-only and while their cut-price compact stablemate The 'i' be sold, ex-Scotland on Sunday editor-turned-Financial Times business and employment editor Brian Groom said the print-focused show's demise was "sadly inevitable".
Sadly inevitable. BBC's What the Papers Say to fold after 60 years https://t.co/5ZGrK0JLYd

— Brian Groom (@GroomB) February 26, 2016
It's not bad news all round though, as the Guardian's new formats editor has suggested the show could yet be saved by turning it into a podcast. Albeit one that solely reviews sci-fi magazine '2000 AD', a weekly glossy on 'Doctor Who' and Leyton Orient FC fanzines.
I might just start doing my own "What The Papers Say" clone podcast. But include 2000AD, Doctor Who mag and Orient fanzines in the mix

— Martin Belam (@MartinBelam) February 26, 2016
We wish him luck in that endeavour.