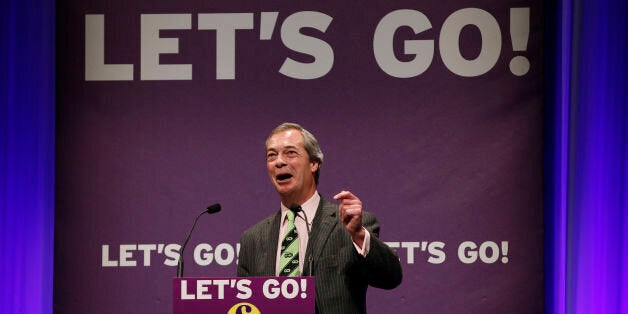 Nigel Farage says he "couldn't care less" that a senior member of his own party advised activists not mention him during the EU referendum campaign.
At a fringe event at Ukip's Spring conference this morning, former party deputy chairman Suzanne Evans backed research saying Mr Farage is as untrusted on the EU as Tony Blair.
This afternoon, Mr Farage hit back at the comments, dismissing Ms Evans as nothing more than an "ordinary" member of the party.
He also snorted with laughter when it was suggested that Ukip MP Douglas Carswell would happily campaign under the Grassroots Out banner if that was the group which received designation as the official leave campaign ahead of the June 23 vote.
Speaking to journalists outside a pub in Llandudno, North Wales, before a lunch of liver and onions, Mr Farage took issue with Ms Evans claim that he was unpopular with voters and the issue of immigration would only convert around 20 per cent to the Eurosceptic cause.
He said: "The facts are all desperately wrong and cooked up and there is a very significant wall of data which shows that actually the immigration issue and security issue is by far – by about three to one – the issue upon which undecided voters will make their minds up so to quote something that was done during a General Election when people were thinking about different issues is just wrong.
"As far as her saying that, well she's an ordinary member of Ukip, she can say what she likes.
Ms Evans and Ukip's sole MP Douglas Carswell are backing the Vote Leave group to get the official designation in the EU Referendum.
Mr Farage and other Ukip figures are supporting the Grassroots Out campaign.
The Ukip leader scoffed at the suggestion that if Grassroots Out was awarded the designation Mr Carswell and Ms Evans would back the group.
He said: "On six occasions that I know of there has been attempts to get everybody together under the same tent and they have point blank refused to do so.
When asked if he would support Vote Leave if it got the designation, Mr Farage replied sarcastically: "Yeah I think a double referendum is a super idea! And let's not discuss immigration and we don't really want to leave at all! It'd be great! I'd love it!
"We are committed to a genuine cross-party campaign, the most cross-party campaign that has ever been put together in British politics — and by the way an alliance that hasn't finished building either — that is pulling the left and right together and this idea that you can win the referendum by being middle class Conservatives is just b…not right."
Despite appearing at the Vote Leave fringe event this morning, Mr Carswell was not scheduled to address Ukip's main conference.
When asked if he was disappointed that the party's only MP had not appeared in the venue, Mr Farage said: "Who?"
When reminded of Mr Carswell identity, he said: "I remember, I met him once"
"I couldn't careless, I'm not interested. We've got the biggest set of elections we've ever had to fight across the United Kingdom, a referendum. I'm out on the road, doing my stuff, I've got a party that is wildly enthusiastic to do all these things. He can do what he likes, I don't care. I've got time, I'm not interested".
Related