British sweet and chocolate makers could face a 30% "sugar tax" if the UK left the European Union, a government analysis of "Brexit" warns.
Ministers have produced the first official analysis of what would happen if the UK voted to leave the European Union at the June 23 referendum.
The "dossier" has already been criticised as "Project Fear" writ large since it warns "Brexit" would lead to a "decade of uncertainty".
But David Cameron later rejected the "Project Fear" tag, claiming instead: "The only project I'm interested in is Project Fact."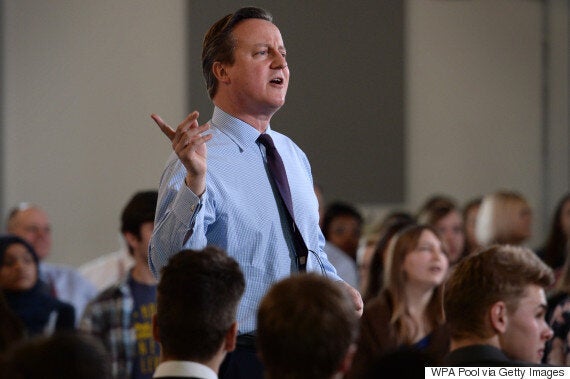 David Cameron in Ipswich today: "The only project I'm interested in is Project Fact."
The document makes a series of arguments, contested by "out" campaigners, over the negative impact on jobs, trade and free movement.
One of the most striking suggestions is that British companies that export goods would face paying a new premium to trade with the EU.
Currently, British companies pay no levy on exports to the EU.
But if the UK voted to leave, and no new agreement could be signed off, exports would have to abide by World Trade Organisation (WTO) rules, which would mean a "significant" hit for exporters, the document says.
It lists sugars and confectionery as facing a tariff of almost 30% and beverages and tobacco of more than 20%.
A senior government source told HuffPost UK: "It underlines the uncertainty our businesses and economy will face as no-one knows what Leave looks like. Does it mean full access to single market? Or is it some sort of Canadian-style free trade deal? Or is it the WTO option, which involves big tariffs on many products."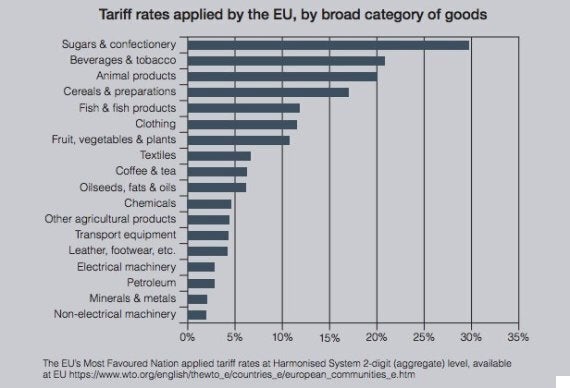 Graphic from government dossier suggesting tariffs UK exporters would face under 'Brexit'
James McGrory, chief campaign spokesperson for Britain Stronger in Europe, told HuffPost UK: "Those who want Britain to leave the EU are promising a future that is more sour than sweet.
"Being in the world's largest free trade single market means people doing the weekly shop get a good deal as we don't have to pay taxes on imported goods. Likewise, our exporters do not face barriers when selling to the European market.
"Quitting Europe would leave shoppers out of pocket, while a vote to remain is a vote for lower prices, more jobs, and a stronger economy."
A closer look at the document reveals the word "uncertain" or "uncertainty" features eight times in the 23 pages - though seven pages are virtually blank. Here are seven of its most striking warnings.
Outside the EU, the analysis questions whether British made products exported to the EU from would face higher tariffs.
Much of the analysis revolves around Article 50, the clause of the Lisbon treaty that, if evoked, would begin divorce proceedings. In the document's third paragraph, essaying the process, the document sets the tone.
"The process is unprecedented. No country has ever used Article 50 – it is untested. There is a great deal of uncertainty about how it would work."
Two million UK citizens live in the EU, and access pensions, health care and other public services, and it says their specific rights to live, work and access to public services and benefits are "only guaranteed because of EU law".
"There would be no requirement under EU law for these rights to be maintained if the UK left the EU," it says.
The dossier references how financial services and car manufacturing in particular enjoy the favourable conditions provided by the single market.
The UK exports 1.23 million cars, more than half to the EU market, which helps support 147,000 people employed directly and a further 300,000 jobs in the wider supply chain.
But 'Brexit' could mean a 10 per cent tariff when exporting to the EU unless new "preferential access" was agreed with the EU.
"The impact of these negotiations would have a wide and profound impact across the UK and its economy," it says.
It warns of farmers losing the "preferential access to the European market" from withdrawing from the EU's Common Agricultural Policy and other subsidy schemes, and again warns of the EU imposing an average tariff of 14 per cent on agricultural imports, with dairy farmers worst hit.
From access trade deals to regeneration funding for poorer regions, to joint action on hostile nations and extremists.
It says: "Sanctions against countries such as North Korea, and for some terrorist groups or individuals, are generally adopted at the EU level rather than domestically."
Customs checks would be likely at the Northern Irish border, and questions whether people would be able to travel freely between the north and south. It suggest plaintively: "Northern Ireland would be confronted with difficult issues about the relationship with Ireland."
UK-controlled Gibraltar could lose the right for its citizens to move freely to Spain and trade there, and cites how the border was closed from 1969 and until Spain joined the EU in 1986.
Cameron later dismissed claims that he is trying to scare voters. The PM told students in Ipswich: "The only project I'm interested in is Project Fact. Project Fact is about saying: 'Stay in and you know what you'll get.'"
The line drew comparisons on social media to the David Brent character in The Office, who argued his superior management style meant: "You will never work in a place like this again. This is brilliant. Fact."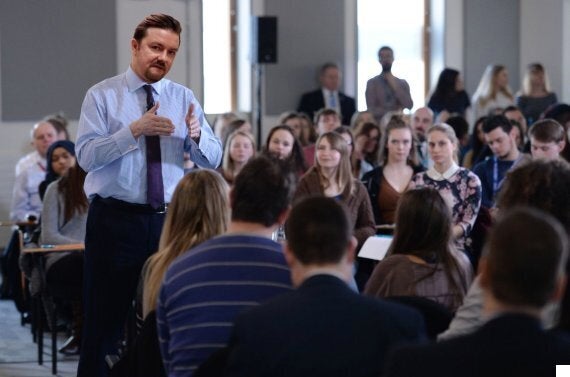 How David Brent would look fronting the EU "In" campaign
The #ProjectFact was born, and was hi-jacked by anti-EU campaigners such as Nigel Farage.