"I'm terrified," she says, sighing. "It's really scary. My biggest fear is that Trump will triumph."
What will she do if he actually wins? "Move back to Canada."
She tells HuffPostUK: "I cannot believe that he is still in the game. I cannot conceive of how that's possible.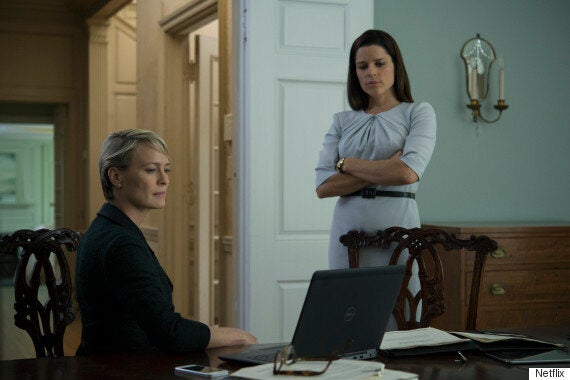 Neve Campbell with Robin Wright in 'House of Cards' Season 4
"He's an ideologue, he's got extreme ideas, and people are looking for a big change at the moment, at the opposite end from Bernie Sanders.
"And there is a good amount of ignorance in America, of people who are angry and disappointed but don't educate themselves in why, and how it can be fixed.
"They see someone off the cuff and broad, and they think 'ok, that's the voice we need, just someone honest.
"But his honesty is terrifying."
Neve, a familiar face from TV drama 'Party of Five' and the big screen 'Scream' chiller series, grew up in Canada, then lived in the US and England, which is why she explains her political education has always felt like "one big catch up". But she's had to brush up a lot for her role of Texan political aide Leann Harvey in the fourth series of the Netflix political drama, which she says viewers will find extremely current, when it debuts on Friday.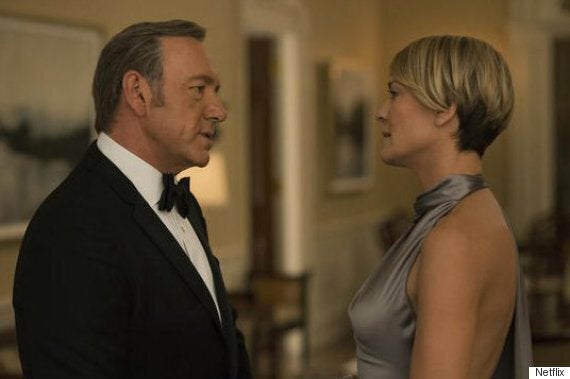 Neve won't give anything away about the machinations occurring in the relationship of the First Couple, played by Kevin Spacey and Robin Wright
"(Show runner) Beau Willimon has had his ear to the ground, having conversations with the White House throughout the process," she reveals. "He's very politically-minded and likes to keep things current."
Neve is delighted to be joining the cast of the award-winning show, even though she's deeply apologetic about not being able to give away much about her character and where she fits in with the now estranged First Couple, played by Kevin Spacey and Robin Wright.
"She's Texan, a pretty bright, successful woman," she begins, "and she's invited to assist someone in a political campaign."
Is her character on the side of the angels or the devils, not that that means anything definitive in this show?
"You're not sure from the beginning," she says, "but it's clear she's deeply ambitious."
Who are her scenes with, Kevin Spacey or Robin Wright, the President or his estranged First Lady? "It's fairly equal, but maybe Robin from the beginning," she tells us before shutting up quickly.
'House of Cards' Series 4 debuts on Netflix on Friday 4 March.
Related