A fox is "lucky to be alive" after it was shot through the head with a crossbow in Bromley.
The animal was found on Gosfield Road with an arrow through his face which was coming out of his neck, animal protection agencies have said.
RSPCA inspectors believe that the fox sustained the "horrific" injury as he was trying to run away from his attacker.
The fox is lucky to be alive
A reward of £1,000 is being offered for any information leading to the arrest and prosecution of the person responsible.
The Fox Project said in a post on Facebook that the fox, which it has named Cedar, was rescued on Monday and was rushed immediately to a vet.
The animal is now in the care of The Fox Project, who are offering the £1,000 reward for information.
Terry Woods, from the project, told Newsshopper: "He's a lucky fox. The crossbow hit his skull from the back in a glancing blow and went straight through his cheek muscle coming through near his eye.
"He's lucky not to have lost an eye."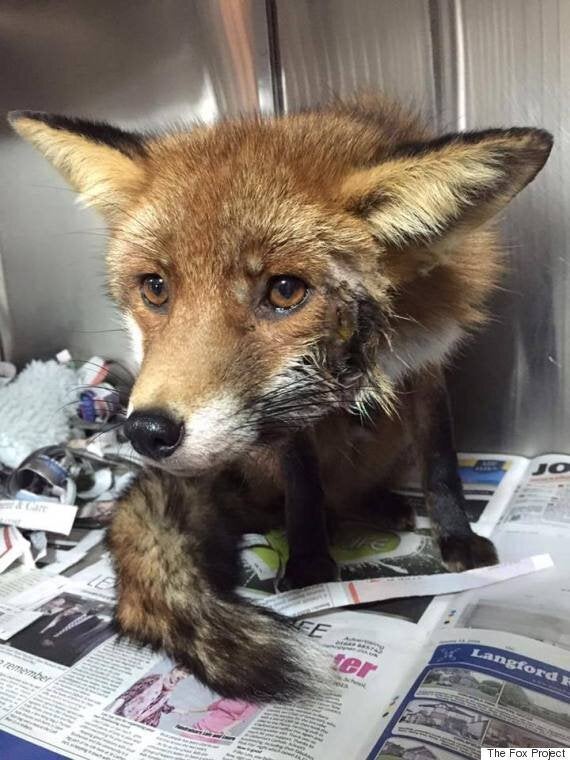 The fox is now recovering
Ellen Thomas, RSPCA inspector, said: "This arrow was firmly lodged straight through this fox's head - horrific.
"We think someone must have shot at him while he was trying to run away because of the way the arrow entered through his neck and exited out of his cheek.
"This would have caused this animal a great deal of pain and distress - poor thing - but he is lucky to be alive.
"If the arrow had been any closer to his head, he would have died. It just missed his vital organs.
"As it was we were called in time and it is hoped he will make a good recovery so he can soon be released back to the wild."
Anyone with information about the attack is asked to call the RSPCA on 0300 123 8018.