Disturbing images of a dead fox killed during the annual Fitzwilliam New Year's Day Hunt have been shared on Facebook.
Cambridgeshire Police are investigating the death of the fox "to establish whether the killing was lawful or not" after the animal was killed when the hunt reached Elton at 2pm on Friday.
South Cambs Hunt Saboteurs posted the images of the dead fox on its Facebook page on Wednesday.
The group said that the fox died after being attacked by a pack of hounds.
The post continues: "The redcoat was on the scene, and made no attempt to call off the hounds, although he could see what was happening. The man sitting on the fox's body is with the hunt. The man in the background with the bin bag in his hand is also a hunt supporter.
"He took the body away in this bag after this photo was taken, despite protest from the saboteurs."
The hunt saboteurs added: "We apologise for the distressing images, but we feel it's important to share this to show the reality of constant illegal hunting in the UK. We need to fight not only to keep, but to strengthen the ban."
The Huffington Post UK has contacted the Fitzwilliam Hunt for comment regarding the images.
Sergeant Dave Walker from Cambridgeshire Police said: "We policed the event to ensure both the hunters and the saboteurs could carry out their activity peacefully.
"An investigation has been launched to establish whether the killing was lawful or not, and we have been speaking with a number of independent witnesses, as well as participants of the hunt and the saboteurs.
"We are taking this matter seriously and will conduct a thorough investigation to establish whether a crime has been committed."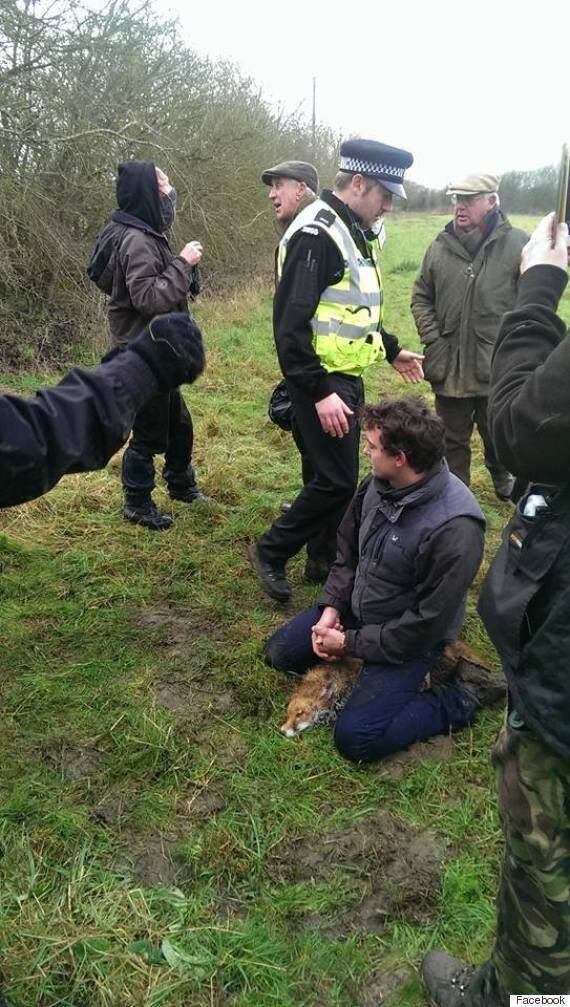 Images the dead fox posted on Facebook by South Cambs Hunt Saboteurs
Under the 2004 Hunting Act, hunting foxes with dogs is illegal and those found guilty can be fined and jailed.
Mark Randell, Director of Operations at the League Against Cruel Sports, said: "We are pleased that the Cambridgeshire Police have launched an investigation into the killing of a fox during the Fitzwilliam Hunt.
"There are regular reports of hunts killing foxes, but rarely is there enough evidence for them to be prosecuted.
"But around Christmas and New Year more people tend to be out and about in the countryside and so more incidents are witnessed by members of the public."
Anyone with information about the incident is asked to contact police on 101 or Crimestoppers, anonymously, on 0800 555 111
Popular in the Community