Ice and snow have descended on the UK, meaning Brits can engage in their favourite pastime of massively overhyping a weather event totally normal for the time of year.
The Met Office has issued yellow "be aware" warnings for ice in much of northern England and northern Wales, Scotland and Northern Ireland, with up to 5cm of snow expected in many places, rising to 10cm on higher ground.
This was the scene in York:
Elsewhere, in East Riding, the snow was coming in thick and fast:
While Coventry was positively pummelled with the stuff:
But some cynics on social media thought everyone else was taking the Met Office's advice to "be aware" a little too seriously.
There is a yellow warning of wind covering south-west England and South Wales as blustery weather arrives from 8am, bringing widespread inland gusts of up to 50mph and coastal gales of 70mph.
A plunge in temperatures following wet weather on Tuesday night brings a risk of ice on untreated roads and motorists are being alerted to difficult conditions during the morning rush hour.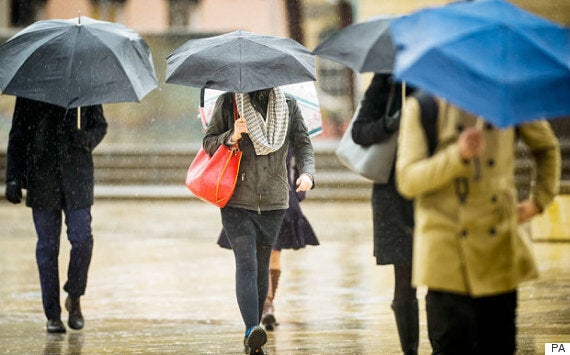 Many are bracing themselves for the poor weather today
Highways England told motorists to plan for disruption as several centimetres of snow is expected to accumulate in Cheshire, Nottinghamshire, Derbyshire and across to the Humber.
Meanwhile drivers of high-sided vehicles and motorcycles in the south-west have been warned of "tricky" conditions as Storm Jake blows in with strong winds.
Met Office forecaster forecaster Calum MacColl said: "It's going to be cold, unsettled and windy the further west you go with plenty of showers pushing through from the north and they could be wintry.
"Storm Jake is going to bring some squally weather into the south-west from 8am, with plenty of gusts of 50mph inland and 70mph on the coasts, and that is going to trundle towards the south-east, but should clear by the afternoon.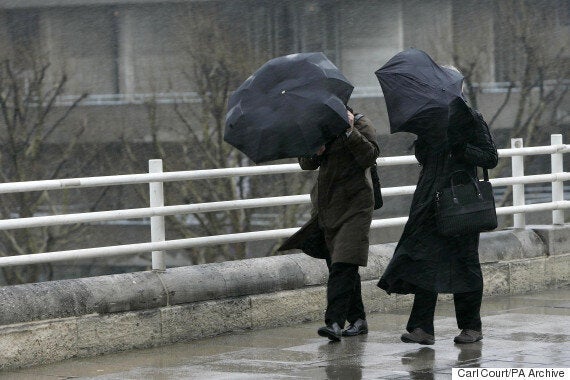 Commuters face a windy journey into work
"There is the potential for some localised disruption and motorists should take care."
Temperatures across northern England and Scotland are only expected to reach 4C (39.2F) or 5C (41F), with 6C (42.8F) to 8C (46.4F) in the south, west and Wales and 9C (48.2F) in London.
On Tuesday the Met Office announced that the winter of 2015/16 had been the warmest in England and Wales for more than a century, according to provisional figures.
It was the third warmest winter for the whole of the UK since the record series began in 1910.
The Central England Temperature record series, which dates to 1659, showed it had been the second-warmest on record at 6.7C (44.06F), just below the 1869 record of 6.8C (44.24F).
Extreme rainfall during the last winter brought widespread flooding across Britain and the Met Office said it had been the wettest on record for Wales, Scotland and Northern Ireland, while it was the second wettest for the whole of the UK, just behind 2013/14.
Popular in the Community