Rising numbers of young people are suffering from mental health issues such as anxiety and stress, but there is a serious gap in the care on offer outside of school hours, a report warns.
Today's children are facing an "extraordinary range" of pressures - including modern technology - and specialist care needs to be available.
The report, by the Association of School and College Leaders (ASCL) and the National Children's Bureau says that while schools are seeing more young people in need of help, many are struggling to obtain mental health care for those that need specialist support.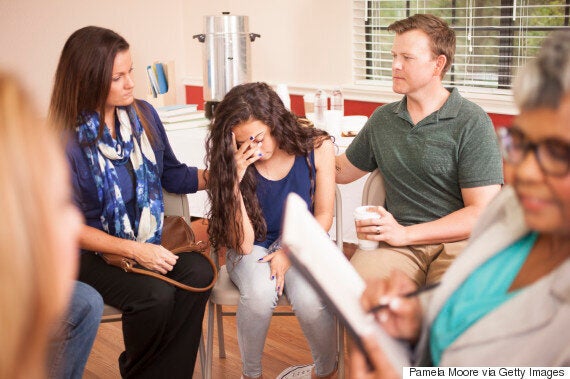 Rising numbers of children are suffering from mental health issues, but they are not getting enough care outside of school hours
A survey of 338 school leaders, many working in secondary schools, found that more than half (55%) have seen a large increase in students suffering from anxiety and stress in the last five years, while more than 40% said there had been a big increase in cyberbullying.
In addition, nearly eight in 10 (79%) said they had seen a rise in self harm or suicidal thoughts among pupils.
Almost two thirds (65%) said they had faced challenges in obtaining mental health care from services in their area for youngsters who need specialist support, while 53% of those who had made a referral to their Child and Adolescent Mental Health Services (CAHMS) rated their effectiveness as poor or very poor.
The report concludes: "It is clear that there are very good and effective counselling services within many schools, but the concerns over CAMHS reflect the need for a greater level of specialist support beyond the school gates.
"There is a widespread desire among school leaders to see this service expanded. While schools can work to promote good mental health through the curriculum and, in many cases, provide initial counselling for those experiencing difficulties, they cannot work alone. Children and young people need access to a wider range of early intervention services beyond the school gates, and when they do get ill, the NHS needs to step in with adequately resourced and accessible treatment."
In his speech to ASCL's annual conference in Birmingham on Saturday, ASCL Interim General Secretary Malcolm Trobe will say: "While schools do an excellent job in providing their own support on-site, our survey shows a serious gap in mental health provision beyond the school gates.
"The fact is that children today face an extraordinary range of pressures. They live in a world of enormously high expectations, where new technologies present totally new challenges such as cyberbullying. There has seldom been a time when specialist mental health care is so badly needed and yet it often appears to be the poor relation of the health service.
"Its importance cannot be over-emphasised. Early intervention is essential before problems become entrenched and start to increase in severity."
Anna Feuchtwang, chief executive of the National Children's Bureau, said: "While schools are doing their best to help, in cases where children are in acute need they require specialist mental health services to step in and provide support. Unfortunately, teachers say that limited capacity in these services often makes referrals very difficult."
A Government spokeswoman said: "Schools have an important role to play in tackling children's mental health issues, but teachers are not mental health professionals and they should have the support of specialist services. That's why this government is investing £1.4 billion to transform mental health support for children and young people.
"We have invested £3 million in a pilot scheme with NHS England to trial single points of contact for schools to ensure support is joined up and quickly available when needed. We are also providing schools with advice on how to discuss good mental health in class and producing guidance for parents to spot the signs of cyber bullying."
Related