Snow is continuing fall in many areas of the county and the current cold snap is forecasted to continue as Storm Jake moves down the UK.
After heavy snow coated large parts of Northern England on Friday, Storm Jake will move slowly down into the South East and central areas will be hit with rain, sleet and snow.
It will remain a cold weekend for most with snowfall across parts of Scotland, Wales and the South West of England.
Despite some brightness during the day people are urged to wrap up warm to protect against a brisk northerly wind.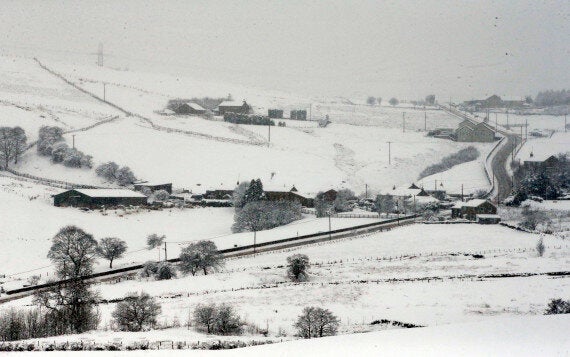 Heavy snow in Denshaw, Saddleworth near Oldham
Motorists are further being advised of hazardous driving conditions as the wintry showers take their toll with ice readily forming on untreated surfaces with the potential for some difficult driving conditions.
Temperatures overnight will be chilly with widespread frost and a risk of icy patches come morning.
Forecaster for the Met Office Helen Roberts said: "The general trend is that it will be a cold weekend for most and a cold start to the week but then gradually turning milder.
"The rest of today there is a mix of rain, sleet and snow across the South East and the East of England that could bring further snow and sleet on hills."
By Sunday it is forecast to be a drier day for many but will remain cloudy.
Bright spells will break through at times, with showers likely around East Anglia.
Monday will be a brighter day with the occasional shower affecting the North East coast and western parts of Scotland but will remain predominantly dry.
Tuesday will see a change in the weather with only a few spots of rain, as temperatures gradually get milder.