A motorist has been caught on camera appearing to out of his window in an attempt to shove a cyclist off his bicycle.
In the video uploaded to the Bristol Cyclists Facebook page, a BMW can be seen approaching cyclist Dave Edmonds, who is travelling in the opposite direction.
As the pair close in on each other, the vehicle slows down and swerves towards the centre of the road where the driver thrusts his hands out in an attempt to dislodge Edmonds.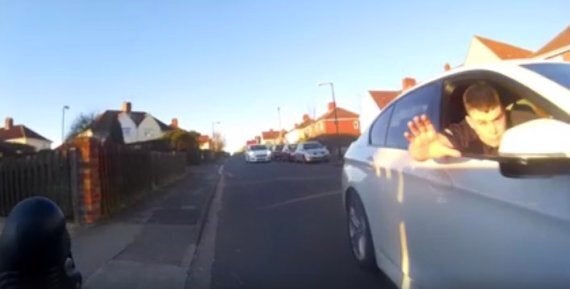 A motorist has been filmed attempting to push a cyclist off his bike
Edmonds, who managed to stay on his bicycle, has reported the matter to police.
According to Cycling Weekly there have been other "shocking instances of motorists and their passengers shoving" cyclists from the road.
It claimed that in one such video, the passenger of a vehicle was filmed preparing themselves on the approach before pushing a cyclist into a ditch. In another, the publication said, police released a video of a pedestrian pushing a female cyclist into the path of moving traffic.