A Muslim woman has enraged members of the English Defence League by comparing them to paedophile Jimmy Savile at a march against Muslim grooming gangs.
In a video Nargess Moballeghi uploaded to Facebook on Wednesday, she confronts EDL members at a march in Oxford.
In one exchange, Moballeghi explains to members that a lot of Muslims also "condemn" grooming gangs, but that doesn't mean they should have to personally apologise for their existence.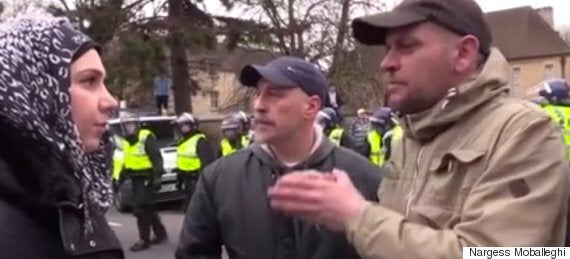 Nargess Moballeghi confronts English Defence League supporters at a march in Oxford
She says: "There is some things that happen, as they happen in all fringes of all societies, that in the same way, that you won't have to come out every day and apologise for Jimmy Savile and protest against what Jimmy Savile did."
The comparison did not go down well, with one unidentified EDL supporter responding: "How can I be related to Jimmy Savile?"
Moballeghi then tried to explain. She began, "but in the eyes of Muslims"... but was cut short.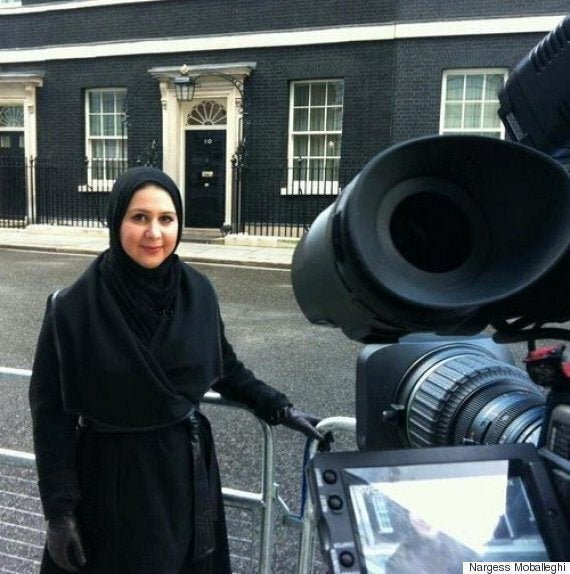 Moballeghi compared EDL members to Jimmy Savile as a way of making them understand all Muslims were not part of grooming gangs
The EDL supporter continued: "So you're racist then, because Jimmy Savile's white and I'm white, so automatically we're connected. How can you dare liken me to Jimmy Savile, just because I'm white. Who is racist?"
Moballeghi then concluded: "That made you feel angry and that's exactly how Muslims feel when you say all muslims are in paedophile gangs."
It is not known known when the video was recorded but it has been viewed close to 100,000 times.