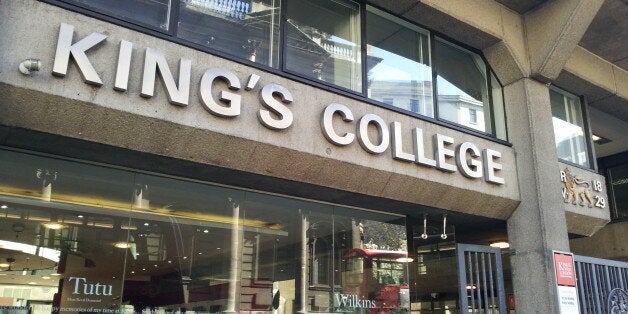 genomebiology.com/2013/14/4/402" data-caption="Entrance to King's College Strand campus featuring Maurice Wilkins quote. Basement laboratories at the Thameside end of the campus were the location of X-ray experiments that led to the elucidation of DNA's double helical structure. Read the full story of Wilkins' role in the discovery in Genome Biology's interview with Raymond Gosling genomebiology.com/2013/14/4/402" data-credit="genomebiology/Flickr">
More than 500 people have signed an open letter urging King's College London to protect Muslim students after one reportedly had her niqab veil torn off while she was hosting an Islamic society stall.
Students accused KCL's security guards of "idly" stand by for 20 minutes and telling other students not to intervene while the incident unfolded.
Geography MA student Mahamed Abdullahi told the paper: "I had to put myself in harms way to protect the Muslim women who were being verbally and physically assaulted after King's security just stood there and were being non-responsive."
On the KCL Islamic Society's Facebook page, President Issa Ruhani described the response as "woefully inadequate".
"Throughout [the incident], the Strand security staff refused to do anything to prevent the attack on our members, with the only individual to intervene being a male member of the ISOC. The police arrived after more than 45 minutes, whilst the perpetrators continued their abuse.
"Had this been any other student group, would the response of the College Security be the same? We feel that there has been a failure in the duty of the College to protect students, especially in this climate of widespread Islamophobia and anti-Muslim violence."
The open letter, posted on the Facebook page, asks KCL to "engage in clear and honest communication with the KCL Islamic Society", and "release a statement explaining how they intend to protect and support Muslim students after this incident and ensure it does not occur again".
The female students were manning the stall as part of Discover Islam Week, an event organised by the university's student Islamic Society to dispel misconceptions about the religion.
According to student Hareem Ghani, who is a member of the Islamic Society, the men kept asking: "Why are you wearing that on your face?"
"Security were called but they only responded 15 minutes afterwards."
In a statement published online, KCL said: "We are mindful of concerns raised around this incident and would like to reassure our staff and students that the safety and security of our campuses is of the utmost importance.
"The incident is now being investigated by the police, following the arrests made yesterday, and our CCTV footage will be provided as evidence as part of this process. We will continue to support the police in their investigation, which will take precedence over our own proceedings.
However, we will also be reviewing the incident, including the CCTV evidence, to establish precisely what happened and further improve student safety on campus."
A spokesperson for the Metropolitan Police said: "Police were called at approximately 13:10hrs on Friday, 4 March to reports of two males making racially aggravated and homophobic comments in Strand, WC2.
"Officers attended and two men, aged 39 and 41, were arrested under section 4 of the Public Order Act. Both were taken into custody at a central London police station and have been bailed pending further enquiries to a date in early May."