A young woman who was diagnosed with cancer has written an open letter to thank the "stranger who saved my life and donated their stem cells".
Student Laura Regan was diagnosed with acute lymphoblastic leukaemia last June, and was told the only possible cure was a bone marrow transplant.
Unfortunately, none of Regan's family members were a match, so the 22-year-old had to sign up to the Anthony Nolan register, in the hope she could find someone with the same tissue type who was willing to donate.
"After five months of waiting, I received the news that a donor had been found for me and I was totally dumbfounded," she wrote in a blog for HuffPost UK. "I've had my transplant and now, I simply just want to say thank you."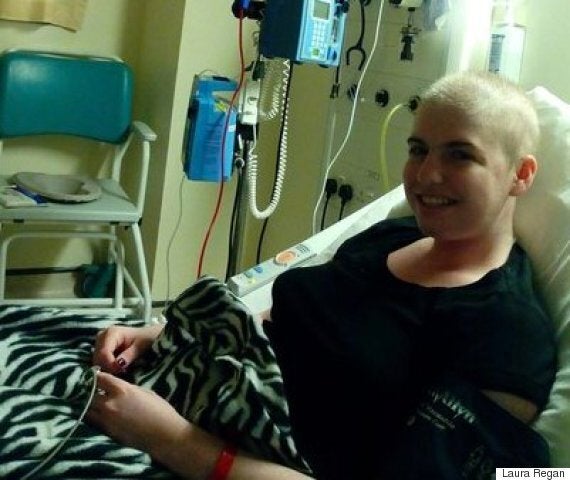 Laura Regan receiving the stem cells
Regan decided to write a letter to her donor, expressing her wishes to one day meet them.
"I remember sitting in the doctors room and being told that a match had been found for me and being completely overwhelmed. I don't know anything about you, but that doesn't matter, you agreed to donate your bone marrow and give me the chance of life; you were willing and ready to save me. I don't know how I will ever be able to express in words how much that meant to me.
"I know that all of this could not have been easy for you. Most people donate via peripheral blood stem cell collection, so it's just like giving blood, but I know that you had to donate via bone marrow harvest in a minor operation under general anesthetic. Not everyone would have gone ahead with that. Believe me, I am so grateful that you did - you gave up your time, probably had to travel, re-arrange family and work commitments - and you did this all for me. I can't believe that someone would actually be willing to do that for a complete stranger; you are a truly selfless person.
"When your cells arrived for me I was so excited - this was my day zero, the first day of the rest of my life, and you were making it a possibility.. It was the first time that I felt like I really had a chance of looking forward; you genuinely gave me the opportunity to live and, as my perfect tissue match, you were the one person in the world who could make this possible..
"..I will never be able to repay you for what you have given me but I hope you know how truly grateful I am.
"I hope that one day I may be able to meet you and find the words to say how truly thankful I really am. So, thank you - thank you for signing up on the register, thank you for agreeing to donate, and thank you for undergoing the operation. Thank you for saving my life.
"PS This is me now and its all thanks to you :)"