The Channel 4 broadcaster, who famously runs after ministers to quiz them on awkward topics, demanded answers from Lord Feldman on Thursday over who authorised payments for campaign spending since referred to the police for investigation.
In the latest footage, Crick spots the elusive Tory Chairman, who has declined all requests for an interview, near the back entrance of Downing Street and takes chase.
"He's legged it," Crick is heard saying. "He's walked off the other way. Okay - come on!"
After thirty seconds running, Crick finally catches Lord Feldman walking speedily between the Foreign Office and Treasury buildings.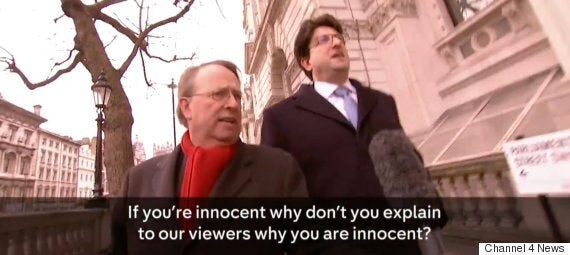 The Channel 4 presenter queries Feldman's innocence
Crick fires off four questions before the beleaguered Conservative Chair responds.
"Lord Feldman - did you break the law? Spending all that money on elections? Thanet South and in the by-elections? Did you break the law?"
The peer, who joined the House of Lords in December 2010, insisted he had done nothing wrong and said he was cooperating with elections watchdog the Electoral Commission.
"We did everything according to the rules. We declared it fully, we are happy to explain ourselves to the Electoral Commission, I think that's the sort of proper way of dealing with it."
An out of breath Crick, who quizzed Lord Feldman for a total of three minutes, retorted: "Don't you have to explain yourself to the outside world as well?"
"In due course," came the response.