A quiet country lane in Hertfordshire has become a graveyard for "dumping dead dogs" in what RSPCA inspectors suspect is a harrowing insight into the puppy farming trade.
Heartbreaking images have been released by the animal protection charity of nine deceased puppies, believed to be between six and eight weeks old, left on the side of a road in St Albans.
The puppies are thought to be a mixture of terriers and collie-type dogs.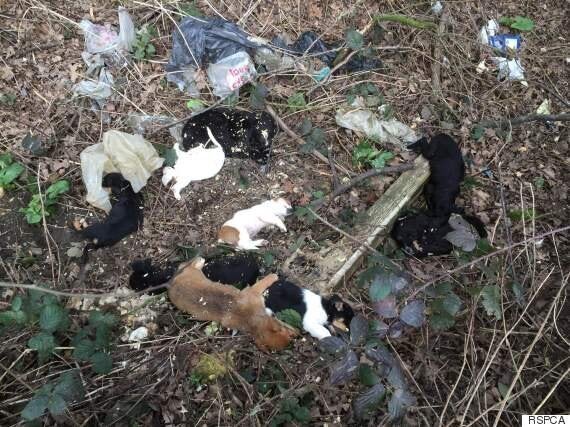 The puppies were believed to have been between six and eight weeks old
They were spotted by a member of the public in a ditch in Hogg End Lane on Saturday, February 27.
RSPCA animal collection officer Kate Wright responded to the call and went to the location.
She said: "We had reports of collapsed puppies in a ditch and I rushed over to the site and there they were. There had been no effort to cover them up.
"They were obviously already dead, and had been dead for a day or two.
"They were all covered in sawdust and some looked skinny. The little pads on their paws were red raw like they'd been living in urine. They absolutely stank.
"I had a look around the area and, in the same ditch, I found decomposed corpses, bones and fur. I realised the horror that this ditch is obviously used on a regular basis - it was heartbreaking.
"I found the remains of at least three other dogs as well as more bones. There were different stages of decomposed bodies and most of them were very old.
"It was grim, really awful. It really upset me. It makes you wonder what kind of life they had before."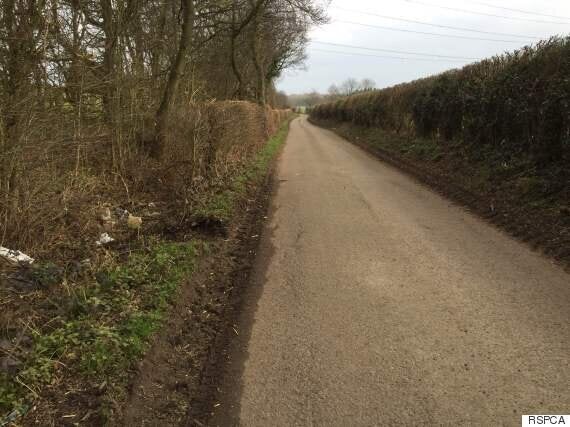 The puppies were found at the side of a quiet country lane in Hertfordshire
RSPCA canine focus officer Rachel Smith, who is investigating, added: "I'd say this lane is used regularly for dumping the bodies of dead dogs. We've had a steady influx of calls over recent months."
Wright added: "There was nothing to suggest how these puppies had died. My immediate thought was that they had come from some sort of puppy farm."
In January, the RSPCA was called to the area after the bodies of puppies were found inside a suitcase which was taken away by police. And remains were also found at the site last autumn.
The RSPCA is currently campaigning for the introduction of new legislation to better protect dogs and puppies being bred for sale.
The animal protection charity's Scrap the Puppy Trade campaign, which was launched in October, calls on the Government to introduce laws to combat puppy dealers.
It comes after the RSPCA saw an 88% increase in the number of calls about the puppy trade over three years.
The RSPCA is urging people to remain vigilant when buying a puppy.
"My advice for the consumer would be that if something doesn't seem right, don't buy the puppy. Walk away and contact us or the local authority immediately," Smith said.
"These breeders and dealers don't care about the welfare of these dogs, they only care about the money."
Popular in the Community