McDonald's has hired bouncers for one of its Manchester restaurants and will only let two young people enter at a time after children caused thousands of pounds of damage and abused customers.
McDonald's staff at Chortlon also complained to management that they didn't want to work there anymore following months of anti-social behaviour which included seats being set on fire, food thrown at customers, and fire extinguishers being stolen.
Security staff will man the doors between 3pm and 6pm on weekdays as a "last resort", McDonald's has said.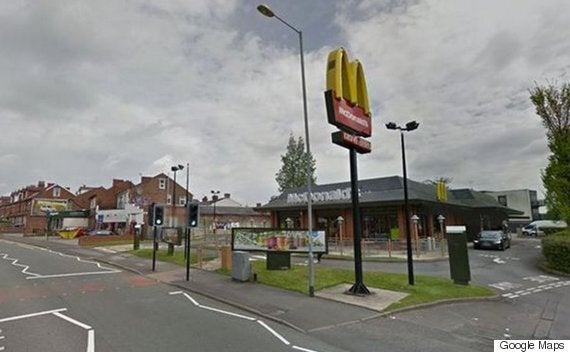 McDonald's in Chortlon, Greater Manchester, has hired bouncers
The move comes after McDonald's and KFC earlier this month banned under 18s from eating in at some of their franchises unless they were accompanied by an adult. The chains implemented the policy after a brawl broke out between around 20 teenagers near Meir Park, Stoke-on-Trent, a few weeks ago, which resulted in eight arrests.
The new policy in Chortlon came after an incident last Friday where more than 40 school children entered the restaurant and wreaked havoc, abusing and threatening "anyone and everyone" who entered, the Manchester Evening News reported.
A spokesman for the chain said families had complained to management that they no longer feel safe inside the restaurant.
It's hoped the temporary measures will solve the problems alongside work with police, the council and local schools.
The McDonald's spokesman told the Manchester Evening News: "We have regrettably introduced a temporary measure in our Chorlton store to restrict the number of young people entering the restaurant to two at a time and have security personnel in store from 3pm-6pm during the week.
"These measures were introduced in consultation with the police, local council and two nearby schools after a series of incidents in which a large group of young people caused thousands of pounds worth of damage to the restaurant and threatened and abused staff and customers.
"The safety of our employees and customers are of the utmost importance and we take a zero-tolerance approach to any activity that puts this at risk."
The spokesman added that McDonald's has more than 1,200 outlets nationwide but only has problems in six of them – the Chorlton franchise being one.
Last month, nine young troublemakers were banned from McDonald's restaurants across Stockport after a spate of anti-social behaviour.
Police said the group, aged between 13 and 16, must not enter six fast food outlets around the town after they verbally abused staff, intimidated other customers, used foul language and damaged table tops.
The teenagers could be taken to court if they ignore the ban, which is in place for the next six months.
Popular in the Community