The five things you need to know on Wednesday March 23, 2016…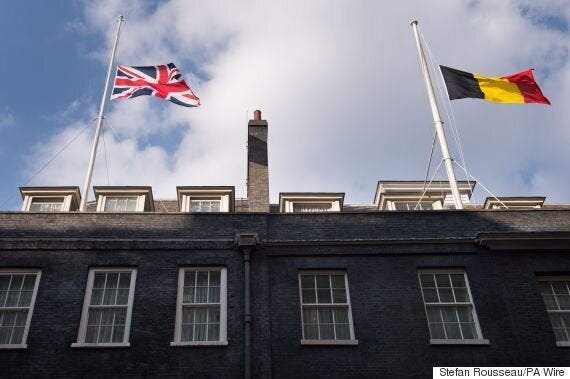 David Cameron is chairing an early Cobra meeting this morning. And the breaking news from Brussels is that the airport suicide bombers were brothers called Khalid and Ibrahim El Bakraoui. The man on the run is named as Najim Laachraoui. Two British casualties at the airport are not thought to have critical injuries, but there are fears for David Dixon a man missing since yesterday."It's just waiting, which is heartbreaking" his partner's sister told the Today programme.
The awful events of yesterday will form a sombre backdrop to the final PMQs before the Easter break. Both the PM and Jeremy Corbyn will have to reflect that, but that doesn't mean normal politics is on hold.
At least PMQs is more than 24 hours after the event. Yet within minutes of the news of the appalling murders yesterday, some Brexiters had pounced to try to score points about the EU referendum. It wasn't just Allison Pearson's tweet about 'Remainers dare to say we are safe in the EU', retweeted by Farage. It was also UKIP's Mike Hookem saying "this horrific act of terrorism shows that Schengen free movement and lax border controls are a threat to our security".
Too soon? You betcha. Yet it reminds me of a conversation I had with one Brexit minister a few weeks ago. He said that there were two big 'events' that could tip undecided voters towards Out: a big new migration crisis or a terrorist attack.
The timing was crass but to be fair to the Brexiters, many were just expressing anger at the oft-repeated No.10 line that 'security' and 'terrorism' was a reason for staying In. Indeed Downing Street yesterday while showing distaste at the way some linked the atrocities to the referendum, went out of its way to stress this was a 'shared threat' across Europe, that our security services were working closely with Belgium and that the PM had signed a statement reaffirming 'European values'.
Our newspapers cover the events of yesterday with some superb reportage. The Telegraph points out the two airport explosions, 30 seconds apart, suggest that anyone who ran away from the first would have run straight into the full force of the second. The Sun says the timing of the attack - 9:11 am local time - may have been chosen as a reminder of New York's 9/11 atrocities. The Independent has an impressive front page pic of passengers walking along underground tracks in very dim light. "Darkness in the heart of Europe".
Donald Trump was being Donald Trump on ITV's Good Morning Britain today and the main story seems to be him claiming Muslims just aren't doing enough to 'shop' terror suspects. "I would say this to the Muslims, in the United States also: when they see trouble they have to report, and they are not reporting it. They are absolutely not reporting it. That's a big problem."
Trump who was 'interviewed' by his friend Piers Morgan (surely Morgan should have used his friendship to actually ask some tough questions?), was allowed a free platform to say whatever he liked, without any real challenge on the detail or on policy. "I am not anti anything, I'm just common sense, I say it like it is," Trump said.
Morgan echoed this, saying Trump was 'refreshing' because he didn't speak in soundbites and just tells it how he sees it. And it's true that it would be crazy to ignore the appeal Trump has to many ordinary Americans (and Brits). But journalism isn't stenography, and there was no questioning of the many flip-flops, inaccuracies and confusion of Trump's various positions. Maybe tomorrow's extracts will be different. Yet I couldn't help wondering how much better a TV event it would be if Andrew Neil was let loose on Trump.
Assistant Secretary General from the Muslim Council of Britain Miqdaad Versi was a calm, thoughtful contrast to Trump, pointing out that the guys who did the Brussels bombings had been drinking, smoking, and suggested they were more part of a criminal community than a Muslim community. He added that more than 1,000 tip offs to the police had been made by Muslims in the UK. He cited stats that 90% of Muslims would report suspicious activity. Trump, however, may focus on the 10%.
When is an apology not an apology? When it's a Budget Day re-run by George Osborne. Yesterday, the Chancellor was suitably sombre as he reflected on those murdered in Brussels. He then said he was 'sorry' that IDS had quit and paid tribute to his work in Government. Osborne said: "where we have made a mistake, where we have got things wrong, we listen and we learn" (note the royal 'we').
But that was as contrite as he got. He never said sorry for his own 'arbitrary' welfare cap level, nor the PIP cuts plan. In fact, he then went on to make a dogged defence of the rest of his plans. And before long, thanks to well-orchestrated support on the Tory benches, it was as if we were in a time warp to last Wednesday and his original Budget statement. What was really striking was the way Osborne (a bit like Boris) revealed he has only really one gear - and in his case that gear is marked 'attack'.
As the Sun reported, away from the attempted tribute to IDS, one ally of the Chancellor had branded his departed Cabinet colleague a "self-indulgent prick". Some Osbornites even joked that Boris Johnson's ski trip at the weekend was "a spot of Alpine toothache" (Major famously disappeared during the downfall of Margaret Thatcher in November 1990, citing a sore wisdom tooth)
Wes Streeting finally nailed Osborne down on the definitive Crabb statement on Monday that "the Government will not be coming forward with further proposals for welfare savings". Osborne replied: "That is exactly the position set out by my right hon. Friend the Secretary of State, and agreed by me and the Prime Minister." That one sentence - it wasn't 'may not' or 'don't have plans to', it was 'will not' - means that there is now zero wriggle room for the Treasury on going back for new welfare cuts this Parliament.
David Anderson also had one of the best questions of all: if it was so easy absorb the £1bn a year U-turn, why on earth did Osborne propose it in the first place and frighten the life out of seriously disabled people? John McDonnell did well in the chamber yesterday, but the real rave reviews from Labour MPs came after Angela Eagle's wind-up speech last night. No wonder some around Corbyn are twitchy (see below).
Osborne appears before the Treasury select committee tomorrow, but Boris appears before the committee today and already it's being billed as a 'Prime Minister test'. The Mayor yesterday did a decent job after Cobra of setting out the London terror situation after Brussels. But will he resist knockabout mode when grilled on the detail of Brexit today? He'll have to do better than he did on Marr.
BECAUSE YOU'VE READ THIS FAR…
The Times's Sam Coates has a cracking tale, revealing that Jeremy Corbyn's political secretary Katy Clark has drawn up a list of every Labour MP - ranked in terms of their loyalty to the leader.
There are 19 MPs listed in the "core group" i.e. most loyal Corbynistas. There are 56 in the "core group plus", described by one Labour source as his "outer circle". A further 72 are listed as "neutral but not hostile", 49 are "core group negative" and 36 are "hostile". 17 people are missing from the list.
But it's who's on each list that catches the eye. Chief Whip Rosie Winterton and Mayoral candidate Sadiq Khan are both listed as 'hostile' (knowing Khan, he may now put that on his election posters). So too is Luciana Berger. And in the 'negative' group are Hilary Benn, Angela Eagle, Jonathan Ashworth, Lucy Powell and Alan Johnson.
Shadow whip Conor McGinn this morning tweeted his own tart response to the revelations: "I'm one of the 17 Labour MPs not on 'the list'. Can't work out whether that means a first class ticket to Havana or the train to Siberia..." That will tickle many of his colleagues in the PLP, I suspect.
Team Corbyn say the list doesn't come from them but it seems like a pretty fair reflection of the suspicions of those around the leader. And if Cameron does want to indulge in any knockabout in PMQs today, this is a gift.
So too may be the Times story that left-winger John Tummon, who once referred to ISIS as having 'progressive potential', has been accepted back into the Labour party. Would Cameron dare deploy this one today? There was genuine anger on Labour benches yesterday when two Tory MPs got up in the Budget debate to attack McDonnell for his IRA links.
Stephen Crabb is rapidly finding out how big a task he has at DWP. He's known for his amiability, but the Welshman will need more of the steeliness he showed on Sunday night to weather the inevitable criticism in coming months.
The Mirror has cleverly spotted that in his in-tray is a rather tricky court case - which means he will be taking on his own constituents in court in order to force them to pay the "discriminatory" and "unlawful" Bedroom Tax.
Under his new role at the DWP Mr Crabb is leading a Supreme Court appeal against Paul and Susan Rutherford from his Pembrokeshire constituency who won a case on behalf of their severely disabled grandson Warren. "We now have the ludicrous scenario where Stephen Crabb is taking his own constituents through the highest court in the land," Rachel Reeves tells the paper.
The Work and Pensions Secretary is also appealing a legal challenge victory by anonymous rape victim who was forced to pay the bedroom tax on their police-installed panic room.
If you're reading this on the web, sign-up HERE to get the WaughZone delivered to your inbox.
Got something you want to share? Please send any stories/tips/quotes/pix/plugs/gossip to Paul Waugh (paul.waugh@huffingtonpost.com), Ned Simons (ned.simons@huffingtonpost.com), Graeme Demianyk (graeme.demianyk@huffingtonpost.com) and Owen Bennett (owen.bennett@huffingtonpost.com)
Related