The five things you need to know on Thursday April 14, 2016…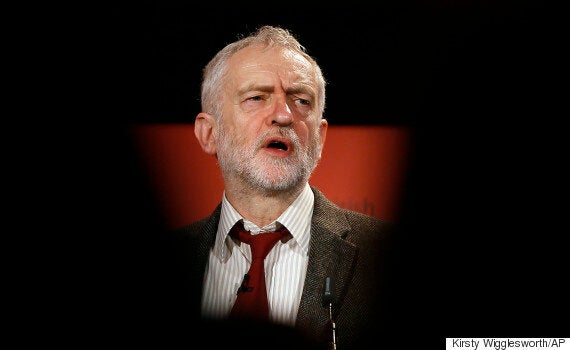 1) THE NARCOLEPTIC EUROSCEPTIC
It's taken several months, but Jeremy Corbyn will finally come out in favour of staying in the EU today. But as ever with the Labour leader, it isn't as straightforward as his critics would like. His big speech at UCL's Senate House will contain some key caveats about the need for a 'socialist' reform of Brussels to make it more democratic and to protect states from the 'privatisation' agenda pushed by right-wing and corporate lobbies.
If this EU referendum has taught us anything it has revealed that British politicians believe you can be both a 'Eurosceptic' (in the sense of being highly sceptical about Brussels) and a supporter of the 'Remain' campaign.
And Corbyn is certainly sceptical. Yesterday, after PMQs his spokesman revealed that Jezza was concerned about the £9m in public money spent on the one-sided EU leaflet, and wanted a 'more even approach' to information given to the punters. In today's speech he will not back off his years of Brussels scepticism either, saying "I remain critical of its shortcomings". Last year, when I asked him directly (during the Labour leadership hustings) if he'd rule out backing Brexit, he said 'No, I wouldn't'.
Some in the PLP feel that Corbyn's lukewarm approach on Europe means he is leaving it too late and is effectively sleepwalking to Brexit defeat, while Boris and others hit the road vigorously (Bojo has a 'Brexit blitz' of three cities this weekend). Chris Leslie, a leading member of the Shadow Shadow Cabinet, last night told Newsnight: "If we send out vibes that it's half-hearted somehow, the public will notice that. They will spot it. And maybe that won't motivate the millions of voters that we need to make sure that this isn't a knife-edge vote".
But a knife-edge vote is just what the latest Times/YouGov poll suggests, with both In and Out campaigns on 39 per cent each. Yet maybe Corbyn's 'sceptical Remain' approach could be more convincing to waverers precisely because he's not so gung-ho? The Times/YouGov survey shows Corbyn is more trusted on the EU (28%) compared to Cameron (21%) and Boris (26%).
Hilary Benn (who I'm told made Corbyn's backing for the official Labour In position a condition of his Shad Cab membership last year) was on the Today prog trying defend his leader. Asked if he was anxious about the vote being lost, Benn said the Shad Cab and PLP were strongly supportive of the In campaign and that Jeremy's 'journey' was now complete.
As for the other elections that Labour has been distracted by, the London Mayor race continues to crackle and fizz. After Zac Goldmsith's Standard interview explicitly saying what his campaign has until now hinted at - Sadiq Khan has 'given platform, oxygen and cover' to extremists - there's more trouble for the Labour man. A Former Director of Labour Friends of Israel says Jewish voters "should just be careful though with Sadiq Khan".
As for the battle between Inners and Outers, Remain scored a major psychological victory last night in a Westminster quiz organised by The Sun's marathon-running Craig Woodhouse, to raise money for ABF The Soldiers' Charity. The Stronger In team thrashed the Leave camp. If you want to help Craig hit his fundraising target, support him here
As predicted here, Nicky Morgan felt the full force of Tory unease over her plans to force all schools to become academies yesterday. MP after MP lined up to warn that they felt the programme should be more 'organic' and not submit to an 'arbitrary' timetable. As Morgan tried to slap down her Labour shadow Lucy Powell, she came under friendly fire from people like Edward Leigh, Tim Loughton, Richard Drax, Will Quince and Jason McCartney.
As my colleague Graeme Demianyk reported, Tory Stuart Jackson had sounded the alarm early with a piece saying the plans were 'rushed, ill-thought out and flawed'. The Times reports that sources close to Morgan say she plans to beef up her plans for parental involvement (there are real worries about needlessly undermining parent governors) and to give schools more freedom over which academy model they want. That concession/U turn looks on the cards, but will it be enough with just a month to go before the Queen's Speech?
As the Government showed again last night on the Housing Bill (accepting Labour and Lib Dem amendments to its high value property sell-offs) it isn't averse to concessions - if the political landscape makes them impossible to refuse.
The John Whittingdale coverage continues, not least as it gives some papers the chance to put on their front pages some pix of the dominatrix in her day job outfit of suspenders, a black peaked cap and a whip.
The Telegraph splashes on claims from unnamed Tories that the BBC ran the story on Newsnight as part of a wider plot to warn Whitto off nobbling its licence fee (a warning the Guardian seems to like). The Mirror splashes the story with Labour MP Neil Coyle reporting Whittingdale for failing to declare on the MPs' register his trip to the MTV awards with his ex-sex partner.
There's more Tory titillation in the Sun as it reports on the identity of the MP who referred to Isabel Hardman as 'the totty' this week. Step forward 'bonking' Bob Stewart, says the paper. The ex-military man tells the Sun: "My comment is no comment, I don't give a sod of what people say about me. I am never rude about anyone." And his current wife Claire Mrs Podbielski-Stewart (with whom he had an affair while serving in Bosnia) say: "I think there is no scandal, I don't care. So what?"
Meanwhile, ex-Lobby hack (now TalkRadio host) Julia Hartley-Brewer told SkyNews yesterday that she once threatened to punch a Tory MP who groped her knee three times at a dinner. The man who is now a 'very senior minister', Julia said. "The third time, I said, 'Either you don't put your hand on my knee again or I'm going to punch you in the face.' He seemed to understand."
BECAUSE YOU'VE READ THIS FAR…
Angus Robertson has a habit in PMQs of outflanking Jeremy Corbyn with just his two questions. Yesterday he quoted the claim that there were 10 times as many DWP staff looking into benefit fraud (3,250) as there were HMRC staff checking tax avoidance by the super-rich (300).
The PM was highly sceptical, saying he suspected Robertson's figures were 'entirely bogus'. HMRC says it has a total of 26,000 tax 'investigators'. In fact, BBC's fact-checking programme 'More Or Less' looked at this a couple of years back and was told that there were probably around 8,000 'full time investigators' of tax fraud.
The Guardian splashes the story, adding that Roberston didn't quite get his figures right. The DWP says there are now even more staff (3,700) looking into welfare fraud. It adds that HMRC has not just 300 staff in the 'affluent unit' but a further 400 staff in its 'high net worth' unit. Does your head hurt yet? The SNP are standing by their claim.
Meanwhile, the FT splashes on outgoing Treasury perm sec Sir Nick Macpherson warning the sale of the Government's stake in RBS will be 'tricky' and likely to see a loss of £19bn to the taxpayer. He still says the sale is worth it, but expect Labour to contrast that big sum with all the austerity going on right now.
5) SUFFER LITTLE CHILDREN
Unicef's latest report has been splashed by the Independent, after the UN group said the UK was lagging behind other nations on child inequality. Unicef's 'Report Card 13' report warned of "concerning gaps in health, education, and income".
The UK ranked 25th out of 37 wealthy countries covered by the report – behind Poland, Romania and Slovenia – for its equality levels in children's reading, maths and science skills at age 15. Britain also saw the biggest difference between rich and poor children for consumption of healthy food such as fruit and vegetables.
Owen Smith has pounced, as has the Child Poverty Action Group. The report ensures that there will be even greater focus on the coming anti-obesity strategy for children (it's not just about sugar taxes). The Government insisted 300,000 fewer children were in poverty compared with 2010, and I suspect Stephen Crabb will push this one hard (along with his political ally Nicky Morgan on the education gap). A DWP spokesperson said: "We know there's more we can do, and that's why we've introduced the National Living Wage, which is increasing the incomes of the lowest paid."
If you're reading this on the web, sign-up HERE to get the WaughZone delivered to your inbox.
Got something you want to share? Please send any stories/tips/quotes/pix/plugs/gossip to Paul Waugh (paul.waugh@huffingtonpost.com), Ned Simons (ned.simons@huffingtonpost.com), Graeme Demianyk (graeme.demianyk@huffingtonpost.com) and Owen Bennett (owen.bennett@huffingtonpost.com)
Popular in the Community