The five things you need to know on Tuesday April 26, 2016…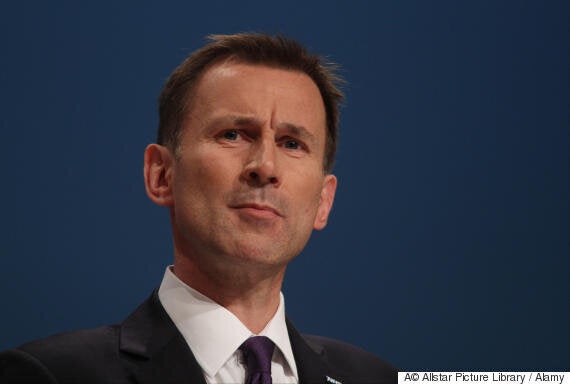 For quite some time, Jeremy Hunt was tipped by some in his party as a moderate, voter-friendly dark horse in a future Tory leadership race. MPs would whisper about him being a John Major figure who would quietly come through on the rails as the bigger beasts flogged themselves to death.
But just now on the Today programme, Hunt made plain that any such ambitions were finally over. "This is likely to be my last big job in politics," he said. Instead of being remembered as Tory leader, Hunt wants to go down in history as a radical reforming Health Secretary. (Will George Osborne have a similar moment of self-awareness?) And he's clearly determined not to blink in the battle with the BMA over today's junior doctors' strike.
The Ipos MORI poll for the BBC last night showed that 57% of the public still back the doctors, up from 44% asked in January if they would keep backing them even if they withdrew emergency cover.
Yet the Government clearly scents the mood switching, not least with Labour giving its own first hints of unease. Perhaps that's why Government sources went in with studs showing overnight, saying: "This is a political strike it's like the miners' strike - it has to be defeated." One source told the Guardian that some ministers are privately describing the bust-up with doctors in training as "a miners' moment – a dispute we cannot lose".
On Today, Hunt was asked repeatedly about that miners' comparison. "In so far as it is a political strike, there are some elements at the very top of the BMA who are absolutely refusing to compromise." But he then decided to step back. "I do not make a comparison with the miners strike because the miners strike left devastation that lasted for many years. The last thing we are doing is itching for a fight we are absolutely clear about that."
With lots of pre-planning from consultants, the BMA hopes today may well pass off without incident. Yet having fired its biggest weapon, and seen Hunt stand firm, where does the doctor's union go next? At some point, one side is going to have to concede defeat and right now it doesn't look like the Government.
The Sun has a scoop on a 'foul-mouthed spat' between Samantha Cameron and Sarah Vine (aka Mrs Michael Gove). Apparently at Andrew Feldman's 50th birthday party, soon after Gove's decision to back Brexit, Sam Cam went for Vine for the 'betrayal' of her husband. And in a wonderfully 1950s touch, the Sun story adds: 'The pair ended up raising their voices and "effing and blinding", the well placed source who heard the exchange said.
The Goves and Camerons have long been friends and Vine is godmother to the PM's youngest daughter Florence. Apparently they haven't spoken since the row but have exchanged texts on Sam Cam's 45th birthday (one assumes those texts weren't full of smiley emojis or thumbs-ups).
All good goss, for sure. But there's a more serious side, as No10 has been privately very upset at Gove's campaigning since he came out as a Brexiteer, not least how high profile he has been despite assurances that he would just make a principled statement and stay in the background.
And with the NHS in the news, what upsets Downing Street most is the way the Vote Leave camp is using Brexit to undermine Tory policies on public services. Last week they had a leaflet ridiculing Jeremy Hunt and an "NHS in crisis". The Times splashes today on Cabinet anger with Gove and Chris Grayling for Vote Leave's suggestion that junior doctors could get the pay contract they wanted if we didn't send £350m a week to Brussels.
There's a wider point too. Rachel Sylvester reveals that having tested the approach with the health service, the Vote Leave strategy will soon be extended to schools and housing, with the campaign stepped up after the local elections on May 5. One insider explains: "The public services angle connects money and immigration. It cuts through in a very powerful way." It's another example of how hard it will be to heal the wounds even if there is an In vote.
Oh and here's a fun item in the Times: Albania's PM has poked fun at Vote Leave for embracing the Albanian model of trade with the EU.
There were cries of 'Shame!' from Labour MPs last night as the Government defeated the Alf Dubs amendment by 294 votes to 276. In the end, just a handful of Tory MPs voted against their whips, including Tania Mathias and Stephen Philips (who made an impassioned speech), over the issue of admitting 3,000 child refugees from Europe.
Dubs isn't giving up easily however and he had already drafted an alternative amendment (because ministers invoked financial privilege on the Immigration Bill) before the defeat. I'm told that the veteran Labour peer was behind the Speaker's chair for the crunch vote result, and when he saw Theresa May leaving the chamber he told her: "You might be smiling but I'm not giving up!"
The amendment will be voted on by the Lords today and we can expect ping pong to keep this issue alive over the May bank holiday, as the next time the Commons can consider it is next Tuesday. The amendment has been cannily worded to call for a rolling programme of refugee admissions coordinated by councils. That will make it harder for Clerks to make a calculation about the costs.
The squeeze on the rebellion in the Commons (even Heidi Allen abstained) was helped in part by the backdrop of the EU referendum, not least No10's fear of providing a 'pull factor' for more people traffickers. Keir Starmer impressed many of his colleagues with the way he demolished that argument last night (it was his best Commons performance to date). But perhaps the failure to win the vote underlined just how much better the Lords is at getting and keeping cross-party consensus.
BECAUSE YOU'VE READ THIS FAR…
David Cameron is on the stump for the first time with Zac Goldsmith this morning and security seems to be the theme. The PM may or may not want to explain just how his main weapon against Sadiq Khan - the imam Sulaiman Ghani - ended up outside No.10 (LBC released a startling photo yesterday) and backing Tory candidates. The FT has a piece citing Muslim groups saying the Tories have sunk to 'disturbing lows' in the race.
The polls still have Khan leading, but by using such aggressive tactics there are some who think Goldsmith can still edge it. And if Zac does win, you can imagine the outcry from some in Labour who think another Lynton Crosby-esque did for their man just as the SNP scare did for Ed Miliband. And in a strange way, it would make it harder for Jeremy Corbyn's critics to blame him for any London loss.
We have an interview with Zac out today, which you can read HERE. He explains how his previous line that he would not stand for Mayor ('it's simply not going to happen') actually "wasn't a promise". He hits back at Norman Smith's Tube test, saying there are 250 Tube stations "some I know very well, some I don't" (especially Oxford Street, it seems).
Zac counters the 'birther' conspiracies too, revealing that he had no idea that his first name was Frank, until he got married. The Tory Mayoral candidate takes part in a Mumsnet webchat later today. Spoiler: he tells our Owen Bennett that his favourite biscuit is "a Pret cookie, I've been living off them during the campaign".
Last night in the Commons, as Angela Eagle hammered away, it was notable that several Tory MPs expressed their unease at the role Sir Philip Green had played in the BHS affair. Backbencher Richard Fuller even went back to the future with an echo of Ted Heath's famous denunciation of Tiny Rowland, suggesting that Green was "the unacceptable face of capitalism".
And lots of papers pile into Green today, not least given his tax affairs, and the Mail is one of those leading the charge about him and his family pocketing £425m over the years, while the pension deficit grew to around £500m. The Times says other business people are among those most critical of the way BHS was asset stripped (though the FT says while he could have done more, he should not be scapegoated).
Yet in the Times, John McDonnell has a letter unveiling a new plan to curb the boss class. He says a Labour pay commission will look at giving the workers more rights over directors' pay. "Pay, particularly for the most senior staff, needs to be set in a fair and transparent fashion, and remuneration should be overseen by those from all levels in a company, from shop floor to director." Now if that seems like too radical an idea for some 'moderate' MPs, but I'm pretty sure a certain David Miliband once advanced a similar idea…back in 2010.
Speaking of Labour policy, Trident is back on the agenda as John Woodcock's own backbench committee takes evidence at 4.30pm from defence minister Philip Dunne, Vice Admiral Simon Lister and Ian Forber, MoD director of strategic programmes. It's a heavyweight line-up and unprecedented that they're taking time to brief Labour MPs privately in the Commons. And the clock's ticking on the Thornberry review, now expected at the end of May, I'm told.
If you're reading this on the web, sign-up HERE to get the WaughZone delivered to your inbox.
Got something you want to share? Please send any stories/tips/quotes/pix/plugs/gossip to Paul Waugh (paul.waugh@huffingtonpost.com), Ned Simons (ned.simons@huffingtonpost.com), Graeme Demianyk (graeme.demianyk@huffingtonpost.com) and Owen Bennett (owen.bennett@huffingtonpost.com)
Popular in the Community