The five things you need to know on Thursday June 2, 2016…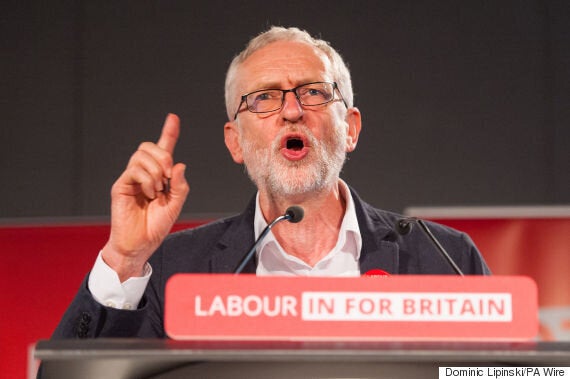 It's the big SkyNews EU programme tonight folks (I'm refusing to call it a 'debate' cos it's nothing of the kind), with David Cameron in the hot seat. The spin room in Sky's Osterley studios will be a sight to behold. Let's hope Faisal Islam deploys his excellent forensic skills to the full - and that the audience bowl some googlies.
Ahead of all that excitement, some in Labour are trying their best to stick to the script that the need to keep Britain in Europe trumps usual party divides. Labour's Shadow Work and Pensions Secretary Owen Smith told the Today programme: "I'm no fan of David Cameron, but I tell you, he's not the worst of the Tories".
Jeremy Corbyn, however, will never be caught uttering such heresy. He returns from his short break today with a Big Speech on Europe. It will focus on why Brits need to vote Remain to hold onto workers' rights. But - as we first reported HERE - I'm told it will also have a very strong dose of anti-TTIP sentiment.
Corbyn has never been a fan of the EU-US free trade plan, believing it gives 'corporations control over governments'. And he is expected to make clear today that no Labour government he leads would sign up to the current deal. In fact he would team up with rebel Tories and the SNP, just as Labour did over the Queen's Speech TTIP amendment, to block it in Parliament. It's all part of Corbyn's pitch that he's more likely to get a hearing with Labour voters if he calls for EU reform, rather than suggesting all is lovely in Brussels.
Corbyn also believes that sharing platforms with Cameron is as toxic long-term for Labour in this referendum as it was in the Scots independence referendum. But the 'reluctant Remainer' approach doesn't impress everyone on his side and the GMB's Tim Roache has told the BBC that Corbyn can't be seen to be 'half-hearted' about his support for the In campaign.
Speaking of strange bedfellows, George Osborne has already shared a platform with Ed Balls in this referendum campaign. Today, he has the backing of Alistair Darling in attacking the "uncounted and unworkable" proposals of the Brexit camp. They accuse the Vote Leave camp of "making it up as you go along", not least given the latest Australian points-based immigration system that critics claim is unworkable for the UK.
The Remain camp were delighted last night when Spanish PM Mariano Rajoy warned that quitting the EU would mean that British citizens, 400,000 of whom live and work in Spain, would lose the right to move freely around Europe. And Dutch PM Mark Rutte warned that the Aussie rules points system would spark a "race to the bottom" with other nations.
There's the footy/luvvy vote too. The Times reports that more than 100 European figures from science, sport and the arts have signed a letter to the Times Literary Supplement pleading with voters to reject Brexit. The Sun says the letter is signed by Arsene Wenger, Gerard Houliier, Per Mertesacker - and Swedish star of TV series The Bridge Sofia Helin.
Nigel Farage sounds cocky though, pledging to put his money where his mouth is today with a bet
that Britain will vote to Leave. He's got odds with Ladbrokes of just 11/4 but tells the Sun "It's a winner".
A more refined Euroscep, Jacob Rees-Mogg, has told HuffPost just why Mark Carney has to quit after his intervention in the referendum. Moggy has much more than that of course, adding that voters are now laughing at Cameron. Read the piece HERE.
After that ViceNews documentary, some Labour HQ staff are furious at suggestions that they've been leaking Corbyn's PMQs prep - and as we reported yesterday, general secretary Iain McNicol has written to reassure them. I'm told Seumas Milne wasn't 'pointing the finger' at anyone with his remarks about leaks, but it seems that if anyone is in the frame it is neither Labour HQ nor the Corbyn inner circle. Those who join the PMQs prep half way through may more have cause to worry.
Ken Livingstone has meanwhile continued his 'never apologise, always complain' approach to politics, telling the Oxford Union last night that his remarks about Hitler and Zionists working together were as factual as "1+1=2". He also said 'embittered MPs' were to blame for the row. "When I have gone through lots of people saying I should apologise to this reporter or apologise for saying Hitler was a supporter of Zionism … I have never apologised".
BECAUSE YOU'VE READ THIS FAR…
Amid chatter that Cameron will stage a Trident vote this summer, there's a debate on the Successor programme at the RUSI think tank today. And Shadow Defence Secretary Emily Thornberry is up against Tory defence select committee chairman Julian Lewis.
I'm told Thornberry will say the Government has still failed to answer basic questions such as how much will the Trident renewal will cost in total and how long will it take to deliver. But she opens up a new front, arguing that ministers are equally silent on the long-established principle that the reason to keep a nuclear deterrent is to negotiate it away, and get us to a world where nuclear weapons don't exist.
Thornberry will try to reframe the debate within Labour too - saying that Attlee and Bevan and Wilson (who signed the UK up to the 1968 Non-Proliferation Treaty) have been wrongly portrayed as ever-lasting champions of nuclear weapons, when in fact their pitch was for multi-lateral disarmament. She'll quote the bit of Bevan many forget: "It is not a question of who is in favour of the bomb, but a question of what is the most effective way of getting the damn thing destroyed."
The Investigatory Powers Bill hasn't gone away, you know. And it's Report Stage next week is the last big big of Parliamentary business before the EU referendum.
The Joint Committee on Human Rights has a new report saying that the changes to the bill are a significant step forward but warns more safeguards are needed. It says the bulk gathering of personal data was "capable of being justified" and not "inherently incompatible" with privacy.
Last Thursday night, just before recess began, the Home Office laid several technical amendments which went some way to meeting concerns. Other concessions have been made of privacy, bulk data and journalists protection, as the Guardian reports. Labour looks like it will be largely happy but the Lords may want more proof of real judicial safeguards (though the word 'judicial' is bandied about in many Government amendments, privacy campaigners say it's still unclear).
If you're reading this on the web, sign-up HERE to get the WaughZone delivered to your inbox.
Got something you want to share? Please send any stories/tips/quotes/pix/plugs/gossip to Paul Waugh (paul.waugh@huffingtonpost.com), Ned Simons (ned.simons@huffingtonpost.com), Graeme Demianyk (graeme.demianyk@huffingtonpost.com) and Owen Bennett (owen.bennett@huffingtonpost.com)