The five things you need to know on Monday June 27, 2016…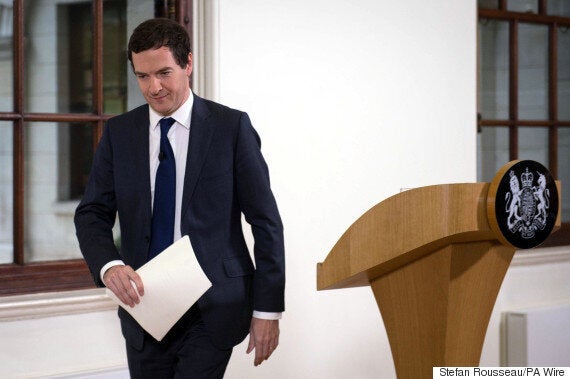 1) THE SADNESS OF KING GEORGE
George Osborne looked a shadow of his former self during that 7am press conference. The man famous for his hi-vis jackets had been seriously lo-vis ever since Friday morning's EU referendum result. But here he was at last. Gaunt, tired and lacking his trademark swagger, he had to eat large slices of humble pie as never before.
The key takeaways from his statement and the Q&A were that he won't after all be holding an 'emergency' budget stuffed full of tax rises and spending cuts, and he will be staying on as Chancellor until the new leader is elected. He said he didn't resile from statements made in the campaign, but it was obvious he already has. He wants to keep open the prospect of recession to prove he was right, while not actually now forecasting it.
The Chancellor couldn't resist a hint of 'I told you so', with his line that 'some firms are continuing to pause their decisions to invest'. Yet if this was an 'emergency' it didn't look like one. Any fiscal action would now wait until the OBR made its assessment 'in the autumn', which to me sounded like it could be November, not even October, when the Treasury responds.
Lots of Brexiters are pointing out that the market turmoil is not as bad as feared, sterling isn't in freefall (and a small drop could help exporters anyway). The world has not fallen apart.
As for his own political career and the Tory leadership, he said "I will address my role within that in coming days". The Times has a fascinating story that Osborne is mulling whether to support Boris, rowing in behind him in return for the Foreign Secretary spot. That plan may not be popular with many Leavers, who were furious at the Project Fear, BrexitBudget and 'economically illiterate' jibes. But Michael Gove left home this morning telling hacks Osborne had "provided the reassurance the people need". Let's see.
Boris was playing cricket yesterday and on Brexit and the Tory leadership alike, it's clear he wants to be a slow, left-arm spin bowler. Slow because his Telegraph column says there should not be "any great rush" to extricating ourselves from the EU. Left-arm because he is talking up the merits of immigration and his other socially liberal credentials. And spin because everyone thinks this is all just part of the great plan to get to No10, followed by a snap election to exploit Labour's woes.
As I suggested last week, the difficulty for Boris and Gove is that Brexit feels like a column gone wrong, an academic exercise suddenly turned into reality. And reality, particularly where the EU is concerned, is a messy, complex thing.
Boris is not a man who has difficulty sliding out of previous commitments or statements of intent. His column suggests he wants some kind of EEA trade deal with knobs on, some form of access to the single market but curbs on freedom of movement. It sounds like a Brexit-lite, pragmatic and non-ideological prospectus to heal the nation.
He offers an olive branch to Mark Carney, who was previously Vote Leave's grubbing Goldman Sachs bete-noir. And he even has the chutzpah to declare: "It is said that those who voted Leave were mainly driven by anxieties about immigration. I do not believe that is so." There are no gags in the Johnson column today, but his critics are already saying it was one long sad joke.
We're told Cameron hasn't spoken to Boris since the shattering result. They may have to exchange words this morning as the Political Cabinet, of which Bojo is a member, is expected to take place.
As for the Tory leadership race, as expected some Remainers have already swallowed their irritation with Boris to come on board for his campaign for the top job. Ben Wallace is set to be his campaign manager, while Nick Boles was on Today backing him. Other pro-EU Tories aren't as forgiving, and as the Sun points out some now brand the former London Mayor "Borisconi".
Stephen Crabb is rapidly emerging as the choice of some Osborne allies, as well as the 'reluctant Remainer' constituency across the Tory party, those who are instinctive Eurosceptics but who felt a loyalty to Cameron. Of course he would have to come ahead of his friend Nicky Morgan but her votes could transfer in a leadership ballot, as could those of Theresa May's backers. Sajid Javid is said to be ready to back Crabb. As one Osborne ally tells the FT: "He's a clean skin. He didn't take part in the referendum, he has an interesting back story and he's not disliked. The only problem is that he's not very experienced." All sounds a bit like John Major. And given that Boris is the Heseltinian blond bombshell in this race, that really could be history repeating itself.
The 1922 Committee meets today to discuss the way forward. Graham Brady is said to be not keen on proposals for a new rule to ensure one of the two candidates has to be a woman.
Grant Shapps has written a fascinating HuffPost blog in which he reveals that Cameron told him he'd quit after a Remain vote, that he himself voted Remain and that it's time for the party to now dump its net migration pledge in favour of a points-based system that fits business needs.
"Jeremy is a decent man". That's the phrase you'll hear a lot of in coming days, followed by "But he really isn't up to being Prime Minster". It was Hilary Benn's tack yesterday, and Lucy Powell's this morning on Today.
And after an extraordinary 24 hours, the long-held tension between the PLP and the party membership is facing a real reckoning. In keeping with the 'waves of bombing' approach, we had more shadow ministers of state quit this morning, Toby Perkins, Anna Turley and Diana Johnson among them. There are more to come through the day.
A fresh new front has opened up in the shape of Labour Lords. I can reveal that Shadow Lords leader Baroness Smith and Shadow Lords Chief Whip Lord Bassam have decided to boycott future Shadow Cabinet meetings until Corbyn has gone. They took their decision after taking soundings from peers. And as their posts are directly elected by peers, and not in the gift of the leader, there's nothing Corbyn can do about it. Don't forget that it was Labour lords who led the party's biggest Parliamentary coups against the Tories: on tax credits, the Trade Union bill, and child refugees.
Tom Watson meets Corbyn for their head-to-head and the results of that will be crucial. Watson has his own direct mandate from the party members, don't forget (though some Corbynistas think he can be taken out in a deputy leader race). Watson's post-Glasto statement didn't read like a vote of confidence in the leader, expressing sadness at Benn's sacking and the state of the party.
As my colleague Owen Bennett revealed, Angela Eagle, Lisa Nandy (a possible leadership contender herself) and John Healey are due to meet to discuss the next steps. Hell, by the time this email goes out, it any of them may have quit. Quite what will happen if Chief Whip Rosie Winterton quits I don't know.
There's a dizzying pace in this. The reshuffle has started. Clive Lewis gets Shadow Defence. Diane Abbott goes to Health, Emily Thornberry to Foreign, Pat Glass to Education, Andy McDonald to Transport.
But he has no Scot to replace the Shadow Scottish Secretary, and few lawyers to replace the Shadow Lord Chancellor or Shadow Attorney General slots (Keir Starmer surely won't risk his career by stepping up?). He may have no Shadow Chief Secretary on the day that she was due to open on the Finance Bill. In fact, when Lewis gets up for Defence Qs at 2.30pm, will there be any Labour MPs at all behind him? Will the PLP effectively go on strike?
What has really driven this coup is the sheer anger at Brexit and the way Corbyn and his team failed to do enough to help the Remain campaign. Many MPs were furious when they read my detailed account on Saturday of just how some Corbyn allies 'sabotaged' the Labour In campaign.
Tonight's PLP at 6pm will see the motion of no confidence put forward for that ballot (crucially a secret ballot) tomorrow.
But the fightback among members and trade unions has begun. Unite's Len McCluskey in the Guardian threatens mandatory reselection is back on the table. "Those MPs who have missed no opportunity to tweet and brief against the party's elected leader over the last 10 months will find that their disloyalty finds no favour with party members". The CWU has a rally tonight.
Jezza has legal advice (disputed by his critics) that he will automatically get onto any leadership ballot. And if he does, many members may still elect him. But if a stalking horse (Margaret Hodge, John Spellar have been floated) fails, they will come for him again. Hold onto your hats, folks.
BECAUSE YOU'VE READ THIS FAR…
In many ways, Boris's downbeat tone is part of a wider 'backtrack' problem for the Leavers. Having fought a highly effective campaign in the referendum on the back of what looked like a mini-manifesto, many people are expecting them to deliver on what looked like promises.
Of course, the Leave campaign - unlike the Remain campaign - was not a Government. It wasn't even an official Opposition. So it was never logically even able to offer concrete pledges, as many pointed out at the time. Some Leavers always thought it was a dangerous tack to try to be specific on things like the NHS, immigration targets, the exact shape of European trade.
And the '£350m for the NHS' promise has come back to bite them. Admittedly, some smarter Leavers were vaguer about this than others, but there's plenty of evidence that all of the cash was offered as stark pledge. After Farage admitted on Friday it would not happen, Iain Duncan Smith yesterday told Marr: "It is not a promise broken. I never said that during the course of the election." He did, however, appear on the bus lotsa times. Later he said his campaign 'pledges' were merely "a series of possibilities".
Dan Hannan's own words about immigration caused even more anger among Leavers. He said this weekend: "Frankly, if people watching think that they have voted and there is now going to be zero immigration from the EU, they are going to be disappointed". If the Leavers wanted to restore trust in politics, they are going a funny way about it.
Merkel, Hollande, Renzi and Tusk all meet in Berlin today. And its clear there are splits among EU leaders. People like Martin Schulz want Article 50 triggered pronto to avoid further destabilisation of Europe's core (he told a German paper "A delay that only serves the tactical interests of the British Conservatives is damaging to everyone"). Juncker said action should be "immediate".
But Merkel, as ever, holds most of the power. And she looks like wanting to give the UK time and space to find a practical way forward. Her chief of staff said the UK should "reflect on the consequences of the Brexit decision". It sounds like a big 'er, let's wait and see what you really want, Brits'.
The idea of Parliament blocking the referendum result seems politically impossible (though David Lammy is up for it), as does a second referendum (though even Tony Blair said one should be 'ruled out' yesterday).
Avoiding Brexit seems like fantasy politics right now. But there is one possible scenario: will the new Tory leader trigger a snap election before Article 50 is triggered? If so, that's when two parties, a Leaver Tory party versus a Remainer Labour party, both under new leaders, could perhaps finally resolve this whole question. A Tory victory would legitimise a Leave vote with a Parliamentary democracy. A Labour victory (as unlikely as that sounds) could overturn the referendum result. Stranger things have happened…
If you're reading this on the web, sign-up HERE to get the WaughZone delivered to your inbox.
Got something you want to share? Please send any stories/tips/quotes/pix/plugs/gossip to Paul Waugh (paul.waugh@huffingtonpost.com), Ned Simons (ned.simons@huffingtonpost.com), Graeme Demianyk (graeme.demianyk@huffingtonpost.com) and Owen Bennett (owen.bennett@huffingtonpost.com)