The five things you need to know on Tuesday June 28, 2016…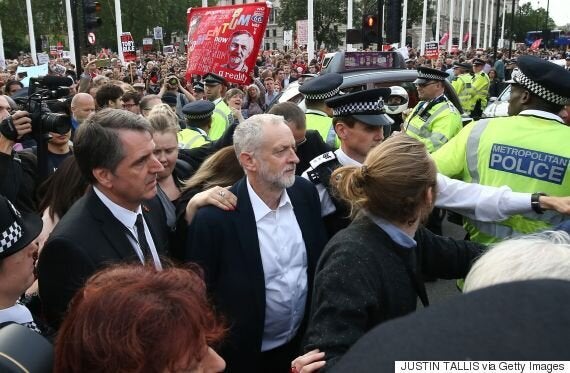 At 4pm today we will know the results of the PLP's ballot on a motion of 'no confidence' in Jeremy Corbyn. Some estimates suggest there 70% of Labour MPs could back it, while others say it could be as high as 80%. As this is a secret ballot, some may be bolder in private than public.
But given that Corbyn isn't remotely fussed by the vote, which after all has zero force and was only meant to embarrass him into standing down, it's not really where the action is. That lies in the 51 letters from MPs and MEPs required to formally trigger a leadership challenge.
One MP mistakenly texted me last night to ask 'Hi [name deleted], have you got your proxy sorted?'. The proxy may well be the stalking horse, or it may be a proxy vote in the ballot. Either way, the talk among Labour MPs in the last 24 hours has been on who will be nominated in those challenger letters.
Margaret Hodge made a passionate speech at last night's PLP (read my blow-by-blow account HERE) and some think she could be the horse to back. But the plan would then be that she would withdraw and a single unity candidate rows in behind.
That may well be Angela Eagle, one of the few with the union support and soft left party membership credentials who could beat Corbyn. Lisa Nandy, seen by some as the 'new generation' required, was felt to have ruled herself out yesterday. (Watch Eagle's tearful interview with John Pienaar HERE). Yvette Cooper has a speech today too, warning Labour needs to fill the dangerous political 'vacuum'.
The stark reality remains that Corbyn has huge support among the grass roots, as proved by his Parliament Square rally last night. But the plotters detect a peeling off of support as pro-Remain youngsters are uneasy about claims their leader didn't bust a gut to keep the UK in the EU. And the prospect of a snap election is sharpening minds. JK Rowling and Robert Harris are both now mobilised against Corbyn. But I'm told Momentum has tends of thousands of people 'ready to go' should there be a new battle of the £3-ers.
Did Corbyn vote Remain? He tweeted after the vote that he had. Yet Chris Byrant says he was equivocal when he asked him about it yesterday. Rumours swirl that one of his friends hinted at it on Facebook. The Times actually quotes a man called Martin Waplington, who said that he had been dining at a tapas restaurant in south London when Corbyn told him he planned to vote Leave. Was it all a joke that went wrong? Team JC vehemently deny the claim.
Hodge, who don't forget is expected to step down at the next election so can't be targeted by deselection, told the Today prog that she would appeal to Diane Abbott "as a friend of his" to get Corbyn to stand down. The Daily Mirror splash is 'Go Now'. Its front page is a plea to Corbyn to quit on behalf of its readers. That line appears again 'You are a decent man" And then there's the inevitable 'But."
Tempers frayed in the voting lobby last night, with Conor McGinn confronting John McDonnell and Stephen Doughty and Richard Burgon both having to be separated. The rows were over the Parliament Square protestors wearing 'eradicate right wing vermin' T-shirts, and claims that leftwing MPs were supporting Momentum demos outside other MPs' constituencies.
Meanwhile, the resignation waves keep on lapping at the door of Team JC. Today I'm told the whips office will be the final ones to go. "Whips are like the SAS: first in and last out," one joked to me. As of this morning, at least 7 vacancies in the Shadow Cabinet were still unfilled or unannounced.
I can also reveal that even Corbyn's local Islington Council Labour group last night decided to pull a motion backing his leadership and condemning the PLP. The motion, proposed by a councillor from his own ward, was dumped after warnings that it would look much worse if it was defeated in a vote.
So, is the Boris bandwagon set to be derailed? Or will he power on? The 1922 Committee's decision to fast-track the Tory leadership certainly looked like a move to help Boris. But it could also focus MPs' minds on just what a Boris premiership would actually look like.
After Brexit you would have thought that no one would trust a poll ever again. But there are polls about. The Express says 80% of its readers back Bojo. Yet the Times has a front page YouGov poll showing that actually Theresa May is now the favoured choice of Tory voters (31% to 24%). Of course, voters are not the same as party members, as Jeremy Corbyn and the PLP well know. And given his coming out for Brexit (unlike May), most people are sure that Boris could win against any opponent once he gets onto the ballot.
And yet, here's another straw in the wind. The Eastern Daily Press, a Brexit stronghold, reports that Mrs May is seen as a preferred choice by some and that Boris is 'a bit too wild'. Could it be that the Home Secretary's solid, dependable approach to politics, combined with a Thatcher-like steel, gets her more support than expected among MPs too?
In a preview of the debate ahead, don't forget Boris is more liberal on immigration than May (who famously insisted on putting students in the net migration target - something many Tories now disagree with, not just Grant Shapps). That may help him in the country, but will it help with the grass roots?
Lots of liberal England is still furious with Boris, summed up by Jamie Oliver yesterday on Twitter: "I beg you one thing Great Britain ???? Give me Boris fucking Johnson as our prime minister and I'm done. I'm out." The hashtag #BuggerOffBoris was a thing.
It is claimed Bojo has offered May a job in his putative Cabinet, and he could do worse than making her Foreign Secretary or even Chancellor in a bid to heal the wounds. Meanwhile dark horse Stephen Crabb has teamed up with Sajid Javid. The Times reports that George Osborne won't declare for any candidate yet but he has ruled himself out.
Osborne was on Today suggesting that someone who argued for Remain could actually win the leadership. Could he do the previously unthinkable and back May as the best 'stop Boris' candidate?
Jeremy Hunt told Good Morning Britain that he was "seriously considering" running against Boris Johnson. Yes, you read that right.
But just as importantly, he suggested there could be a second referendum or a general election to resolve for good the Brexit question. "I don't think there (necessarily) needs to be another referendum but I think there needs to be some kind of democratic endorsement," he said.
The Daily Telegraph splashed on a piece by him in which he said "Before setting the clock ticking, we need to negotiate a deal and put it to the British people, either in a referendum or through the Conservative manifesto at a fresh general election."
Remember when in April, as junior doctors went on strike, Hunt said his post as Health Secretary was likely to be his "last big job in politics"? That seems an age ago. So too do the days when the UK last had a Triple A credit rating (ie yesterday morning).
No wonder Nigel Farage is already accusing the Tories of 'backsliding' (though of course he's backtracked on the £350m a week NHS claim) "I'm nervous" he told Channel 4 News last night.
BECAUSE YOU'VE READ THIS FAR…
The victory for the Brexiteers was marred within hours by reports across the country of a spike in racist verbal abuse against EU citizens - and even Brits of a different skin colour - living in the UK.
Suspected racist graffiti was found on the front entrance of the Polish Social and Cultural Association (POSK) in Hammersmith. In Huntingdon in Cambridgeshire, a number of laminated cards saying "Leave the EU/No more Polish vermin" - in both English and Polish - were found outside a school. The Polish ambassador to Britain urged politicians to condemn what had happened.
David Cameron rang the Polish PM to discuss safety of Poles in the UK. He and No.10 condemned the abuse and many Brexiters are ashamed that the racists are tarnishing their victory.
But No10 could make life a lot easier if they declared that the Brexit vote would not be retrospective on the status of EU citizens currently in the UK. On Friday morning the PM said there would be 'no immediate change in circumstances' for such citizens. He may want to think it's up to the Brexiters to make clear what will happen to these people in two years' time, but surely some clarity is urgently needed from Government itself? Will Brexit only apply to new migrants, not current ones residing here? Or will people be 'sent back'?
Labour MP Jess Phillips hopes there will be an Urgent Question granted today.
Of course, his appointment prompted much hilarity on social media, not least given his long record of gaffe-tastic remarks. He's been 'out there' on privatising the NHS and had to apologise for a memo showing he'd once claimed black people would use post-Broadwater Farm riot cash to go into the "disco and drug trade". Oh, and he once dumped official papers in a St James' park litter bin.
Cameron told MPs that 'he will be playing no part in the leadership election'. That was more to reassure Brexiters worried he would back a Remainer than any hint that Letwin was a contender himself. But, hey, we live in crayzee times.
In fact, the PM really, really rates Letwin not for his high-pitched squeak of a laugh, but for his brain (don't forget he kinda wrote the 2010 Tory manifesto) and his 'fixer' ability. Views vary in the insurance industry, but some say he played an invaluable role in sorting out a deal after the floods, stepping in where Owen Paterson had failed.
If you're reading this on the web, sign-up HERE to get the WaughZone delivered to your inbox.
Got something you want to share? Please send any stories/tips/quotes/pix/plugs/gossip to Paul Waugh (paul.waugh@huffingtonpost.com), Ned Simons (ned.simons@huffingtonpost.com), Graeme Demianyk (graeme.demianyk@huffingtonpost.com) and Owen Bennett (owen.bennett@huffingtonpost.com)