The five things you need to know on Wednesday July 13, 2016…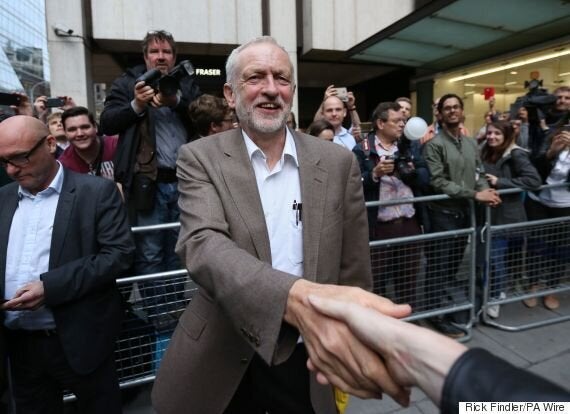 Last night's meeting of Labour's ruling NEC certainly was historic. Eight separate votes, over five and a half hours. A new precedent of keeping sitting leaders on any leadership ballot. All local party meetings suspended because of fears of intimidation and violence. Dennis Skinner letting rip. Oh and Keith Vaz being Keith Vaz. My full account is up online HERE.
In the leader's office in the Commons, soon after the text message of Corbyn's victory emerged, a football chant went up 'Watson, Watson, what's the score?' Bottles of lager were cracked open and celebrations began in earnest. Corbyn went on from the NEC to huge JC4PM rally in Kentish Town and John McDonnell laid into fellow MPs for their coup attempt. There were lots of swear words, with Tony Blair and Neil Kinnock under fire. Our report is HERE.
The decision to suspend local party meetings underlines how nervous the party is about intimidation (see my report above for the full wording passed by the NEC). Some on the left think this is a ruse to stop members giving MPs a piece of their mind. But Margaret Hodge told Today that there was now a politics of intolerance and bullying under Corbyn, of a kind not seen since the 1980s.
There is irritation on the Left too that after Corbyn left the NEC, it voted on new rules to freeze membership for the election to those who joined by January 12. A vote on an amendment to set the freeze date as June 24 (which would not have helped the 48%-ers blaming Corbyn for Brexit) was tied, and so lost. The upshot is that 130,000 new members of the past month will not be eligible - unless they sign up as 'registered members' and pay £25. That's on top of the annual fee of more than £40 they've already signed up for, and were told in the small print they could take part in elections. Already, some are claiming its a trade descriptions misselling thing.
Unite have a scheme that some think will get people registered supporter status at cut price, but it's still about £26 a year and only open to the unwaged, it seems. More interesting will be any moves to 'help' people with the cost of registered supporter status. I hear both the Left and 'moderates' could be working on that. Whether it's in the rules, I dunno.
In case you missed it, today is actually the day that we get a new Prime Minister. Yes, Labour's troubles look all the more academic and irrelevant when you realise that Theresa May is not keen to hold a general election until 2020. And if she does call a snap election, you can bet your house that it will only be when the Tories are ahead in the polls and there's a chance of getting a huge new majority.
All eyes will be on David Cameron (remember him?) at his final PMQs. He's a pro at this kind of event, but will we see him tear up, as he sometimes does? Will his children be in the Commons gallery? Will Corbyn pay him a generous tribute? Will any Labour MPs cheer anything Corbyn says?
May meanwhile is getting on with it. And her new Cabinet could surprise some. Lots of women will be promoted, so watch out for Amber Rudd and Karen Bradley, Priti Patel and Justine Greening. The biggest calls of all will be what to do with the boys, the Osbornes, Goves and Johnsons. It is possible the first two could be out altogether and the third offered a job he may not want.
Chris Grayling - surely one of the big winners of the past few weeks (he correctly backed Leave and correctly backed May early on) - pointed out that when he was elected in 2001, just one of his fellow new Tory MPs was a woman. That's quite a reminder of how far we've come, but also how far we still have to go. Let's see if our HuffPost May Cabinet works out: Rudd at Home Office etc. The Sun says Anne Milton could get Chief Whip.
Meanwhile, both the Cameron staffers and the May staffers should read this gripping account by Stewart Wood of Gordon Brown's last day in No.10.
As soon as it became clear overnight that Owen Smith was indeed running to be Labour leader, there were several groans from a few MPs (and maybe some political journalists who just want a bit less NEWS today, thank you very much). The reaction from many of the public may also have been 'Owen who?'
But Smith is running for a good reason - he has more MPs backing him than Angela Eagle, and his allies think he can beat Corbyn because he is more on the left and didn't vote for Iraq. Oh, and he's part of a new generation that really has no link to Blair or Brown. Some party insiders have long told me that Smith is 'the one to watch', part-Kinnock with his Welsh passion, part-John Smith with his thick black specs and pragmatic socialism.
For the poor public, however, the idea of another leadership challenger may not be a great look. And for Labour members, Eagle and Smith may just be new versions of Cooper and Burnham - lacking Corbyn's curious mix of cardigan charisma and avuncular integrity. If you're on the centre left of the party, members will also ask the same Coca Cola question that killed off Corbyn's opponents last year: why would I pick diet Coke rather than The Real Thing?
There will be huge pressure within the PLP for a hustings now, as Margaret Hodge told Today, in order to "choose one candidate as a unity candidate…to have hope of forming a new government". Chief Whip Rosie Winterton may have a key role in that, and she and her whips are still in office.
John McDonnell was on the airwaves early, but the BBC said he didn't want to 'debate' Smith. On the Today prog, Smith attacked the Shadow Chancellor for his f-word last night about the plotters. "That's not language he should be using. John Mc Donnell is part of the problem we have in the Labour party…." Smith repeated his claim that when he warned McDonnell privately of the danger of splitting the party, "he shrugged his shoulders and said 'if that's what it takes.."
Smith also went out of his way to say "I was not part of any plot or a coup against Jeremy Corbyn". And he rather pointedly attacked "a small group of people on the Right", as well as on the Left.
BECAUSE YOU'VE READ THIS FAR…
Ahead of Jo Cox's private family funeral later this week, George Osborne has made a timely announcement. Some £375,000 of Libor fines will be given to the Royal Voluntary Service, one of the three charities benefitting from a fund set up in honour of the late Labour MP.
After he tweeted the news, for once the Chancellor's name was pinging round social media, full of praise rather than the usual abuse he can get. He announced the funding as part of a £14.4m package for charities and projects linked to the armed services.
"Jo Cox dedicated her life to bringing people together and making a difference," he said. "She was an inspiration to people across the world and I am proud to give the Royal Voluntary Service this funding in her memory to continue their vital work." Jo's husband Brendan thanked him via Twitter too.
5) MAKING PLANS POST-NIGEL
Nigel Farage is going full Donald. Yes, the news Stateside is that the UKIP leader will attend the Republican convention in Cleveland - and will tell them of lessons the US can learn from the Brexit vote and its popular uprising of Leavers.
He tells USA Today: "Having criticized President Obama for getting involved in British politics, I am not about to endorse anybody.. But I do know a lot of people in the Republican Party, and I'll be interested to hear what Donald Trump has to say in his big speech."
Farage ain't happy at Theresa May getting the PM job. Meanwhile, as our Owen Bennett revealed this week, UKIP knows how to stitch up a leadership election a lot better than most. Its decision that contenders have to have been members of the party for 5 years rules out Douglas Carswell, Patrick O'Flynn, lots of folks.
And with everyone expecting the race to be won by Stephen Woolfe, the suspended Suzanne Evans tells the Express today that unless the rules are changed the new leader will have 'a shaky mandate'.
If you're reading this on the web, sign-up HERE to get the WaughZone delivered to your inbox.
Got something you want to share? Please send any stories/tips/quotes/pix/plugs/gossip to Paul Waugh (paul.waugh@huffingtonpost.com), Ned Simons (ned.simons@huffingtonpost.com), and Owen Bennett (owen.bennett@huffingtonpost.com)