The five things you need to know on Wednesday July 20, 2016…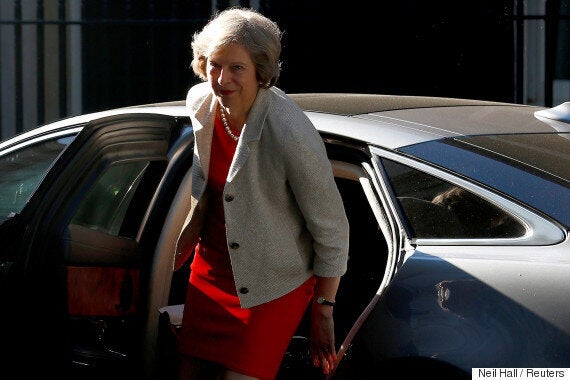 It's Theresa May's first PMQs as PM today, before later meeting Angela Merkel to discuss the realities of Brexit. It's Owen Smith's first day as challenger to Labour leader Jeremy Corbyn. And it's Donald Trump's first day as the formal Republican nominee for President. Those four statements would all have seemed outlandish about 18 months ago, but today they are very real. Pinch yourself, folks.
Of course May and Merkel are similar in lots of ways, preferring no-nonsense pragmatism to PR, and both as unclubbable as it's possible to get in politics. Yet on migration the two of them clearly differ markedly (Corbyn today may want to highlight May's 'go home' billboard vans, one of her rare missteps at the Home Office). And on Brexit they will have to reconcile Merkel's push for an early trigger of Article 50 with May's cautious wait-and-see approach.
There will be no 'negotiations' in Berlin about Brexit, as Merkel and Hollande believe that can't happen formally until Article 50. But there will be invaluable contact about just what general direction the UK is heading in. And with bilateral relations more important to the UK than ever before, there will be a chance to establish a personal rapport that underlines rather than ignores mutual self-interest.
One of the most interesting developments yesterday came when No10 revealed that May had created three new Cabinet committees: on the economy and industrial strategy; on social reform' and on Brexit and trade. And May will be chairing all of them. That's either a Thatcher-like smack of firm government or fresh evidence of her Home Office habit of micromanagement, according to your viewpoint.
Finally, her premiership has so far been about consensus and sweet reason, but I wonder if May will show her tougher streak at PMQs. Don't forget that in the Trident debate, she said Caroline Lucas and Corbyn "seem to be the first to defend the country's enemies". With Angela Eagle in mind, Team May are bound to have a line about brave women always doing the hard work in Labour, only for men to get the credit.
Right from the off, Ed Miliband was often called 'David'. Easy mistake, when one brother had been more famous for so long. It was irritating for him, yet understandable. And as Nick Robinson proved at 6.33am on Radio 4 today, Owen Smith is sometimes mixed up with 'Owen Jones'.
Given that many of his pronouncements sound just like Owen Jones, the real problem for Smith is differentiating himself as political figure in his own right - and distinct from Jeremy Corbyn himself. As I've suggested before, when presented with a choice between Corba-Cola and Diet Corb, Labour members may well opt for The Real Thing.
Of course, Smith-ites (do we call them that yet?) will argue that real Coke rots your teeth, and real Corb may do similar damage to the party's long-term prospects, despite the sugar rush of idealism it provides. In his breakfast media round (GMB, Today, Sky), Smith repeated his praise of Corbyn, though he said it was "time to offer more than slogans, it's time to offer solutions".
It has emerged that privately Smith proposed a way out of the PLP-Corbyn impasse by suggesting he could become 'President'. On Today, Smith suggested that could still happen if Corbyn lost. "I would absolutely want him to take a role like President, or chairman as we've had in the past." On one level, that would go some way to healing any split (though it's unclear if Corbyn would go for it, once he was beaten). On another, it's a way to ensure Corbyn is used by the Tories as a bogeyman for what Labour will do in office.
Smith said on Today "I agree with everything [Momentum chief] James Schneider just said.." Many 'centrist' Labour MPs cringe when they hear such stuff. And they want him instead to give Tory voters in marginal seats - and UKIP voters in northern seats - a clearer offer on immigration, tougher policies to create 'something-for-something' or 'contributory' welfare, the need for a vibrant private sector. Then again, that didn't work for Liz Kendall last year.
Smith struggled on Today when asked to explain why he'd said in 2005 that "choice is a good thing" for the NHS. He said "we made a mistake in not appreciating how a Tory government would ride a coach and horses through the language about choice". Corbyn supporters want to hammer home his past as a Pfizer lobbyist, but could this baptism of fire be the making of Smith?
On ITV, Smith also coughed to the story that as a TV producer, when asked to get a police comment on story, he called 999. For many Labour MPs, this leadership battle is indeed an emergency - but will the 5pm deadline for registered supporters result in a flood of 'moderates' or a further flood of Corbynistas?
Corbyn sounds fuzzy when asked the specifics of what a Corbyn Premiership look like. But in this leadership race he can still define himself by what he's not: he's not a career politician, not a former special adviser, not worked in lobbying. In one indication of the scale of the task ahead for Smith, 'Momentum Campaign Ltd' changed its legal name to 'Jeremy for Labour Ltd' at Companies House, as my colleague Owen Bennett reports.
Meanwhile, Team Corbyn is getting on with it. There is an Opposition day debate on cuts in housing benefit for people in supported housing. Will JC lead the debate?
Boris Johnson is the May Government's very own rogue state, but his fans view him more like Texas than Somalia when it comes to the damage he can do.
Boris replied that all his remarks "have been taken out of context, through what alchemy I do not know – somehow misconstrued that it would really take me too long to engage in a full global itinerary of apology to all concerned". I'm not sure how the 'Velly Solly" column on a Chinese air hostess, or Africa needing a new colonialism, or 'watermelon smiles', all fit with that. Maybe he wants his past Spectator columns to be seen like Tintin Au Congo, as products of their time. The difference being that British publishers refused to publish that book even at the time…
Kerry's face was a picture during some of these questions (his grimace in particular), but he tried to do the decent thing by saying he preferred the 'smart', behind-the-scenes Boris to the usual front-of-house knockabout Boris. The Foreign Sec tried to refuse the compliment, but Kerry replied "It's called diplomacy, Boris". Ouch. Bozza, who renounced his US citizenship last weekend, heads to Washington on a trip tomorrow.
No.10 will be more worried about Boris's line on immigration. Theresa May has said consistently (see her Evening Standard interview during the leadership race) that 'sustainable' migration still means the Tory target of 'tens of thousands'.
Amber Rudd set the hare running, either because she wasn't fully briefed or because she doesn't think the manifesto pledge can easily be met. But Boris chased the hare like a meat-starved greyhound. He said his colleague was "entirely right to be careful about committing to numbers" because the government "does not want to be in a position where we are disappointing people again". No wonder No.10 sounded exasperated last night when they insisted the PM was clear that "sustainable levels do mean tens of thousands".
BECAUSE YOU'VE READ THIS FAR…
Donald Trump's hostile takeover of the Republican party was formally confirmed overnight as he was installed as its Presidential nominee. The row over his wife's plagiarism dominated the news cycle in the US, and the resulting PR car crash made Andrea Leadsom look like a paragon of media management. But still, part of me can't help thinking it won't really harm Trump to compare his wife to Bill Clinton, in the eyes of some voters.
What is more concerning is the emptiness of the Trump policy offer, with an attempt to repeat 'national security and job security' endlessly with no beef behind them. And where there is policy, it's contradictory (eg getting the deficit down while spending billions more on defence). His son last night praised the fact that he could 'swing a golf club'.
But most worrying for other world leaders are the hints that Trumpism means protectionism. Some of his supporters are already pointing to Brexit as proof somehow that free trade deals with blocs are yesterday's politics. One backer told Radio 4's The World Tonight 'good fences make good neighbours'. And they weren't just talking about The Wall, they were talking about trade.
And as for his opponent, Trump is going to unleash the hounds as never before in a Presidential race. He's now used the phrase 'crooked Hillary' more that 'Lyin' Ted', and Chris Christie leading a chorus of 'guilty' on his charges against Clinton - followed by chants of 'lock her up!' - was just an amuse bouche compared to the main meal we can expect this long, hot summer. There's a lot of angry people out there and Trump shows no sign of wanting to calm them down.
Hot isn't it? June was confirmed as the hottest June on record and new figures showed that it was the 14th consecutive month that the monthly global temperature record has been broken. When will climate change deniers accept that it really is a thing?
And the BBC's excellent environment analyst Roger Harrabin has a scoop that a government flood review (overseen by Oliver Letwin, who has announced he will be quitting at the next election) has found that Britain's roads, bridges, railways, hospitals, electricity, gas, water and internet remain at risk from floods.
The review, commissioned after last December's dowpours, says that decision makers are still failing to grasp the magnitude of the flood risks. Some services like telecoms are very vulnerable. The study had been due to be published this week but will now be kicked off into the dry grass of the summer recess.
If you're reading this on the web, sign-up HERE to get the WaughZone delivered to your inbox.
Got something you want to share? Please send any stories/tips/quotes/pix/plugs/gossip to Paul Waugh (paul.waugh@huffingtonpost.com), Ned Simons (ned.simons@huffingtonpost.com), Owen Bennett (owen.bennett@huffingtonpost.com) and Martha Gill (martha.gill@huffingtonpost.com)