The five things you need to know on Friday, September 9, 2016…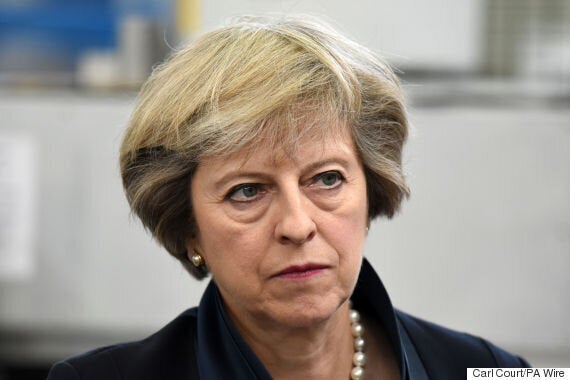 1) GENERAL SELECTION TIME
The personality split that is 'Bold Theresa/Cautious Theresa' will be on display today as the PM flaunts her more radical side with a grammar school revolution. We hacks often overdo that word 'revolution' but in this case May's education reforms genuinely merit the tag. Her proposals look like being more extensive and more controversial than anything Michael Gove could have dared dream up in a PolicyExchange wonkathon.
The idea of allowing ALL state schools - comps, academies, Free Schools - to introduce an element of selection by ability is truly radical. Of course there are very significant conditions attached, and such 'new grammars' would have to take quotas of poorer kids, sponsor 'feeder' primaries or create a 'high quality' new non-selective school. Some of those conditions are tough, some look like easier figleaves.
By promising concrete help for the poorest, May's plans could get more support than some are predicting. What happens to those rejected by the ability tests is very much central to all this, but Labour needs to change its attack lines to reflect the new nature of this 'mixed economy' proposal.
Yet the plans could also prove very unpopular for the big chunk of parents of middle-of-the-road pupils - those who are neither supersmart enough to pass the 11+, nor poor enough to get a quota place. And if May disrupts current grammars (or private schools too according to some leaks), you could see a Tory revolt bigger than the disquiet in the 1950s, when middle class kids were losing out to brighter working class ones.
Senior Tories Neil Carmichael, the chairman of the education select committee, and Sir Des Swayne, Cameron's former PPS and the least politically correct MP you can meet, made plain their unease in the Commons yesterday. And May has a working majority of just 17. Other Tories may actually scream 'political correctness gone mad', if it looks like standards are lowered in any way to give places not on ability but on how poor a child's parents are.
Angela Rayner made an impressive Urgent Question debut yesterday, pointing out May had long said 'her policy would be led by the evidence'. Justine Greening struggled on Today to answer where the evidence came from (whereas Ofsted's Michael Wilshaw was scathing). Maybe May's plans are so radical and so new (no country has this model) that there is in fact little evidence either way of how it would affect standards or social mobility.
Universities will also be affected: they may not be allowed to hike tuition fees unless they sponsor a new or existing state school. The radicalism extends to faith schools too: May wants to let them increase faith selection from 50% at present to 100%. Sarah Wollaston tweeted her opposition last night.
Here's a final thought. One reason May's plans may meet less opposition is that any education policy story tends to excite just a narrow bit of the population. Education stories are afflicted by the serial myopia of parents and voters: you're very, very interested in policy affecting newborns/toddlers/Year6/GCSEs/sixth formers/students for that short window of time that it directly affects you. But everyone else normally kinda goes 'meh'. Or will this be so comprehensive a package that it just can't be ignored…?
2) HI! NET-WORTH INDIVIDUALS
Philip Hammond won't be appearing in any hi-vis jackets so beloved of George Osborne, I was told this week. But he does share his predecessor's Remainer concern about protecting the UK's financial services from the risks of Brexit.
And yesterday he told a Lords committee that defending the City meant exempting some bankers from migration controls. "We will use it [control over free movement] in a sensible way that will facilitate the movement of highly-skilled people between financial institutions and businesses to support investment in the UK economy."
His support for high net-worth individuals, or 'wealth creators' stands in stark contrast to the Sun's front page today. It has a striking photo of the UK's youngest EU migrant - a 20-day old girl born in the The Jungle camp near Calais, smuggled in a lorry and rescued at Watford Gap.
Someone in Europe has a keen sense of humour. Arch federalist Guy Verhofstadt tweeted that he will be the European Parliament's negotiator in Brexit talks with the UK. The glee in his tweet was palpable.
Meanwhile, Hammond warned EU businesses didn't want to undermine the City as it served them well. But Francois Hollande thinks differently. Oh, and Hollande accused David Cameron of "running away" for resigning after the referendum, suggesting that he had "failed to deal with the consequences". Ouch.
Jeremy Corbyn and Owen Smith faced each other for yet another hustings on the BBC last night and I'm not sure we learned much that was new on policy. What it did do was confirm the increasing bad blood between them.
We last night had sight of new data from the Corbyn camp - which claimed that even in Smith's backyard, the Corbyn vote is solid: Jez has 64% of Pontypridd CLP member vote to Smith's 29%. The Smith camp pointed to methodological flaws and still insist their own phone banking shows the race is on a 'knife edge'.
Well the divisions are certainly still as sharp as a razor's edge. Smith doubled down on Corbyn's links to anti-semites last night. But at the end of the show, Corbyn's camp seized on the way the Oldham audience mobbed their man for selfies, with his opponent left looking a bit BillyNoMates.
One Corbyn backer, Len McCluskey, is facing fresh scrutiny after the Guardian revealed details of Unite funds being used to fund his London flat. The union says it's all very normal and members' cash will be returned with healthy profits once it's sold. It adds it's about equity not a loan. Shame, as I really liked 'Len Me Your Arrears' as a possible headline..
BECAUSE YOU'VE READ THIS FAR…
The row over Saudi/Yemen arms sales has taken a new twist after last night's Newsnight. The BBC prog has been leading the way in breaking stories on various drafts of the Committee on Arms Export Controls (CAEC) report into the affair - much to the irritation of some of its members.
Foreign Affairs Select chairman Crispin Blunt (who sits on the joint committee) stands accused of trying to water down elements of the draft that are more critical of the Saudis and the FCO. The latest charge is that he was so worried about losing the argument that he walked out of a CAEC meeting so it would be inquorate and couldn't pass radical amendments.
"Did you walk out of the committee, Crispin Blunt?" Kirsty Wark asked him several times. Each time, Blunt ducked the question. It was all very Paxo (ah, 'Did-you-threaten-to-overrule-him?')
But what's got some MPs really worried is the leaking of the drafts - and Blunt's call on the Speaker yesterday to ask Parliament's privileges committee to use private investigators to probe the leaks.
Blunt wanted "private investigators who have the capacity to interrogate the electronic records, including deleted emails of potential sources of this confidential and private consideration of select committees, in this instance of the greatest seriousness involving life and death issues and the employment of tens of thousands of our fellow citizens." DD won't like that - will he?
IPSA's reports on MPs' expenses aren't as newsworthy as they used to be, not least as the watchdog's datasets makes it very difficult to work out any league table of who's claimed the most/least.
But PoliticsHome has spotted one new development: MPs spent three quarters of a million pounds in taxpayer cash on business and club class air travel last year - a ten-fold increase on the previous 12 months. A whopping £735,914 was claimed on plush high class travel in 2015/16, compared to just £71,637 the year before. MPs are scared of first class train travel, but clearly don't like sitting in economy on planes.
The Mail and others prefer to hone in on micro-claims. Jeremy Hunt made an expenses claim for just 24p for travel. The Education Secretary, who is thought to be worth more than £5 million, made mileage claims for 'constituency travel' totalling 0.52 miles, 0.8 miles and two lots of 0.87 miles in April.
Our Commons People podcast is back folks. Listen to us HERE chew the fat over Brexit, UB40, PMQs, grammars and housing.
If you're reading this on the web, sign-up HERE to get the WaughZone delivered to your inbox.
Got something you want to share? Please send any stories/tips/quotes/pix/plugs/gossip to Paul Waugh (paul.waugh@huffingtonpost.com), Ned Simons (ned.simons@huffingtonpost.com), Martha Gill (martha.gill@huffingtonpost.com) and Owen Bennett (owen.bennett@huffingtonpost.com)