The five things you need to know on Wednesday, October 5, 2016…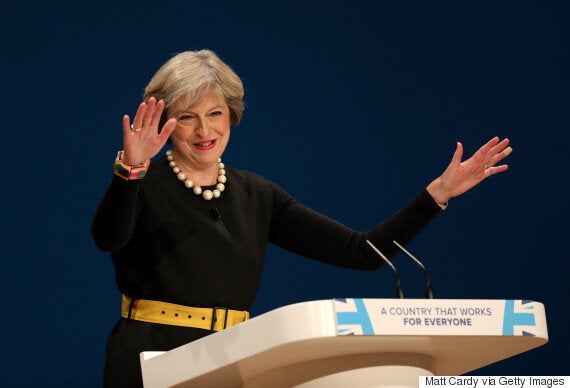 This time last year David Cameron was basking in the glow of a general election victory. But as he took the ovations and smiled for the cameras, he didn't realise he had put a noose around his neck in the shape of that EU referendum.
Theresa May's closing speech at her first Tory conference as Prime Minister will be a far cry from the Cameron days. No autocue (she finds it difficult to use one), no 'no-notes' memory tricks, no teary references to her family. No nonsense, in short.
And the attempt to put clear blue water put between her reign and her predecessor's will once again feature. We learned in the overnight brief that she will attack all those who patronise the 'working classes' for their views on migration, crime and job insecurity. The target was not just the 'sanctimonious' Jeremy Corbyn Labour party, it was the Cameroons too.
Her reference to 'a new centre ground' has real echoes of Thatcher's (and Keith Joseph's) 'common ground', a place where working class Labour voters felt happy with right to buy council homes and patriotism.
And there's another echo of Mrs T. May will say government is "about doing something, not being someone". In the Meryl Streep movie 'The Iron Lady', Maggie opined that politics "used to be about trying to do something - now it's about trying to be someone". I wonder if she will also namecheck Ken Clarke's "bloody difficult woman" line - comparing her to Thatcher – given that she enjoyed herself on this on LBC yesterday.
Aides point out that May, even when Home Secretary, regularly knocked on doors every weekend in her constituency to ask 'ordinary' voters their opinons. And they say this was where she picked up the frustration with Westminster talking a different language to the voters.
While May wants to get that Thatcherite connection with key aspirant voters, she won't be using hardline Thatcherite free market solutions. The speech includes lots of talk about the power of government to intervene.
A significant moment in the last Parliament came when No10 hung out to dry James Brokenshire for suggesting that the middle classes hiring Polish nannies didn't get others' frustration about migration. At the time May stood by her minister (now in the Cabinet) and pointed to wage differentials being hit.
The Sun rightly spots that the speech is in fact targeted squarely at its own readers, readers who it felt had indeed been patronised by George Osborne over the years (who could forget the paper's regular post-Budget spats with Osborne over things like the pasty tax?).
But don't forget that one of the canniest land-grabs this week was Tory chairman (and ex-miner) Patrick McLoughlin giving the Mirror its first Cabinet minister interview in decades. And don't forget either that the Mirror came out against Corbyn in the leadership race this summer. May wants that 'new centre ground' all to herself, for sure.
Just when you thought it couldn't get more ridiculous, the UKIP leadership saga sparked into life again last night with the news Diane James had quit. Hacks' phones here in Birmingham melted after the Mail's John Stevens first Tweeted the rumours and soon enough it was confirmed. The Times had the scoop of James' statement confirming the Jexit.
But was James ever leader at all, officially? Our Kipper expert Owen Bennett says that she never actually properly notified the Electoral Commission of her leadership (she curiously wrote 'under duress' in Latin on her form).
On the Today programme, UKIP chairman Paul Oakden was unclear about who was in charge. "If they [the Electoral Commission] still have Nigel Farage down as leader that's going to make a very interesting day for me, I suspect." Farage has indicated he ain't coming back, but when pushed Oakden told Nick Robinson: "I wouldn't say anything's impossible now Nick".
Steven Woolfe looks like the favourite now (though Suzanne Evans is once again eligible). And for all the mockery, it looks like UKIP will end up with a telly-friendly, mixed-race, northern working class leader. Despite the West End farce of recent months, never forget that Nigel Farage and his people's army have had the last laugh on Brexit. Without him, it's difficult to see how the UK would have had a referendum, let alone voted to quit the EU.
Under Woolfe, UKIP are likely to continue to take chunks of Tory votes. But the real losers will be Corbyn's Labour, as he can continue the Kippers' high profile in northern working class seats. And that's why Theresa May will be most pleased of all.
UKIP MEP Patrick O'Flynn tweeted last night "The number of policies Mrs May is lifting out of the UKIP GE15 manifesto is astonishing. Almost like we are in power, but not in office!"
And Amber Rudd's speech to conference certainly sounded quite Kippy. Rudd's own personal journey is quite remarkable, given how much of an ardent Remainer she was. Having once extolled the virtues of migration for business (a bit like her brother Roland, a big cheese in the In campaign), the Home Secretary tried to out-May her predecessor yesterday with crackdowns on foreign students, foreign taxi drivers, foreigner-friendly firms.
Business groups and many political liberals (the very 'Establishment' May perhaps thinks are the problem) were swift to condemn her plans, not least the most eye-catching one: to publish a 'name and shame' list of firms with high levels of foreign workers.
The SNP's Pete Wishart tweeted: "First they came for the berry farm workers. Then they came for the Drs. Next they came for the ….. #toryBrexit #yourUK." But it was the IoD, CBI and British Chambers of Commerce who were most upset at the idea that they should fix the problems caused by the state's poor education and skilling of a hardcore of unemployable Brits.
On Today, Rudd appeared to back off some ideas such as forcing firms to 'foster a pool' of local workers ("it's not something we are definitely going to do") and even the name-and-shame list ('It's a consultation'). But she did stress that firms who hired large numbers of foreigners were the target: "they're the ones we want to flush out here". Anna Soubry, who hit out at anti-migrant 'hypocrites' in her fringe yesterday, definitely disagrees.
One difficulty for the May government is that they seek the dangers of protectionism in trade (Liam Fox is passionate on this), but don't quite see the dangers of protectionism in labour. 'Competition' is a good thing, but not if that means better qualified foreign workers 'taking' British jobs.
And the real danger of all this talk about 'home-grown' workers is that it risks narrowing rather than widening the appeal of the Tories, while turning every domestic policy into a migrant/Brexit story. Jeremy Hunt's announcement on foreign doctors was a case in point. He buried his own good news (more doctor places) by linking it to calls to reduce numbers of overseas staff. Hunt said universities 'turn away bright graduates' for med school places, but is that true? Or are the unis just upholding high standards?
As for those EU nationals still here, Liam Fox was slapped down by fellow Brexiteer Tim Montgomerie last night for suggesting they were a strong negotiating 'card' held by the UK in the coming poker game with Brussels. In contrast, Owen Paterson told a fringe that guaranteeing EU citizens' rights would prevent further 'hate crime' like that seen in Harlow.
BECAUSE YOU'VE READ THIS FAR…
Normally most of us hear the markets stats at the end of the news as a cue to make a cuppa (though the strong rival is 'and now for the news in your area').
But yesterday was a bit more interesting than usual. The FTSE 100 soared to a near record high last night (7,074 in case you're asking). But the pound also plunging to a 31-year low against the dollar.
So have the Brexiteers defied the doubters or had our worst fears confirmed? Well, the FTSE100 is stuffed with international firms who deal in non-sterling so that's a factor. Yet even the FTSE250 isn't exactly tanking. The plummeting pound has echoes of post-ERM, when some Tories felt depreciation kick-started us out of the early 1990s downturn.
Don't forget that the IMF predicted in the EU referendum that stock prices would freefall and an instant recession would be sparked. Yesterday, its new outlook admitted it had got it woefully wrong on the instant post-Brexit world. Of course, Brexit hasn't happened yet but all those saying even the uncertainty would spark a 'shock' have a bit of egg on their faces.
The Guardian's Larry Elliott (one of its few Brexit-friendly writers) is scathing today after the IMF said basically the UK will be OK in 2016 but things will get tougher next year. "The IMF is terrified because it sees the UK referendum as symptomatic of something deeply dysfunctional about the global economy it has helped to shape in the past four decades. Which indeed it is." Still, the IMF's solutions don't make comfortable reading for a Tory Eurosceptic: a stronger welfare net, 'progressive' taxation, more spending on key projects.
As for egg on faces, the inimitable Jacob Rees-Mogg had his own answer to the hard/soft boiled Brexit question. He told a fringe he wants a "hard white with a runny yolk". The hard white was no European court, no European law, control of our borders, out of the single market; the runny yolk stood is being "as generous in the negotiations as possible".
Michael Fallon cuts a steel plate in a Barrow shipyard today to mark the start of work on a new generation of Trident submarines. But the Mirror splashes its front page on its long-running campaign to get British steel for British subs.
The paper has a quote from Bae admitting that it is not using UK firms for most of the materials: "We expect to procure pressure hull steel for Successor from Industeel in France, with the remainder provided through stockists who source from mills in both UK and Europe."
Roy Rickhuss, head of the Community steel workers union (a union incidentally kicked off Labour's ruling NEC the week after Corbyn became leader in 2015), said: "This is a betrayal." The MoD has a rather limp reply: "It is an early stage of the programme, but there will be British steel in the new submarines." Protectionism, it's a tricky business isn't it?
If you're reading this on the web, sign-up HERE to get the WaughZone delivered to your inbox.
Got something you want to share? Please send any stories/tips/quotes/pix/plugs/gossip to Paul Waugh (paul.waugh@huffingtonpost.com), Ned Simons (ned.simons@huffingtonpost.com), Martha Gill (martha.gill@huffingtonpost.com) and Owen Bennett (owen.bennett@huffingtonpost.com)