The five things you need to know on Thursday, November 3…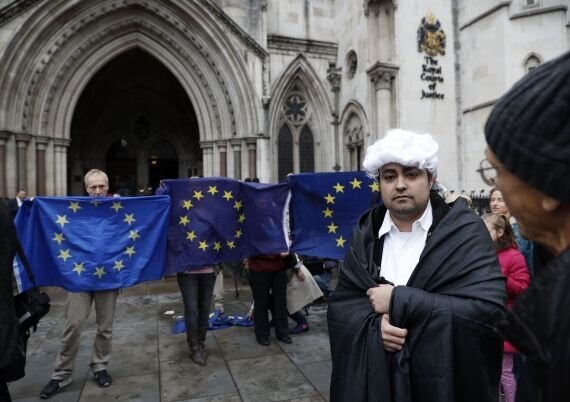 Such jolly japes at the Spectator's awards last night, not least as Boris did a Boris. The Foreign Secretary declared: "Brexit means Brexit, and we're going to make a Titanic, er, colossal success of it". Like lots of Boris 'gaffes', you can't help thinking it was a deliberate joke.
But the really Titanic struggle today is in the High Court when three judges will at 10am deliver their historic verdict on whether the government can begin the formal process of leaving the European Union without consulting Parliament.
There are conflicting opinions about the mood music coming from the court during its hearing a fortnight ago. Some legal observers felt that the Lord Chief Justice's questions to the Government's counsel were sufficiently barbed that he himself may find in favour of those who believe MPs have to be consulted before Article 50 can be triggered. Others thought that was a misreading.
Either way, many expect a split decision and that the political parcel will be passed to the Supreme Court, which is ultimately probably the proper place for a ruling of such importance - particularly as a Government defeat could spark the biggest constitutional crisis of our generation.
Meanwhile, crossbencher Lord Kerr, who devised the Article 50 clause in the Lisbon Treaty while he was secretary general of the European Convention, has told the BBC that "it is not irrevocable". He says the country "might want to think again" when the detail of Britain's new relationship with the EU becomes clearer. "You can change your mind while the process is going on." That's very much not the view of the Brexit Department.
In one of the most surreal scenes of a very surreal political year, Theresa May last night dressed in a hi-vis yellow jacket and a hard hat as George Osborne handed her the Politician of the Year award. The former Chancellor was ready with jokes of his own however (hear his speech HERE), declaring "When I give out the awards, there won't be much time for chit chat. A bit like when Theresa and I last spoke."
May came armed with barbs for her Foreign Secretary revealing how "Boris, the Alsatian was put down when it's master didn't need it any more". After the way she dealt with Patrick McLoughlin at PMQs for giving her duff info about Conor McGinn's new baby, the sharp yank of Boris's choke-chain was further proof of a Thatcher-like determination to keep her Cabinet in check.
And her gag about Cameron's former comms chief Craig Oliver was a zinger. Referring to Oliver's line in his much-ridiculed instant memoir - that he 'retched' in the street after the Brexit vote - the PM said: "Most of us experienced it too. When we saw his name on the resignation honours list."
But earlier at the LSE, Osborne had a more serious warning for May on a 'hard Brexit'. He said the suggestion that immigration causes unemployment – a key feature of the PM's conference speech - is contradicted by "hard data". The claim that EU migration hits wages and jobs "doesn't really stack up" because of simultaneous record employment and immigration to the UK, he said.
The final days of the Osborne era was famously marked by 'Project Fear' in the EU referendum campaign. But The Telegraph reports a backlash against Cabinet Secretary Sir Jeremy Heywood for claiming official warnings about the cost of Brexit were 'factually correct and objective'. They were so correct that the Treasury has, er, quietly ceased using them.
Lots of Tories (and some Labour MPs) think that Tony Blair's decision to allow unlimited Eastern European migration is as much to blame for Brexit as years of tabloid stories about bent bananas. But does the former PM have a wider responsibility too, thanks to Iraq?
Asked by Andrew Tyrie if public trust in politics had been corroded by the whole WMD claims, Chilcot replied: "I think when a government or the leader of a government presents a case with all the powers of advocacy that he or she can command, and in doing so goes beyond what the facts of the case and the basic analysis of that can support, then it does damage politics, yes."
But in an interview with me today, another distinguished Knight of the realm, Sir Jeremy Greenstock, goes further and links the public backlash against Blair's conduct with Brexit. "Iraq has had a real international effect on the UK. I think it is connected with Brexit. It was one of those things that got people in this country thinking our elite, our toffs, our leaders up there are not listening to us, are not looking after us in the way that we want."
Greenstock's words have all the more power because he is not one of those who thinks Blair lied over WMD. But his book 'Iraq: the Cost of War' makes clear he felt TB was subservient to the raw projection of American power that Bush and Cheney wanted in the wake of 9/11. Read my interview HERE.
BECAUSE YOU'VE READ THIS FAR…
The Sun has proved once again how shrewd newspaper campaigns can work if they are eminently winnable. Its 'Give Me Shelter' campaign to reverse the spate of closures of women's domestic violence refuges today sees Communities Secretary Sajid Javid offer a new £20m fund to help councils. Of course, councils will want much more support than this in the face of wider cuts, but it's a start.
What's more of a problem is the Shelter report out today warning of a 'devastating' spike in the number of children facing homelessness - ie living in temporary accommodation - this Christmas. Labour's John Healey says the 120,000 figure (the highest since 2007) should make ministers 'hang their heads in shame'.
Yvette Cooper's tenure at the helm at the Home Affairs Select Committee had its first big moment yesterday with the release of a letter to her from former child sex abuse inquiry chief Dame Lowell Goddard. Goddard hits back at claims about why she quit, saying "the team lost their nerve about my ability to continue leading the inquiry"
But the most intriguing line (spotted by PolHome) was a hint of wider, political forces at work in the stories about her: "Our perception was that these personal attacks, which increased in intensity over time, were aimed at undermining me for the wider purpose of undermining the inquiry itself, and more generally for wider political purposes about which one can only speculate." What does she mean…?
If you're reading this on the web, sign-up HERE to get the WaughZone delivered to your inbox.
Got something you want to share? Please send any stories/tips/quotes/pix/plugs/gossip to Paul Waugh (paul.waugh@huffingtonpost.com), Ned Simons (ned.simons@huffingtonpost.com), Martha Gill (martha.gill@huffingtonpost.com) and Owen Bennett (owen.bennett@huffingtonpost.com)