The five things you need to know on Friday, December 9…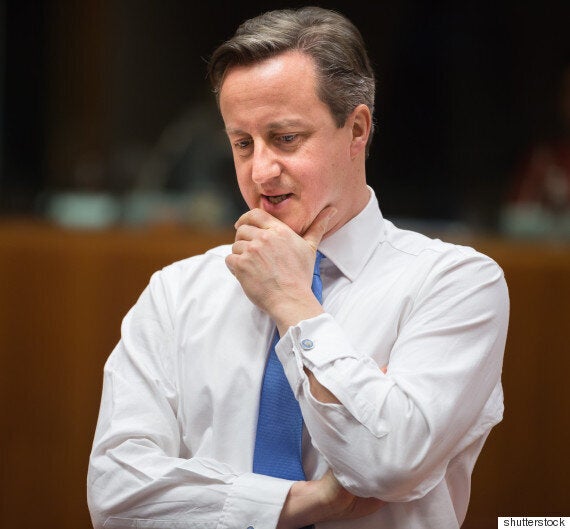 The tiny DePauw University in Greencastle, Indiana, is not in the Ivy League. But it must have a hell of a lot of cash because it manages to attract big name speakers from Tony Blair to John Major to Mikhail Gorbachev. And last night another ex-Factor politician, David Cameron, turned up to give his first major speech since quitting No.10.
There was the no-sugar-Sherlock line that "rising populism cost me my job", but more notable was the fact that he did not regret calling the EU referendum that powered his own political self-harm. An unrepentant Cameron said: "I believed - and still believe - the fact that we hadn't had a referendum on this issue for 40 years, in spite of the EU changing and changing, was actually beginning to poison politics". He claimed that poison wasn't just in his own party, though some may say that's as much a self-delusion as Blair's on Iraq.
As for life after No10, the ex-PM did have a nice gag. "People often ask me, 'How are you sleeping?' and I say 'I sleep like a baby — I wake up every hour calling for my mother'." Jokes aside, I was struck by his line on the euro ("I wonder how long it can last"). Yet the most interesting was his lack of regret in arguing so strongly for Remain - and what sounded like an admission that his heart really isn't in Brexit still. He says he decided to quit because "I think I might have lacked passion for delivering that outcome".
Now he's no longer an MP, we will find out from Companies House once a year how much Cameron gets for his speeches. George Osborne meanwhile has to declare his income more regularly and the Mirror splashes that he has earned more than £500,000 in less than two months making speeches: a whopping hourly rate of £26,055. Much more than a JAM makes in a year.
2) MAY THE 4TH BE WITH YOU
One week on from 'the Brexit by-election' in Richmond Park, and normal service was resumed in the Sleaford and North Hykeham by-election overnight as the Tories cantered to victory. Caroline Johnson (an NHS consultant and another woman - more proof that Cameron really did modernise selections) won an impressive 53% of the vote.
The battle for second place looked frankly like bald men fighting over a comb. UKIP's came second but its vote dropped to just 13.5%. The Lib Dems improved to take third on 11%, but Labour slipped to fourth on 10%. Before the contest, I went through all the recent general election results and Labour was for a long time the natural second place, so the result really is not a good one for Jeremy Corbyn.
Corbyn of course likes to focus on local council by-election results and they were mixed last night. Labour gained a Tory seat in Shropshire, but lost one in Staffordshire (where it came fourth - having been first - losing to an Independent). Labour held a university ward in Lancaster, perhaps proof that Corbyn is holding his own among the student/metropolitan vote. As always, local by-elections are a mass of complex factors, but given JC insists on citing them, it's worth recording.
There is more grief for Corbyn in the Guardian. Welsh First Minister Carwyn Jones says his party is out of touch on immigration: "The danger is that's a very London-centric position. That is not the way people see it outside London." As for the Momentum 'Trotskyist takeover', Jez ally Jon Lansman reveals he's not walking away from the movement he founded to get Corbyn elected (and whose data he controls).
He's blond, he's a maverick and he led a rebellious uprising that caught the world by surprise. But while many see our Foreign Secretary as a dashing 'Boris of Arabia', others see him as a hapless 'Mr Bean'.
When Boris Johnson arrives in the Gulf today, he'll be surrounded by a sandstorm of controversy over his candid remarks about Saudi "puppeteering" and "playing proxy wars". No.10 decided to smack him down yesterday in uncompromising fashion, not least as Theresa May had just spent days trying to build alliances not wreck them.
The BBC's Frank Gardner, who knows the Saudis better than most, said this morning that they were cutting Boris some slack and were waiting for his inevitable clarification (a jokey 'apology' won't work in this case). But Gardner's explanation for the Saudis being so sanguine was not exactly complimentary: "There are some people in this part of the world who see him as a little bit of a Mr Bean character". Whitehall source say the Saudis "haven't batted an eyelid", as most of this stuff is already said behind closed doors.
Perhaps what was most notable was the number of people rallying round to defend Boris's candour (he's right about the Saudis in Syria, if not in Yemen, the line goes). Andrew Mitchell, Crispin Blunt, Dan Hannan backed him. Significantly, so too did housing minister Gavin Barwell, whom the Telegraph quotes as saying "it's perfectly right that we should raise these issues". But former Foreign Secretary Sir Malcolm Rifkind told Today that Bozza 'ought' to have known he couldn't go so public - and may be better suited to another job.
With many Tory backbenchers worried that DD is the only one of the Three Brexiteers who has the PM's ear (and respect), the real 'proxy war' may be over the Cabinet's power rankings.
BECAUSE YOU'VE READ THIS FAR…
McDonalds' decision to move its international HQ from Luxembourg to the UK looks like a real boost for post-Brexit Britain. It's certainly a far cry from their pro-Remain warnings in the referendum that unemployment would rise if the UK quit the EU, but business is business and low tax rates are a premium. The small matter of a kicking from Brussels over 'state aid' may be a factor too. Still, Maccy D's pays billions in tax every year (unlike the new tech dudes) so that can only help our coffers.
Professor Prem Sikka of Essex Business School told the BBC this morning that our lower corporation tax and other "sweetener" advantages did make the UK now look like more of a "tax haven" than Luxembourg. Of course, banks worried about 'passporting' are thinking of heading the other way over the Channel - and the Irish sea ('Canary Dwarf' in Dublin is a tempting English-speaking, post-Brexit option for some in the City).
But one of the most interesting stories today is the FT's publication of a transcript of David Davis's meeting with a key figure from the Corporation of London (ie The City's local council) in November. The memo claims DD said he was only considering a transition deal to "be kind" to the EU. He also said the EU's "inflexible approach" on immigration meant it was unlikely the UK would achieve access to the single market. Which is kinda big potatoes. DEXU says the FT account of the meeting did "not properly reflect government policy or [Mr Davis's] view".
The House of Lords is usually a sedate, polite place. But today may see passions rise if Tory peers carry out plans (as revealed on HuffPost HERE yesterday) to filibuster a bill to end the bizarre by-elections for hereditaries. Bruce Grocott's private members bill won't make a huge dent in the numbers of the ever-expanding Lords, but it would end the current system.
Yes, whenever a hereditary peer dies, a by-election is held in order to maintain their numbers. But the electorate is very select indeed: only fellow hereditary peers from the same party can actually take part (this meant that when a Lib Dem was chosen recently, just three people voted). The only people actually elected to our second chamber are those who have a peerage by birth. Some see this as a national embarrassment, others as a mild constitutional quirk.
Grocott's bill would end the practice of trying to keep the number of hereditaries at 92 (as decreed in Tony Blair's 1999 Lords reform deal). Tory hereditary peers Lord Trefgarne and Lord Caithness have tabled shedloads of amendments in a bid to talk on each of them and ensure the bill runs out of time today in its Committee Stage. The Lords is a self-regulating House, and its Speaker can't intervene as directly as in the Commons. But expect lots of hubbub if such tactics are deployed.
Listen to our latest CommonsPeople podcast HERE. We chew the fat about the Brexit motion, immigration and Sleaford. Oh, and there's a quiz on who has and hasn't been the Time Person of the Year.
If you're reading this on the web, sign-up HERE to get the WaughZone delivered to your inbox.
Got something you want to share? Please send any stories/tips/quotes/pix/plugs/gossip to Paul Waugh (paul.waugh@huffingtonpost.com), Ned Simons (ned.simons@huffingtonpost.com), Martha Gill (martha.gill@huffingtonpost.com) and Owen Bennett (owen.bennett@huffingtonpost.com)