The five things you need to know on Wednesday, December 14…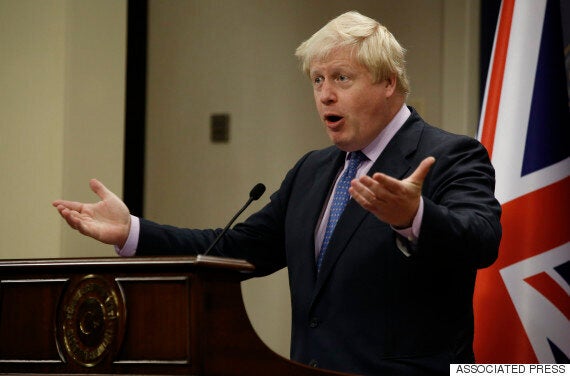 It's the last PMQs before Christmas and both Theresa May and Jeremy Corbyn will want to send their troops away happy for the break. Blank pages may feature, I suspect: the PM must be tempted to ridicule the Labour leader over the leak of his 'near empty diary' in the Sun; Corbyn may want to counter that the real blank page is the Government's lack of a Brexit plan. Jezza could go off piste to raise Labour's new pledge to wipe out homelessness, but the PM is sure to raise his links to rail unions (and maybe Corbyn's own MPs threatening a 'work to rule', as we revealed this week).
After weeks of being ridiculed by May and Hammond (that Autumn Statement jibe about rugby balls still jars with Bojo's pals) the Foreign Secretary hit back in style, with a string of barbs. He couldn't resist saying "our wonderful Prime Minister actually wears lederhosen!" - a reference to the PM's £995 leather trews. Amid the guffawing, Boris suggested he'd got No10 permission for that gentle mockery: "They asked for no surprises in this speech, we cleared that one already." As the wine flowed, it was all part of a rumbustious celebration of Brexit: "We are so cosmopolitan that we drink more champagne, more prosecco, buy more German cars than anyone else!".
Despite the laughter, it's worth noting that there was a method to Boris's apparent madness in ridiculing his boss's fashion choices (can you imagine one of Thatcher's ministers daring to do so?). His more barbed line was actually on keeping students out of the migration target: "We welcome foreign students and international investors in this country and I'm confident that that ratio will persist".
But coming so soon after the Aleppo debate (in which George Osborne delivered an impressively fluent speech), Labour MPs weren't in the mood for jokes. Boris had prefaced his speech with sombre words about Aleppo, describing it "what must rank as one of the biggest global failures of diplomacy of our times". Yet Dan Jarvis and Alison McGovern said his focus should be on Syria not on 'cracking gags'.
Nicky Morgan has had a right old kicking of late. Things are so bad that she's even pulled out of an appearance on 'Have I Got News For You' that was planned for this week - due to "unforeseen circumstances".
And today it looks like she will be absent from a meeting between the PM and Tory 'soft Brexiteers' (in the PM's Commons office rather than No.10 - perhaps to get round the 'trousergate' text from May aide Fiona Hill?). Bob Neill, Johnny Mercer, Claire Perry and Anna Soubry are all part of the informal grouping. Let's see if anything emerges later.
But Morgan - dubbed Ni-Mo by special advisers when she was in Government - is clearly unhappy at the backlash over her backlash on those leather pants. Allies say she was upset about claims she cried when she was sacked and claims that she was a 'traitor'. "It's not just wrong, it's reckless and it needs to be called out, no matter how powerful the people briefing it," said one close ally tells the Guardian.
Of course, what really, really upset some close to the PM was that Morgan's fingerprints were all over a story recently that May had wanted in the Coalition to put children of illegal migrants at the bottom of the school waiting lists. And never forget that Morgan made the fatal error of backing Michael Gove's leadership bid. In a clear bid to remove any trace of poison (not least given Boris's elevation) not a single one of those backers - from talented ministers like Ed Vaizey to Dom Raab - was allowed to stay.
You can't escape Brexit, not even during the Aleppo debate. Ben Bradshaw claimed it was "highly probable" that Russia had interfered in the EU referendum, and was plotting to skew the French and German elections just as it tried in the US. "I don't think we have even begin to wake up to what Russia is doing when it comes to cyber warfare, he said. Ben 'Mad-Shaw' is how the Sun dubs him, and the PM's spokesman told us he had "not seen any evidence" of Kremlin tactics influencing the Brexit vote. Talk of UKIP's links to the Russians has swirled in Whitehall and think tanks for months before the referendum, but evidence is another thing.
On the substance of what Brexit will look like, daily warnings seem to veer from the dire to the dour (despite Boris's festive cheer). The Guardian has a leak of tomorrow's Lords committee finding that tens of thousands of banking jobs will be lost if the UK fails to get a transitional deal for single market access. Still, Tory Eurosceps and arch Euro-federalists seem to agree that such a deal cannot become a 'permanent temporary' arrangement. Guy Verhofstadt told WATO that "an eternal, a definitive, agreement" should be avoided.
And here's where the soft Brexiteers - from Philip Hammond to Keir Starmer - risk getting squeezed. Neither the EU nor the 'clean Brexiteers' in Cabinet want a messy, open-ended transition deal that allows cake-and-eating-cake. Former WTO former deputy director Roderick Abbott told MPs yesterday that politicians could come up with a "quick deal" by exiting the customs union, during the Article 50 process. Liam Fox must have licked his lips in satisfaction at that.
Labour still seems muddled over immigration. the most ear-catching line in Starmer's Bloomberg speech was that "our new relationship with the EU has to go beyond an economic argument and protecting our ability to trade in goods and services – vital though they are." That sounded like the migration elephant in the room.
Meanwhile, the Lords justice committee has today urged the PM to give EU citizens automatic rights immediately after Brexit. Its chairman Baroness Kennedy of The Shaws has blogged for us on our "moral obligation" and why a unilateral offer from the UK will "stimulate reciprocal commitments".
David Davis makes his Brexit Select Committee debut today. Will he be asked about this ministerial quote to the Times' Sam Coates about a recent meeting of the Cabinet Brexit sub-committee? "Philip Hammond is the only one that makes sense. All the rest spent a good deal of time praising the secretary of state for DexEU [DD] for his frankly poor quality [Cabinet committee] papers or the Brexiteers saying it's going to be a success."
BECAUSE YOU'VE READ THIS FAR…
4) ON THE FEAST OF STEVENS
NHS chief Simon Stevens just can't help being interesting. In a forthright evidence session before the Lords NHS Sustainability Committee yesterday, he called for an "immediate" injection of cash for social care.
Hours earlier, the Cabinet discussed exactly this topic, with a clear signal from No.10 that Sajid Javid's local government settlement tomorrow would "address" the issue of some areas being "under threat" (a fascinating choice of phrase for Downing Street) from a social care funding gap. It sounds like only some councils will get the money, possibly by meeting criteria for either a council tax precept rise or some other funding formula change.
But Stevens wasn't just pleading for more dosh. He suggested that the "triple lock" guaranteeing pensions rises should be replaced by a "triple guarantee" on "income, housing and care". The message was clear: favourable funding for the elderly should be used for their social care. "I think everybody should be contributing to the fruit punch," is how he put it.
Jeremy Hunt later told the peers that "We are going to have to find a way of devoting a greater share of our national resources into health and social care without doubt" - and that taxation was the main way to do it. But the Health Sec suggested that young people not the old, should be the focus: "We need to get into the habit of saving when we're younger like we do for our pensions. In a nutshell we need as a country to start saving for our social care costs as we save for our pension. It needs to be a normal and automatic a thing to do for everyone to do". Brace yourselves, Millennials.
Stevens is before the CLG Select Committee today to talk more about adult social care.
Some movement is afoot on the issue of maximum sentencing for stalking. After the Government defeat on Monday night, when peers passed Jan Royall's amendment to double the jail term to 10 years, something interesting happened: neither ministers nor No.10 followed the usual ritual of vowing to overturn the result in the Commons.
Instead, the PM's spokesman told me that "maximum sentences for offences are kept under review…In terms of this amendment we will set out our response to that when the Bill comes back in front of the Commons." And Tory MPs Alex Chalk and Richard Graham, who have been pushing hard for the change following a horrific case of stalking of a local GP in Gloucestershire, tell me they have been having "constructive" discussions with the Government. See my story HERE.
Downing Street is more than aware that 16 Tory MPs signed up to the Chalk/Graham private members' bill on this topic, before it was enshrined in the Royall amendment. There's no doubt the whips are not amused at the idea of starting the New Year with a Commons rebellion when the bill returns before MPs in January. But with the PM's own record at the Home Office in making women's safety a priority, maybe she will relent and deliver the tougher sentencing many have long demanded.
If you're reading this on the web, sign-up HERE to get the WaughZone delivered to your inbox.
Got something you want to share? Please send any stories/tips/quotes/pix/plugs/gossip to Paul Waugh (paul.waugh@huffingtonpost.com), Ned Simons (ned.simons@huffingtonpost.com), Martha Gill (martha.gill@huffingtonpost.com) and Owen Bennett (owen.bennett@huffingtonpost.com)
Popular in the Community