The five things you need to know on Monday, December 19…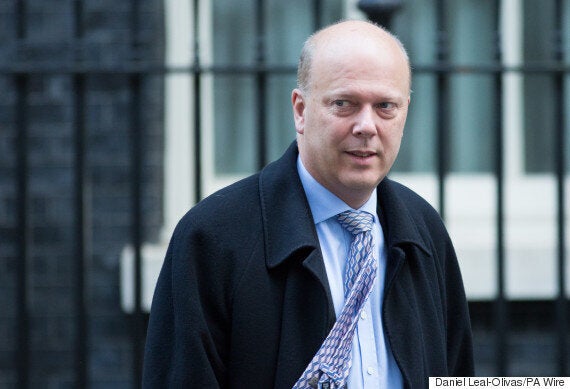 1) THREE STRIKES AND THEY'RE OUT?
Thousands of workers in postal, rail and airline services are due to take official as well as wildcat strike action this week. Some of the employers are playing it down, stressing that final posting dates for Christmas remain unchanged. And as the FT's Jim Pickard points out, days lost to strike action in 2016 are a tiny fraction of those lost in 1979.
But the political fallout is not straightforward. Southern Trains commuters at Victoria on Friday staged a demo at which they targeted their ire at Transport Secretary Chris Grayling, as much as the unions. No wonder Grayling is said to be pushing hard in Whitehall for tougher strike laws - and No.10 is not killing the idea (while not endorsing it either).
Still, Labour MPs are worried. Public Accounts Committee chair Meg Hillier told SkyNews: "I think that there needs to be a bit of a wake-up call about the impact on hard-working people who are trying to get to work or go on holiday." She added that if trade unions were not careful "they could be shooting themselves in the foot."
The Daily Mail publishes a text from John McDonnell sent in September during the early days of the Southern rail dispute: "'Whether it is in Parliament or on the picket line, Jeremy Corbyn and I will be there with you. Solidarity…I send solidarity greetings to all those workers engaged in struggle. From the rail workers, to the teaching assistants to the junior doctors."
Speaking of McDonnell, he was asked by the Eastern Daily Press about Clive Lewis's leadership prospects and gave this intriguing answer: "You take Clive Lewis, along with Richard Burgon, Becky [Rebecca] Long Bailey, Angela Rayner – that whole team now of that new generation have been brought forward by us for the future." Maybe their responses to the strike action will the ones most closely noticed by Labour's Corbyn-supporting membership?
Tory MP Chris Philp (tipped for a ministerial job in the next reshuffle) is leading calls for tighter strike laws. But after pressure from TUC gen sec Frances O'Grady he admitted on Today that "Southern should lose the franchise".
There are just two days left for the Commons before Christmas recess (the Lords gets an extra day's detention and rises on Wednesday) and Theresa May will guarantee a good turnout with her statement on the EU summit.
Will Jeremy Corbyn resist a dig at the infamous clip of the PM looking like 'Theresa no-Maytes', or would that invite the inevitable riposte that he has few mates of his own within the PLP? The Labour leader could quote George Osborne from Marr yesterday when he said including students in the net migration target was a mistake - though that could also open a whole can of worms on Labour's hazy stance on freedom of movement.
Yet it was Liam Fox who was the more interesting guest on Marr, not least as he cannily kept lots of options open on Brexit. He floated the idea of the UK staying in the EU customs union with a Turkish-style membership. But when asked directly if he favoured staying in, he said only "I'll argue my case inside Cabinet". Anyone who knows him knows he's not wedded to the customs union, so you could read his answer either way. The International Trade Secretary also dissed Farage's claims that Cabinet ministers had been banned from talking to him ("I've not had any such instruction").
Fox and David Davis are cautious on transitional deals too. And it looks like Brussels is going to use the Brexit uncertainty against us. Today's FT reports that Michel Barnier wants the £50bn divorce settlement sorted before any talks about transitions. Senior EU diplomats believe delaying agreement on things like 'passporting' would spur London-based banks to move some of their business to the EU to cope with the danger of a hard exit.
Sir Nicholas Soames last night on Radio 4's Westminster Hour became the first to cough about May's secret meeting last week with Tory Soft Brexiteers. There was a 'good exchange of views', he said. Another key Remainer makes her debut today. In a general debate on Brexit's impact on science and research we should get the maiden speech from Sarah Olney, the Lib Dem who ousted Zac Goldsmith in the Richmond Park by-election.
I note that in the Observer/Opinion poll yesterday, the Conservatives command double-digit leads on immigration and the EU and Brexit (by 19 points). On the economy, the Tories have a huge 26 point lead, with 42% to Labour's 16%. But the biggest Tory lead over Corbyn's Labour is on terrorism with a whopping 37 point gap. Both the Tories and UKIP are already working hard on posters and leaflets on Corbyn and McDonnell's links to the IRA. To paraphrase Gerry Adams, that issue hasn't gone away you know.
Priti Patel and DfID permanent secretary Mark Lowcock are up before the Commons International Development Select Committee at 1.30pm and their appearance couldn't be more topical. Several MPs have been muttering that the number one issue for some of their constituents in recent months is not the NHS or Brexit itself, but rather UK spending on overseas aid.
Philip Davies raised this in PMQs last week, suggesting billions spent on meeting the target of 0.7% of GDP should instead be used to fund social care costs for the elderly. 'Surely charity begins at home?' he asked. Theresa May's answer was pretty firm in response, saying 'we should all be proud' of the overseas aid pledge.
The problem with targets of all kinds are that they can skew outcomes. Patel is sure to be asked about the Times splash story that the UK is "dumping" billions into obscure World Bank trust funds in an attempt to meet the target. There'll be questions too about the Daily Mail splash: "Britain Gives £5m To African Girl Band".
I wonder if Patel will be asked about Philip Hammond's remarks to the Treasury Select. Asked about the 0.7% target, he rather too breezily said all ringfences would be assessed in his next spending review. A quick 'clarification' was made to say he was talking 'broadly'. Patel, for whom the remarks came as a surprise, may have her own line.
BECAUSE YOU'VE READ THIS FAR…
Sajid Javid certainly sparked a debate by backing the idea that public officer holders should swear a new oath to 'British values'. Some welcomed it as a sensible move, others denounced it as distinctly un-British gimmick. Paul Goodman from ConHome wrote yesterday on some of the problems, not least the content of the oath, to whom it would be sworn and whether there would be any punishments for 'breaking it' (or, dare I say, for refusing to read it out).
Labour MP and Vote Leave campaigner Gisela Stuart told Radio 4's Westminster Hour last night she had sworn three such oaths: on becoming a British citizen, an MP, and a Privy Counsellor – but didn't think they had changed her behaviour: "I think there is a problem out there but I don't think an oath of allegiance is an answer to it."
The Cabinet Office is expect to confirm today that Diane Abbott and Emily Thornberry will join the Privy Council in the New Year. Abbott refused to take the bait on Murnaghan yesterday when asked if she'd pledge her allegiance to the Queen in the ceremony with her 'fingers crossed'. Abbott said the Javid oath won't make a difference to radicalisation or integration. Javid's Shadow minister Teresa Pearce was more scathing, calling it a "gimmicky…superficial and cack-handed response" to deep-rooted problems.
The Speaker granted an Urgent Question about Yemen last week so he may be reluctant to grant another one so soon afterwards, but the Guardian story on cluster munitions may change that. The paper reports that Defence Secretary Michael Fallon has seen government analysis indicating that UK-made bombs were used by the Saudi-led coalition in the current conflict in Yemen.
It says the government's own investigations back up media reports that clusters have been deployed in the war, in which Britain is helping to train Saudi forces. A source told the Guardian that Fallon is among the ministers to have known about the analysis for about a month.
If you're reading this on the web, sign-up HERE to get the WaughZone delivered to your inbox.
Got something you want to share? Please send any stories/tips/quotes/pix/plugs/gossip to Paul Waugh (paul.waugh@huffingtonpost.com), Ned Simons (ned.simons@huffingtonpost.com), Martha Gill (martha.gill@huffingtonpost.com) and Owen Bennett (owen.bennett@huffingtonpost.com)
Popular in the Community